Flying Mavs Place Second in Region, Will Compete Nationally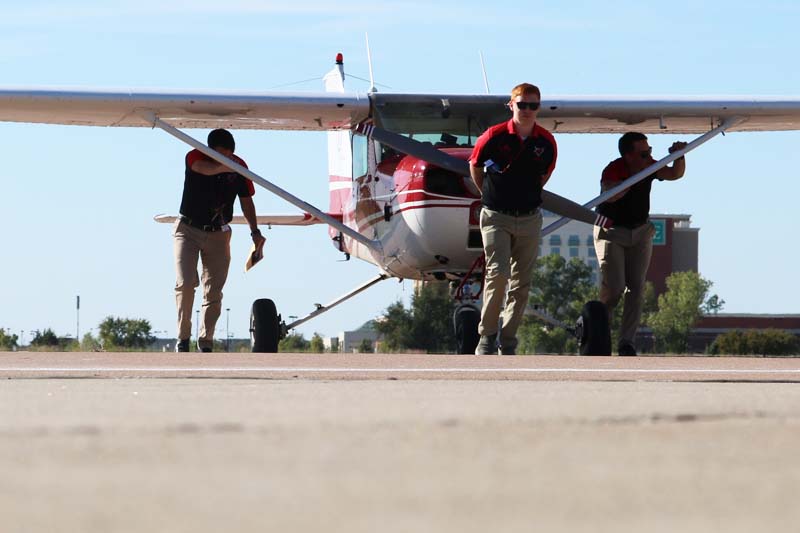 OMAHA – The University of Nebraska at Omaha (UNO) Flying Mavs will return to national competition after placing second at this year's National Intercollegiate Flying Association (NIFA) regional competition.
Following their success, the all-student competitive aviation team now moves on to compete against the top schools from 10 regions spanning the United States.
The 2017 NIFA SAFECON will be hosted by The Ohio State University from May 9-14, 2017. This is the eighth year UNO has made it to the national competition out of their region. 
"The team did a tremendous job preparing for regionals this year," UNO Aviation Institute Director Scott Tarry, Ph.D., said.  "Their hard work, and the work of their coaches, really paid off in the ground events, which will certainly help them when they get to nationals in May."
NIFA Region VI, which is made up of schools from Nebraska, Kansas, Oklahoma and Missouri, held its competition from Oct. 17-20 in Norman, Oklahoma.  
Each year, the top three finishers from each region travel to the national SAFECON competition. This year Oklahoma State finished first and Kansas State University at Salina finished third.
"I am very proud of what this team has accomplished so far this year," said Scott Vlasek, Flying Mavs coach and lecturer for the Aviation Institute. "They have made tremendous strides over the past six weeks; we could not have asked for anything more out of these young men and women. Now we turn our attention to national and I am excited to see how the team will compete knowing we have over six months to prepare them."
In addition to placing second overall, UNO earned top marks in the Ground Events category and third in the Flight Events category.
Individual students also performed well, with the Flying Mavs' co captains, Keaton Stengel and Brandon Perkins, both being ranked in the top 10 in the "Top Pilot" category and making the top 10 in overall score, along with another student, Caleb Ullman.
"We have grown as a team since we started this fall," explained Flying Mavs Co-Captain Brandon Perkins. "As Co-Captain with Keaton [Stengel], I am excited to see how we grow and progress from now until Nationals in May. We are motivated and ready to compete among some of the best aviation schools in the country."
In total, there were 20 instances of UNO students placing in the top 10 across nine different individual categories, including a top finish by Emi Wolfe in the Aircraft Preflight Inspection category.
A full list of results is included below. For media requests, please contact: 
Sam Petto, UNO Media Relations Coordinator
unonews@unomaha.edu
402.554.2704
or
Charley Reed, UNO Associate Director of Media Relations
unonews@unomaha.edu
402.554.2129
-------
UNO's NIFA 2016 Region Six Results
Aircraft Preflight Inspection
First - Emi Wolfe
Second - Brandon Perkins
Eighth - Keaton Stengel 
Aircraft Recognition
Fourth - Daniel Anding
11th Christopher Pineda
26th Brandon Perkins
27th Philip Wier
30th Austin Naylor 
Computer Accuracy
Second - Adam Recker
Fourth - Philip Wier
Sixth - Caleb Ullman
Seventh - Emi Wolfe
28th - Daniel Anding
Navigation
Third – Pilot: Brandon Perkins / Safety Observer: Austin Naylor
10th – Pilot: Caleb Ullman / Safety Observer: Emi Wolfe
11th - Pilot: Keaton Stengel / Safety Observer: Daniel Anding
Power-Off Landing
Fourth - Keaton Stengel
Sixth – Adam Recker
Seventh - Caleb Ullman
13th - Brandon Perkins
28th - Austin Naylor 
Short Field Landing
Eighth - Keaton Stengel
Ninth - Caleb Ullman
18th - Austin Naylor
18th - Philip Wier
20th - Brandon Perkins 
Simulated Comprehensive Aircraft Navigation
Eighth - Philip Wier
10th - Daniel Anding
12th - Brandon Perkins
16th - Tate Beller
35th - Keaton Stengel
Ground Trainer
Eighth - Adam Recker
11th - Daniel Anding 
Message Drop
Second – Dropmaster: Austin Naylor / Pilot: Adam Recker
Fifth – Dropmaster: Caleb Ullman / Pilot: Emi Wolfe 
Top Pilot
Fifth - Keaton Stengel
Seventh - Brandon Perkins 
Top Scoring Contestant
Sixth - Caleb Ullman
Eighth - Keaton Stengel
Ninth - Brandon Perkins
14th Adam Recker
20th Daniel Anding
23th Philip Wier
24th Emi Wolfe
31st Austin Naylor
51st Christopher Pineda
59th Tate Beller
69th Dylan Morris 
About the University of Nebraska at Omaha
Located in one of America's best cities to live, work and learn, the University of Nebraska at Omaha (UNO) is Nebraska's premier metropolitan university. With more than 15,000 students enrolled in 200-plus programs of study, UNO is recognized nationally for its online education, graduate education, military friendliness and community engagement efforts. Founded in 1908, UNO has served learners of all backgrounds for more than 100 years and is dedicated to another century of excellence both in the classroom and in the community.
Become a fan of UNO on Facebook and follow UNO's Twitter updates. 
Contact Us
If you have a story idea, news tip, or other question, please email the UNO News team at unonews@unomaha.edu.