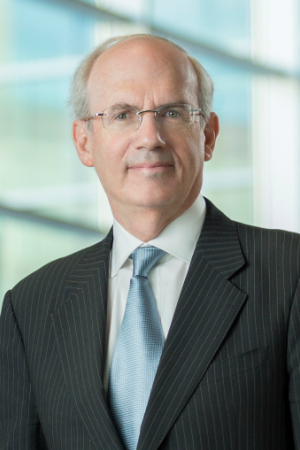 Jeffrey P. Gold, M.D.
Chancellor, University of Nebraska at Omaha
Chancellor, University of Nebraska Medical Center
---
Additional Information
---
About the Chancellor
Jeffrey P. Gold, M.D., the University of Nebraska Medical Center's chancellor since early 2014, added leadership to the University of Nebraska Omaha to his responsibilities on May 8, 2017, and approved for this additional role by the Board of Regents at its June meeting.
In 2017, Chancellor Gold established a Transition Advisory Council and a Transition Advisory Team that included UNO faculty, staff and administrators; UNMC faculty, staff and administrators; UNO Student Regent; and community members who helped ensure a seamless transition of leadership. Learn more about Chancellor Gold's UNO transition process.
Dr. Gold also steered the campus during his first year through a complex budget situation that resulted in a Budget Response Team and many campus forums and communications both during and after his transition process. The Chancellor maintained connections to campus through hundreds of meetings and touch bases with faculty, staff and students and established his regular Maverick Minute segment as well as frequent town hall meetings.
Dr. Gold is a nationally recognized leader and tireless advocate for transforming higher education, academic medicine and health care delivery.
Dr. Gold was formally installed as UNO chancellor at his investiture on September 5, 2019.
Education
Dr. Gold is a proud graduate of the Cornell University College of Engineering, where he received a degree in Theoretical and Applied Mechanics. He earned his M.D. from the Weill Cornell College of Medicine and completed his general surgery residency at The New York – Presbyterian Hospital and Memorial Sloan Kettering Cancer Center, where he later served as the administrative chief resident. He completed his cardiothoracic surgical fellowship training at the Brigham and Women's Hospital with additional training in pediatric cardiac surgery at the Boston Children's Hospital of Harvard Medical School.
He has been certified by the American Board of Surgery and by the American Board of Thoracic Surgery, specializing in adult and pediatric cardiac surgery.
Background
Dr. Gold became the eighth chancellor of the University of Nebraska Medical Center, vice president of the University of Nebraska system and chair of the board of UNMC's principal clinical care academic health system partner, Nebraska Medicine, in early 2014.
Prior to joining UNO and UNMC, Dr. Gold served as chancellor of the University of Toledo's academic and clinical health sciences, which includes the colleges of Medicine, Nursing, Pharmacy, Health Science and Human Service, and Graduate Studies. In that role, Dr. Gold had full leadership responsibility of the clinical, education and research programs, the faculty practice plan and the integrated hospital and ambulatory health care delivery system.
Before joining the University of Toledo, Dr. Gold served in academic and clinical leadership roles at the Albert Einstein College of Medicine – Montefiore Medical System as professor, department chair and heart center director and previously at the Weill Cornell College of Medicine – New York Presbyterian Medical Center as professor and Division Chief of Children's Cardiac Surgery programs where he was an active academic cardiac surgeon. His research has been extramurally supported for decades by compatible grants, including by the NIH, AHA, AMA, NYSDOH and others.
National Leadership and Research
Dr. Gold's national leadership is extensive, and has included more than 50 national professional committees and more than 100 national organizations, volunteer boards, government/public health councils, and industry. He has recently served as the Chair of the American Medical Association's Council on Medical Education and the AMA/AAMC's Liaison Committee on Medical Education. He is a member of the AMA House of Delegates. Dr. Gold has also served in numerous roles on governing boards and as the elected leader of regional and national professional, accreditation and advocacy organizations in the educational, research and clinical care delivery sectors.
He served as president of the Thoracic Surgery Directors Association and was recently elected to the Board of the Accreditation Council on Graduate Medical Education as well as several other national leadership positions in the Association of American Medical Colleges, the American Medical Association and other prestigious organizations. He has been repeatedly recognized as a Top 50 Health Care Executive and as a Top 100 Physician Executive, as well many national awards for service leading numerous community volunteer programs, philanthropic campaigns and programs. He continues his research interests actively with ongoing publications and presentations and continues to serve several journal editorial boards. Dr. Gold has authored over 200 peer-reviewed manuscripts, 250 national presentations, 40 books and chapters and over 300 invited professorships and keynote presentations.
Dr. Gold also holds a health professions academic appointment at the rank of professor in the College of Medicine, as well as in the College of Public Health, where his research interests in population health are concentrated.
Personal
Dr. Gold has been married for more than 40 years to a physician and has two adult children, currently residing in New York and Chicago.