Range of Octaves, Opportunities at UNO School Of Music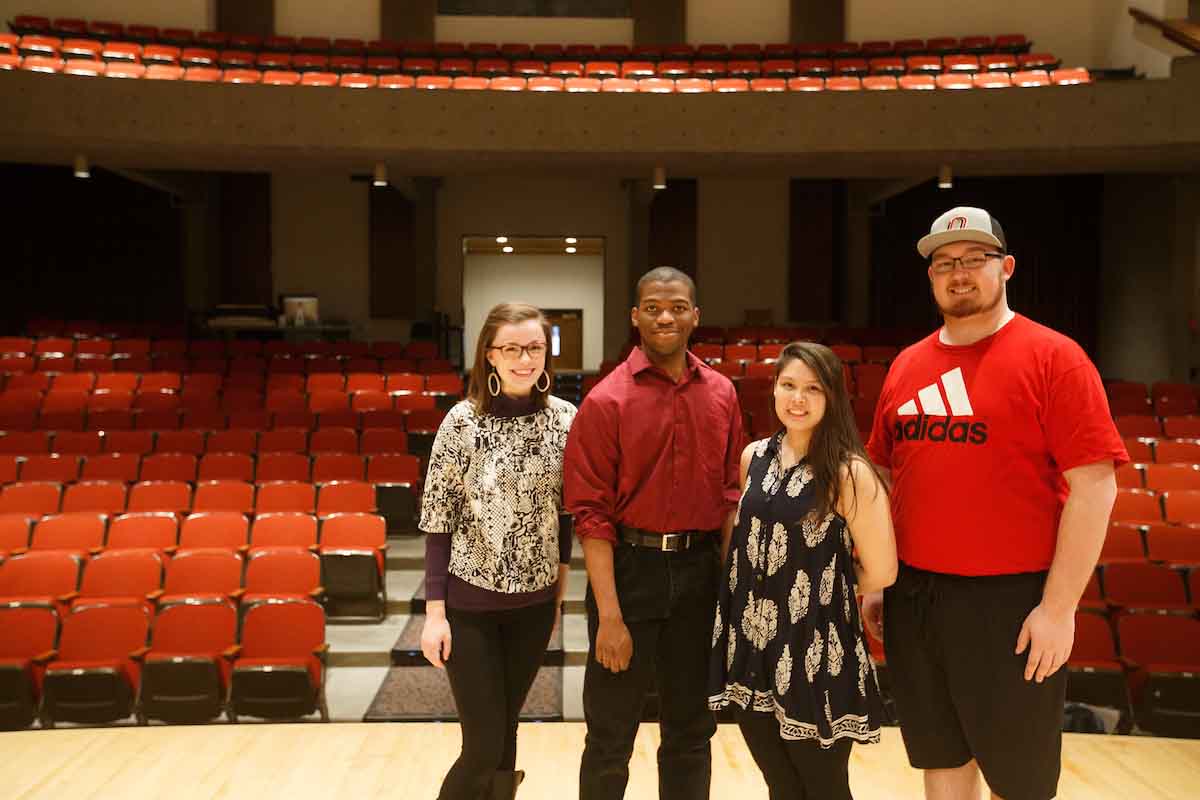 OMAHA – Fresh off award-winning performances at the National Opera Association Collegiate Competition, University of Nebraska at Omaha (UNO) School of Music students are ready to prove that you don't have to leave Omaha to have a career in performance art.
"Being in Omaha is a really fantastic situation," said Grace Kolbo, a voice performance major. "There's a lot going on and there's a lot of opportunity for UNO students to get involved."
When you pair Omaha's performance art scene with the UNO School of Music, it's an extraordinary combination.
"There are just so many opportunities at the School of Music," said Elijah Brown, a vocal performance major. "You're as involved as you want to be. If you want to pursue a solo or you want to sing in a particular area, you can do something about it. A lot of what we do is very inclusive, and in my opinion, it's the best place to start if you are pursuing classical music."
Kolbo and Brown took home second place for their performance in the Opera I Division at the National Opera Association Collegiate Competition.
Fellow students Marcel Daly and Roni Shelley Perez took home first place for their performance in the Musical Theatre Division.
The students say one-on-one attention and mentoring set UNO's School of Music apart.
"There's a really great student teacher ratio here, so we get really close and learn a lot from them about the music business," said Daly, who is majoring in vocal and saxophone performance.
"It's really intimate (at UNO)," said Perez, who is also a vocal performance major. "There is a lot of technique training. Anyone can just sing, but we're learning the logistics if you want to make a career out of it."
Assistant Professor Shelby VanNorstrand says every student in the School of Music gets individual attention.
"We really mentor students and take it very seriously," VanNordstrand said.
As for making a career out of music in Omaha, there are certainly plenty of places to get started: the Blue Barn Theater, the Rose Theater, the Omaha Symphony, the Holland Center, Opera Omaha, and the Omaha Community Playhouse are just a few examples.
"They are performing at all of these places as undergraduates," VanNorstrand said. "As a metropolitan university, I think that is something that is very unique to our experience. It's such an asset that all of our students can work and be involved in the community."
Thanks to Omaha's wide variety of venues, students can get experience ranging from an intimate performance to singing for a packed house.
"It's really nice that we have great exposure, but it's not too overwhelming," said Daly.
Kolbo, Brown, Daly and Perez all hope to make careers out of their passions for performance art. Omaha just might be the place to make that happen.
"The goal is always to make a living doing what you love to do," said Kolbo. "I think it's really important to provide music where you live and art where you live."
Interested in studying music? Learn about the UNO School of Music's innovative curriculum.
Contact Us
If you have a story idea, news tip, or other question, please email the UNO News team at unonews@unomaha.edu.