Chancellor Christensen Announces Retirement
Thank you Chancellor Christensen for your decade of leadership, collaboration, and momentum.
OMAHA – After 10 years of service as the head of the University of Nebraska at Omaha (UNO), John Christensen has announced that he will be stepping down from his role as Chancellor.

At an announcement made on campus Monday, Sept. 26, Christensen, who is the first UNO alumnus to serve as chancellor, stated that he will remain on until his successor has been named by University of Nebraska President Hank Bounds and the new appointee is ready to lead the campus.

Christensen called it a difficult decision, but said it is important to do what is right for both his family and the university.

"There's never a perfect time to leave your dream job, but there is a right time," Christensen said. "UNO is in a very strong position. I can proudly say that our metropolitan university mission is at the heart of everything we do, and our momentum is unstoppable."
Christensen made the announcement inside the atrium of Roskens Hall, home to the same College of Education where he was a student and later served as a faculty member and dean.
President Bounds said he will immediately begin developing plans for a national search for Christensen's successor.
"It's difficult to find someone who cares more about the success and well-being of our students and the quality of the institution than John," Bounds said. "The results are clear: Expanded access for students, including many who are the first in their families to attend college. Nationally recognized engagement with the community. Exciting momentum in research, particularly in areas where UNO can lead the way. A significantly wider campus footprint that has opened new opportunities for teaching and research and recruitment and retention of talent.
"And, tremendous success in private fundraising that has made college more affordable for students, provided valuable support for our faculty and academic programs, and allowed for new facilities that enrich the educational experience."
Christensen was named Interim Chancellor on Sept. 12, 2006. He was officially named UNO's 14th Chancellor on May 8, 2007.

In the 10 years Christensen has led the university, UNO has celebrated its centennial, moved its athletics to Division I, become classified as a doctoral-research university by the Carnegie Foundation and positioned itself as a standard bearer for metropolitan universities across the country.

Christensen said that none of those accomplishments were his alone; rather, it was the UNO community in collaboration with the city of Omaha that helped achieve them.

"This campus has transformed because of the faculty and staff and the community's support for our kids," he said. "It influenced my life and it is influencing the lives of so many others each and every day."
An Omaha native, Christensen earned a Bachelor of Science in Speech Communications and Drama at Dana College in Blair. Soon after, he discovered a passion for special education and sought out a program that would nurture that desire.
He found a home at UNO, beginning his career as a master's student in 1971, studying speech-language pathology. He would go on to earn his Ph.D. and return to UNO as a professor.

For nearly 40 years, UNO has been at the center of Christensen's life. He became chair of the Department of Special Education and Communication Disorders, then Dean of the College of Education, then Vice Chancellor, and eventually Chancellor.
"People pushed and pulled me," he said. "They supported me. It changed my life as a human being. That's the impact UNO can have on you. People may be tired of hearing this, but I'm the luckiest guy in the world."
Just as much as UNO has changed Christensen, there is no question that Christensen has left his mark on UNO. There has arguably been no more successful period in UNO's history than during his tenure as chancellor.
Just in the past decade, UNO has: 
Celebrated back-to-back records for the largest and most diverse incoming classes in UNO history.

Seen overall enrollment jump more than 12 percent, with 15,627 students enrolled this past fall.
Completed more than $480 million of capital projects, including first-of-their kind facilities like the Biomechanics Research Building, Community Engagement Center and Baxter Arena.
 Been recognized nationally with the President's Award for Economic Opportunity as part of the President's Higher Education Honor Roll.
Been named the No. 1 Military Friendly University in the nation by Military Times two years running.
Hosted national conferences such as the Coalition of Urban and Metropolitan Universities (CUMU) Conference, Human Movement Variability Conference, Deterrence and Assurance Academic Alliance Conference, and will soon host the Engagement Scholarship Consortium Conference.
Won the NCAA Midwest Regional in Men's Hockey and competed in the 2015 Frozen Four.
Hosted U.S. and foreign dignitaries such as President Barack Obama, Secretary of Defense Chuck Hagel, Japanese Minister of Defense Itsunori Onodera and Commander of the U.S. Strategic Command Admiral Cecil D. Haney. 
UNO Student Body President and Student Regent Patrick Davlin said Christensen's leadership and service is inspirational.
"Chancellor Christensen's dedication to creating a valuable and memorable experience for every UNO student sets him apart as a leader," Davlin said. "His passion for this mission is reflected in every part of the UNO community he's touched in the last ten years."
Christensen's impact will be felt even after his tenure as chancellor ends. He will continue to serve as a leader on a host of special projects that support UNO students.
University of Nebraska Regent Kent A. Schroeder said UNO has been fortunate to have Christensen at the helm for the past decade.
"His focus on UNO's most important strategic priorities – starting with our students – has put the campus on an impressive trajectory. I feel the excitement and sense of momentum every time I'm at UNO," Schroeder said. "That is a credit to the leadership and commitment of the Chancellor, his team and all of the talented faculty, staff and students who are part of the UNO community. The Board of Regents is grateful for all that Chancellor Christensen has done for UNO and the University of Nebraska."
Christensen said he is looking forward to spending more time with his family after transitioning out of his current role. He has been married to his wife, Jan, for 44 years. The Christensens have three sons, all of whom are UNO graduates. They also have six grandchildren. 
---
Watch: Chancellor John Christensen's Announcement
---
Reactions on Social Media
 
From Student Body President/Regent Patrick Davlin: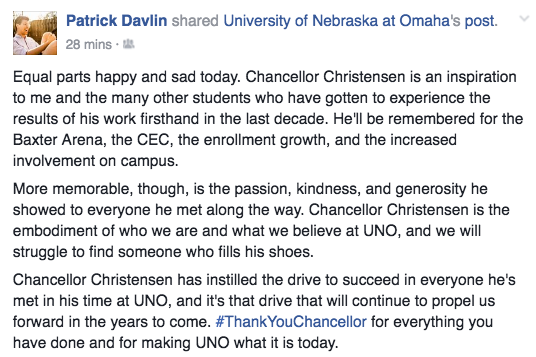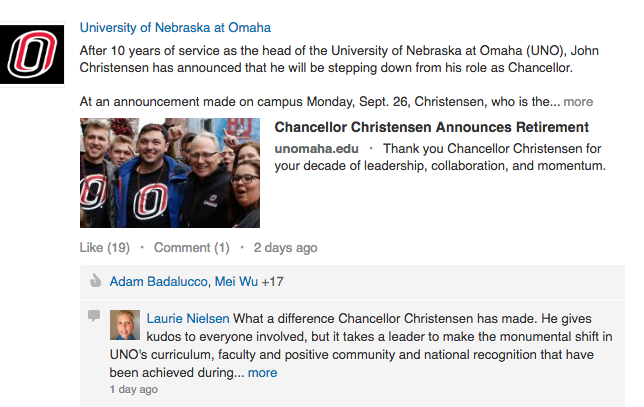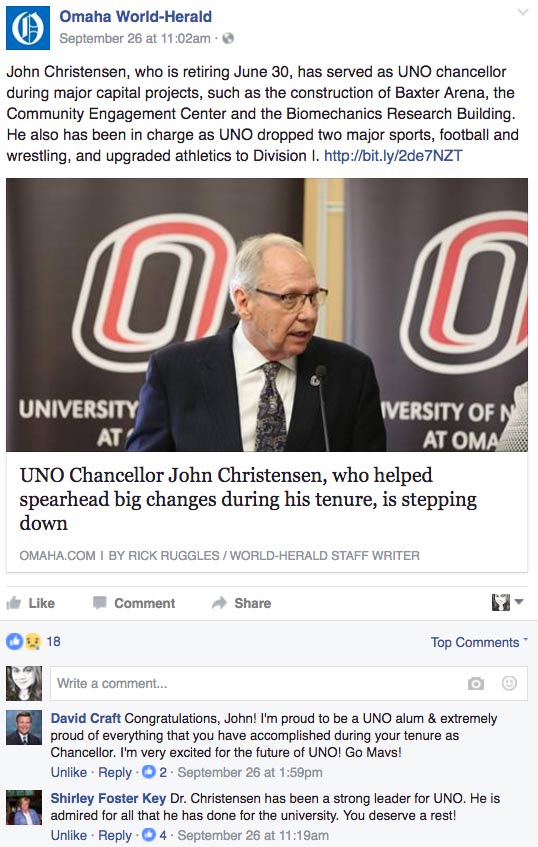 About the University of Nebraska at Omaha
Located in one of America's best cities to live, work and learn, the University of Nebraska at Omaha (UNO) is Nebraska's premier metropolitan university. With more than 15,000 students enrolled in 200-plus programs of study, UNO is recognized nationally for its online education, graduate education, military friendliness and community engagement efforts. Founded in 1908, UNO has served learners of all backgrounds for more than 100 years and is dedicated to another century of excellence both in the classroom and in the community.
Become a fan of UNO on Facebook and follow UNO's Twitter updates. 
Contact Us
If you have a story idea, news tip, or other question, please email the UNO News team at unonews@unomaha.edu.