Making an Impact at Home
UNO is responsible for a more than $600 million economic boost to the Nebraska economy each year.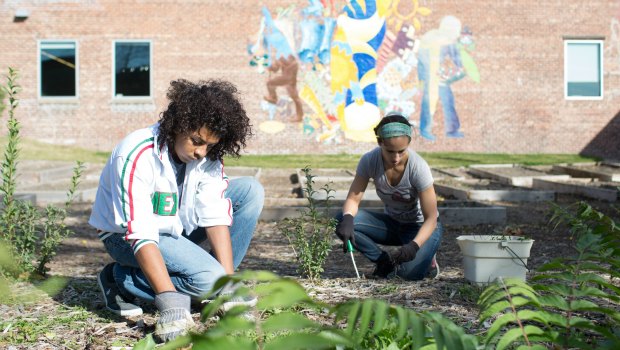 Volunteer events like UNO's annual Three Days of Service contribute to a $22.4 million impact on the Nebraska economy
The University of Nebraska at Omaha (UNO) is responsible for more than half a billion dollars in annual state economic impact according to a study released from national consulting firm Tripp Umbach.
Economic Impact
At a total of $605.4 million in impact through direct, indirect, and charitable services, as Nebraska's metropolitan university UNO is an integral part of the Nebraska economy through education of the state workforce, new research innovations and outreach.
Impressively, UNO students, faculty and staff are responsible for $22.4 million in charitable donations and volunteer services, annually, with more than $19 million of that coming through volunteer and service learning efforts in the Omaha metro area.

It is because of these numbers that, in 2014, UNO was awarded the Presidential Award for Economic Opportunity as part of the President's Higher Education Community Service Honor Roll.
UNO remains the first college or university in Nebraska to be named a Presidential Award winner and the only Nebraska university to be named to the honor roll each year since its launched in 2006.
"Know the O"
Access and diversity are two key features of the UNO experience with more than 6,000 of UNO's student body being first in their family to go to college, more than 1,300 military or military dependent students, and 2,000 international students from more than 117 countries.

Living, working and helping Nebraskans is a true community effort for the UNO community as well, with 87 percent of UNO students coming from cities and towns across the state.
More than 15,000 students and several thousand faculty and staff are helped in their efforts by university partnerships with more than 250 organizations focused on community issues, including housing, poverty, children, youth, family, environment, immigration, diversity, education, arts, health and safety.
UNO is also home to the world's largest community engagement library with over 10,000 volumes of scholarly work and the only stand-alone building dedicated entirely to community engagement.
For examples of UNO's impact across the state, visit our engagement homepage.
The University of Nebraska (NU) System
The study, which was commissioned by the University of Nebraska system, analyzed each of the four campuses, including the University of Nebraska-Lincoln, University of Nebraska at Kearney and the University of Nebraska Medical Center.
In total, the four campuses produced an economic impact of nearly $4 billion annually impacting more than 34,000 jobs across the state.

"The University of Nebraska touches virtually every Nebraskan in some way," NU President Hank Bounds said. "We know intuitively that the university is deeply connected to the economic and social well-being of the state. This report confirms that the state cannot be successful without its public university."
According to the study, UNO's economic impact of more than $600 million is made up in part by 5,141 jobs and more than $21 million in state and local revenue through taxes.

Today, there are more than 48,000 UNO alumni that live and work in Nebraska with approximately 40,000 of them working in the Omaha metro.
"The State Chamber believes higher education in Nebraska is vital to the state's economic well-being – from training the future workforce to conducting the research that will attract new jobs and industry," said Barry Kennedy, president of the Nebraska Chamber of Commerce and Industry. "NU leaders have worked with Nebraska's business community to identify the needs of employers statewide. We consider the university a valuable source of talent and an important economic driver for the Nebraska economy."
Study Highlights
Some of the overall highlights from the study include:
The university's $3.9 billion annual economic impact means that the activities of NU campuses, faculty, staff and students – and the resulting ripple effects in business and communities statewide – add nearly $11 million each day to Nebraska's economy.
The University of Nebraska sustains a highly skilled workforce for the state, supporting 1 out of every 36 jobs in Nebraska.
University research has a $385 million annual economic impact, supporting 2,500 jobs and advancing knowledge in areas such national security and defense, early childhood education and others.
About 189,000 NU alumni live in Nebraska, representing 1 of every 7 working-age Nebraskans. More than 10,000 new NU graduates enter the workforce every year, growing the state's earning power by $50 million annually.