Looking for Love? First-of-its-kind UNO Study Finds Hormone Could Help

OMAHA – A new study from the University of Nebraska at Omaha (UNO) discovered something new about the hormone oxytocin: it can lead to more attention from a mate. The authors' fresh take on a popular area of research has raised new questions about what motivates social interactions.
Lead researcher Jon-Ryan Cavanaugh, a graduate student at UNO, wanted to explore oxytocin's impact on how marmoset couples in long-term relationships interact.
Prior research has looked at how oxytocin impacts an individual's motivation to act socially. But together with UNO Neuroscience Program Director Dr. Jeff French, fellow graduate student Michelle Huffman and research assistant April Harnisch, Cavanaugh examined how oxytocin treatment might alter a social partner's behavior toward them.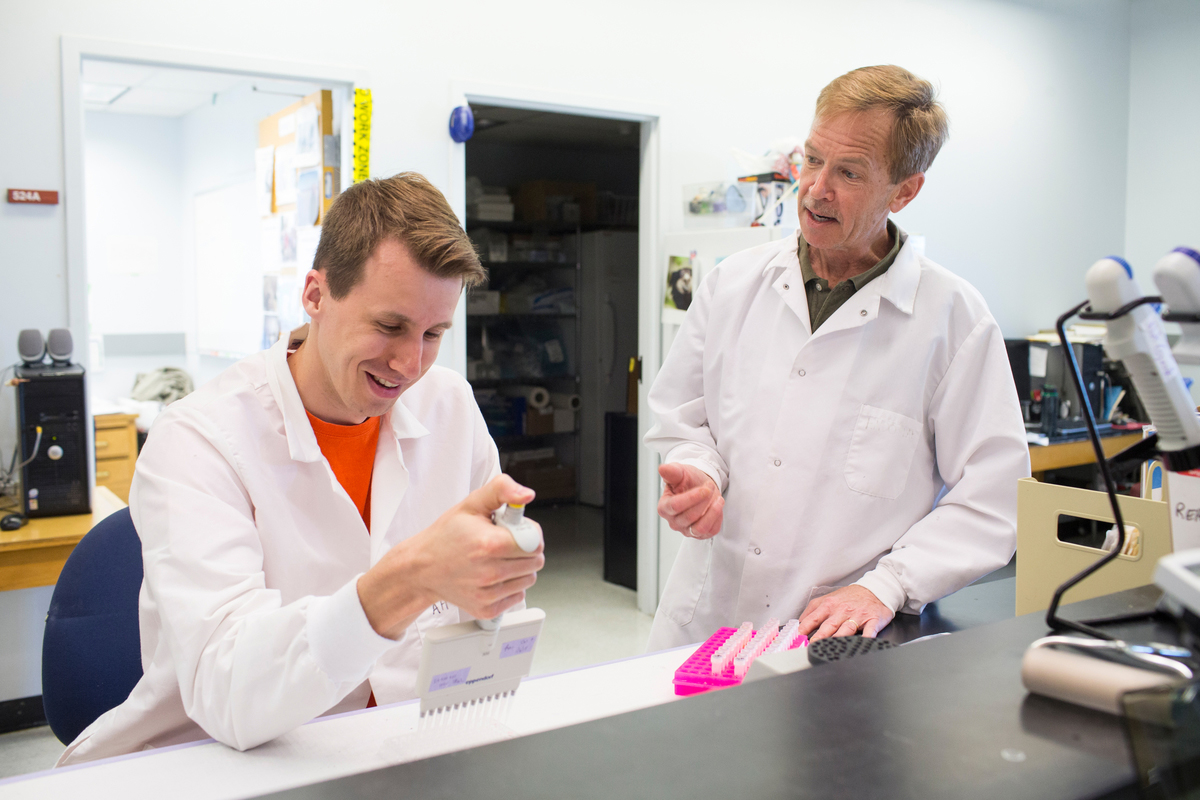 ---
Jon-Ryan Cavanaugh (left) conducts an enzyme immunoassay with Dr. Jeff French (right), a common occurrence in UNO's Endocrine BioServices Laboratory.
---
The group discovered that marmosets received more pampering from their long-term mates, after they received a non-invasive nasal spritz of oxytocin.
"The first measure I looked at was how often an individual was approached by their partner," Cavanaugh explained. "Typically, males do most of that. Males initiate most of the proximity in marmosets. But when males were given oxytocin, females started to approach them more than usual."
When females received oxytocin, they also received more attention from their untreated partner. The male would be more likely to initiate grooming, and would groom for a longer stretch of time.
The researchers study marmosets, because much of their behavior is similar to humans.
Dr. French says the six marmoset couples they studied are the equivalent of married couples in humans.
"They spend a lot of time huddling together, engaging in activities at the same time – co-feeding, co-sleeping," French said. "If there are kids around, they take turns taking care of the kids and all those sorts of things."
The scientists don't know what's triggering the increased attention. It's possible the marmoset is sending out different pheromone signals, but Cavanaugh thinks it's more likely the animal is inviting attention in some way that the researchers didn't pick up on.
"Something really subtle, that they're letting their partner know to come interact with them more," Cavanaugh said.
Researchers say the study has implications in the treatment of social disorders, like autism. While oxytocin may help treat some symptoms of a person with autism, the treatment could also encourage others to befriend that person.
Authors agree more research is needed. Cavanaugh says the group may be the first to look at oxytocin's influence on an individual's attractiveness as a social partner.
The study was published in the open-access journal Frontiers in Behavioral Neuroscience, so that scientists and the public will have immediate and free access to the paper. UNO's Criss Library covered the publication fee, as part of an initiative to support student and faculty publication in open source outlets.
The research was conducted in UNO's Callitrichid Research Center. The work was funded by the National Institutes of Health (NIH), as part of a grant that has supported marmoset research at UNO for 14 years.
For questions or media inquiries, please contact:
Sam Petto, UNO Media Relations Coordinator
402.554.2704 | unonews@unomaha.edu
or
Charley Reed, UNO Associate Director of Media Relations
402.554.2129 | unonews@unomaha.edu
Related Links
UNO, UNL Researchers Find Hormones Affect Voting Behavior
Association of Zoos & Aquariums Grants Certification to Callitrichid Research Center
Learn More About the Callitrichid Research Center
About the University of Nebraska at Omaha

Located in one of America's best cities to live, work and learn, the University of Nebraska at Omaha (UNO) is Nebraska's premier metropolitan university. With more than 15,000 students enrolled in 200-plus programs of study, UNO is recognized nationally for its online education, graduate education, military friendliness and community engagement efforts. Founded in 1908, UNO has served learners of all backgrounds for more than 100 years and is dedicated to another century of excellence both in the classroom and in the community.
Become a fan of UNO on Facebook: facebook.com/unomaha and follow UNO's Twitter updates at twitter.com/unomaha.
Contact Us
If you have a story idea, news tip, or other question, please email the UNO News team at unonews@unomaha.edu.