UNO Study: Fertility Rate Gap Between Races, Ethnicities is Shrinking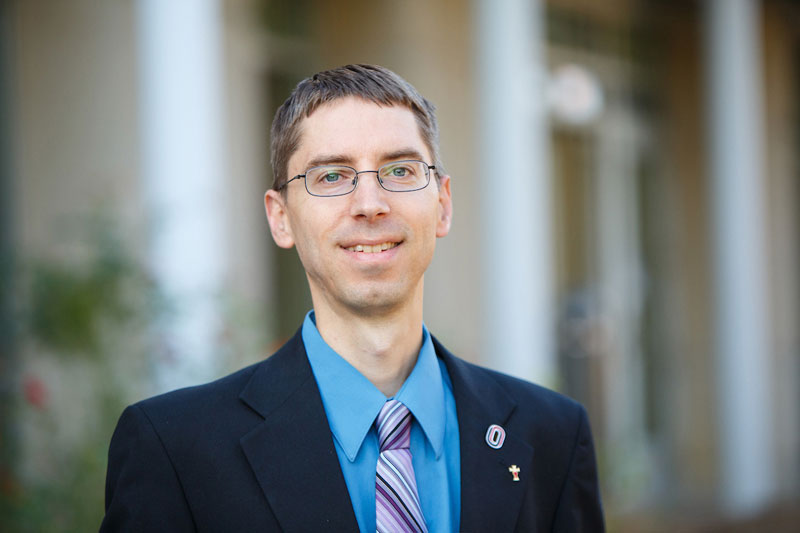 David Drozd, Research Coordinator in the Center for Public Affairs Research, is a specialist in data compiling and analysis and has worked with the U.S. Census Bureau and its data extensively.
OMAHA – A study from the University of Nebraska at Omaha's (UNO) Center for Public Affairs Research (CPAR) has found that, based on recently released data on births from 2013, U.S. fertility rates among major racial and ethnic groups are now much more similar than in the recent past. This is in contrast to the perception that Hispanic fertility rates are vastly above those among Whites and Blacks.
The data, which was released Jan. 15 by the National Center for Health Statistics, shows Hispanic births in the U.S. have declined each year from 2007 to 2013. The 2013 U.S. fertility rate among Hispanics stands at 73 births per thousand women aged 15-44, which is down from 98 in 2006, prior to the economic downturn, and 108 in 1990. The U.S. fertility rate among Black non-Hispanics was 65 in 2013, only an eight-point difference versus the Hispanic rate, the smallest difference in at least 25 years. Prior to the recession, the Black fertility rate was nearly 30 points below the Hispanic rate.
The report also shows that the U.S. White non-Hispanic fertility rate has held relatively stable since 1990, at around 60 births per thousand women of reproductive age. That said, since 2007 the fertility rate among Whites has declined slightly, from 61 in 2007, prior to the recession, to 59 in 2013. The current rate for Whites is only a 14-point difference compared to the Hispanic rate, whereas it was 45 points below in 1990.
"This shift in fertility rates is simply not getting enough attention," explained David Drozd, a demographer with CPAR, who compiled and analyzed the figures. "U.S. births among Hispanic mothers neared 1.1 million in 2007, but barely exceeded 900,000 in 2013. The changes are challenging some of our assumptions as we project the population into the future. Even if the decline in Hispanic births is temporary and rebounds as the economy recovers, it will take years for fertility rates to climb toward pre-recession levels and the lower fertility rates, especially among Hispanics, might become the new normal."
The shift in rates is having a sizeable impact in the total number of children women would tend to have over their lifetimes. In the early 1990s, a group of 1,000 Hispanic women would have been expected to have nearly 3,000 children during their lifetime (3.0 children per woman). Now the expected number of children would be about 2,150, or just above the 2,100 needed to replace the existing population (2.1 births per woman to replace herself and the father factoring in mortality is a demographic standard).
Total fertility rates for Black non-Hispanic women in the U.S. were above the replacement level in 2008, but have fallen below that number with 1.88 children expected over the course of a lifetime. Expected lifetime births have also fallen for White non-Hispanic women from 1.91 in 2007 to 1.75 in 2013. U.S. White non-Hispanic births have been below the replacement level of 2.1 births per woman for decades.
Another finding is that Nebraska's fertility rates have consistently been above the U.S. average since 2000, and in 2013 reached a new high of being 16 percent above the U.S. rate. The number of births has also trended upward since 1997, peaking in 2008 at an average of 76 births per thousand women of reproductive age.
Similar to the national trend, the fertility rate among Hispanics in Nebraska has greatly declined, from 130 in 2005 to 94 in 2013. The Nebraska Black non-Hispanic fertility rate in 2013 of 95 births per thousand women aged 15-44 slightly exceeded the Hispanic rate, after having been 50 points below the Hispanic rate in the late 1990s. The fertility rate of Nebraska White non-Hispanics has held steady since 2006 at 68, and while still trailing the Nebraska Hispanic rate by a sizeable margin, the rates are much more similar today than in earlier years.
The fertility rates among the most populous races and ethnicities in Nebraska each exceed the U.S. average. Black non-Hispanic fertility rates in Nebraska are currently 40 percent higher than in the U.S. overall, with Hispanics having a 30-percent higher rate, and White non-Hispanics now having a 15-percent higher fertility rate than the U.S. overall. For most of the 1990s, the White fertility rate in Nebraska was just above the U.S. average, but it has trended relatively higher in a steady fashion.
"There's no doubt that fertility rates in Nebraska are quite high compared to the U.S. and most other states," Drozd said. "If the state keeps its current three Congressional seats in the 2020 Census, it will have local parents to thank for their large contributions to the state's population growth."
Other information contained in the U.S. data and Nebraska birth information provided by the Nebraska Department of Health and Human Services and analyzed by UNO is summarized as follows:
- U.S. births peaked at 4.3 million in 2007 and have declined each year since, to 3.9 million in 2013. 2013 U.S. births to White non-Hispanic mothers were the lowest in the last 25 years at 2.1 million.

- The 2013 overall U.S. fertility rate of 62.5 births per thousand women aged 15-44 was a record low. The rates for Hispanics (73) and Black non-Hispanics (65) were the lowest in at least 25 years of available data going back to 1989.
- The differentials in U.S. fertility rates and total fertility for Hispanics vs. Blacks, Hispanics vs. Whites, and Blacks vs. Whites were each the smallest differences in the 25 years of available data, showing that fertility rates among these races are more similar now than in the recent past.

- The percentage of all U.S. births to Hispanic mothers was nearly 25 percent in 2007, but was below 23 percent in 2013. Births to Black non-Hispanic and White non-Hispanic mothers represented 15 percent and 54 percent of all births respectively, levels that have held steady since 2006.

- Nebraska births to Hispanic mothers increased from under 1,000 in 1990 to more than 4,000 by the late 2000s. Hispanic births in Nebraska dropped for three straight years from 2009 to 2011, but have risen in both 2012 and 2013, in contrast to declines seen nationally.

- Minority population groups (non-Whites or Hispanics) account for more than a quarter of Nebraska births currently, more than double the 12 percent these groups accounted for in 1990.

- Based on average births between 2008 and 2012 and 2010 Census counts, total fertility rates in Nebraska were 2.04 births during a lifetime for White non-Hispanic mothers, 2.75 for Black non-Hispanics, and 3.01 for Hispanics, each near or above the replacement level of 2.1 and a great deal higher than the U.S. averages.

For more information about the study, please contact Drozd at ddrozd@unomaha.edu.

For media inquiries, contact Charley Reed, UNO media relations coordinator, at 402-554-2129 or unonews@unomaha.edu.

About the University of Nebraska at Omaha

Located in one of America's best cities to live, work and learn, the University of Nebraska at Omaha (UNO) is Nebraska's premier metropolitan university. With more than 15,000 students enrolled in 200‐plus programs of study, UNO is recognized nationally for its online education, graduate education, military friendliness and community engagement efforts. Founded in 1908, UNO has served learners of all backgrounds for more than 100 years and is dedicated to another century of excellence both in the classroom and in the community.

Become a fan of UNO on Facebook: www.facebook.com/unomaha and follow UNO's Twitter updates at http://twitter.com/unomaha.