Garrett Uecker Gives Wildfires the Business
Uecker, a BSBA graduate and new CBA donor, isn't in the business you might expect – he's a wildland firefighter.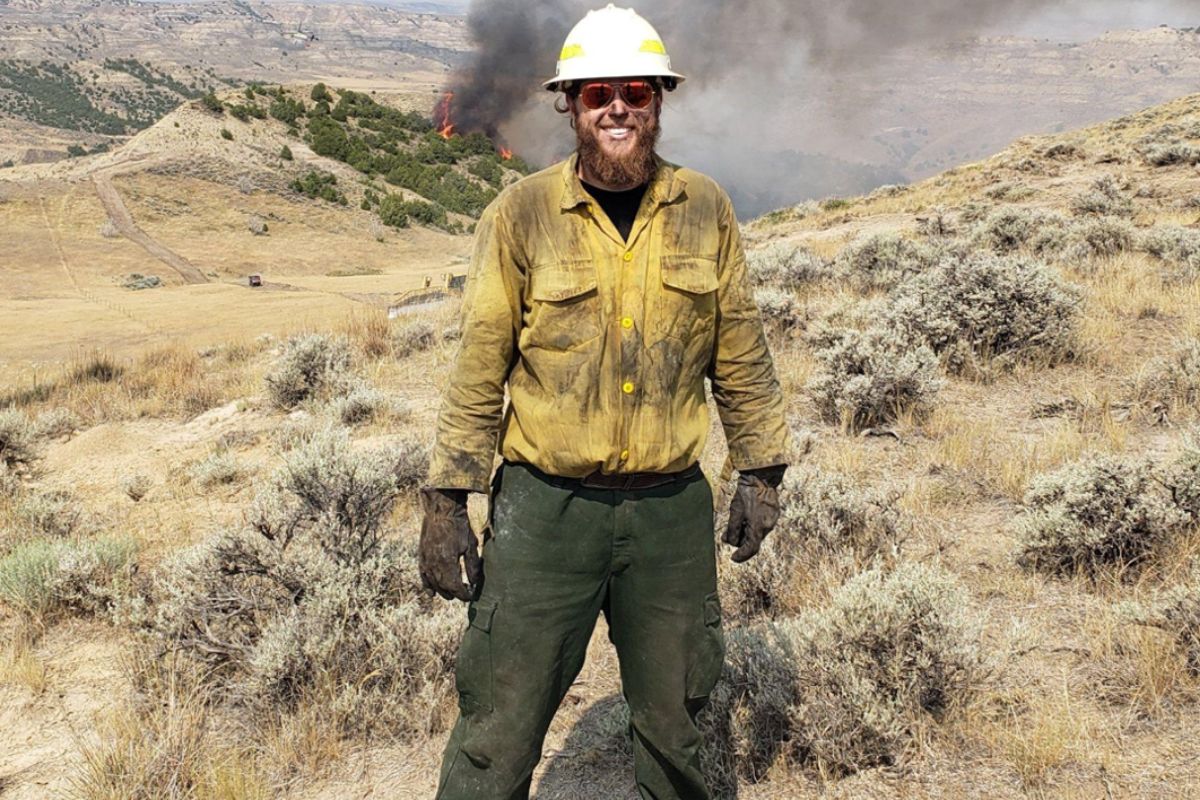 Garrett Uecker, a BSBA graduate from UNO with a concentration in management and minor in criminal justice, isn't in the business that you might expect. This Summa Cum Laude alum, who graduated in spring 2020, is a wildland firefighter.
A rural Nebraska native, Uecker grew up in Wyoming and South Dakota before finding his path to college in Omaha. While at UNO, his love of all activities outdoors grew, including SCUBA diving, climbing, canyoneering, backpacking, and paddling – all great ways to evade the drone of the city.
Prior to COVID, Uecker was planning to earn a master's degree at UNO, but when the Outdoor Venture Center (OVC) went on hiatus, Garrett became a private contractor after experience with the Minnesota State Parks system. The record-breaking 2020 fire season drew him toward the need for wildland firefighters; consequently, he enrolled in the S-130 fire training course and S-190 introductory fire behavior class. He was hired by the U.S. Fish and Wildlife Service, where he's currently entering his third season as a Forestry Technician out of the Rainwater Wetland Management District in Funk, NE, southwest of Kearney. He's often called to fight fires not only in Nebraska, but also in multiple western and northwestern states.
So what drew this outdoor enthusiast to a business degree? Uecker identified the overlap of business concepts with nearly every other field.
"Wildland fire, more so than ever in today's unprecedented droughts, demands an enormous number of logistical considerations, as well as in both the professional and personal aspects of agency administration. In the face of these, my education has given me a tremendous advantage in recognizing the best avenues for communication and coordination within a large or decentralized entity," said Uecker. "I hope to, as I learn more, take these skills to an incident manager role, eventually working behind the scenes, but for now I try to apply my education at whatever level I am working."
Uecker attributes his experience in the CBA Scholars Academy to shaping his personal and professional success. His friendships were forged through the Academy and comprised much of the support group that guided him through the degree process. Academy mentors and Director Bethany Hughes were instrumental to Uecker's navigation toward a career path, even when the road seemed a bit unconventional.
"The Scholars Academy provided a community created in a dynamic environment, sharing a glimpse into what lay ahead. Dr. Bass and Dr. Miles also did a tremendous job in providing a semester-long opportunity for professional education [with the Capstone Cup]," said Uecker. The Scholars Academy supported his internship with the Minnesota Parks system and embraced his distinctive career goals.
The support from UNO CBA, as well as the business insight he earned that can now be extended into any career, inspired Uecker to become a donor for the college. His sees his role as a donor as an inevitable extension of his belief in the value of education.
"I think that we owe the world our personal investment in positive things. I do know that there are many people in the CBA investing tirelessly in students, programs, and experiences that alter people's lives, and if they are willing to demonstrate that tireless resolve, then they have my support," said Uecker. He also recognizes that even the smallest bit of support can make a big difference in the life of a student. "I know my donations are but flakes in the avalanche, but I hope to see further investment in the Scholars Academy, as well as the Capstone Cup."
In working up the ladder with USFWS, Garrett plans to qualify as an engine captain while conducting trips for BattleBuds, a veteran-centric adventure cooperative initiated by fellow UNO alumnus Kyle Keener. He also plans to become more involved in his new community as he enjoys flying his restored Piper Tri-Pacer and tinkering with antique boats. Ultimately, Uecker proves that education is important everywhere, while embodying the Maverick spirit of giving back and being true to yourself that inspired his career today.
Contact Us
If you have a story idea, news tip or inquiry, please contact:
Lindsey Hasenjager, Director of Social Media and Promotions, College of Business Administration
lhasenjager@unomaha.edu • 402.554.3852