Senior Looks to Break Barriers
published: 2019/04/24
contact: Charley Steed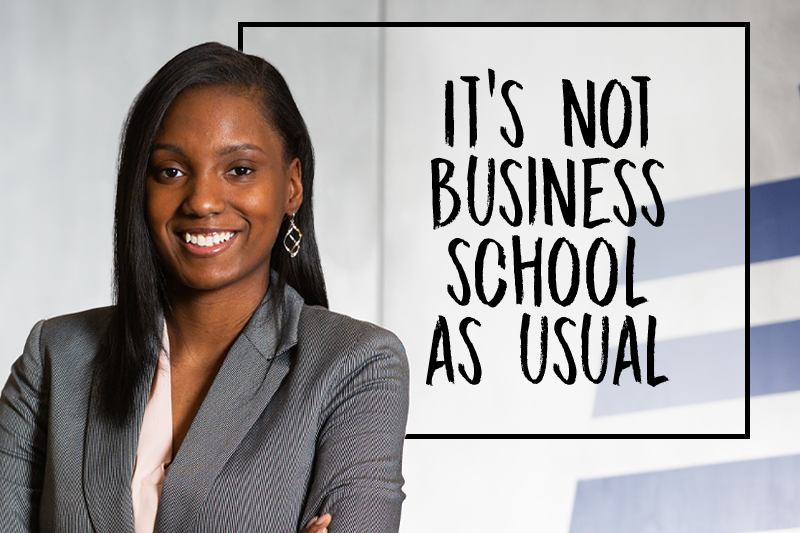 When she was growing up in North Omaha, UNO senior Tiffany Hunter understood something was different about the neighborhoods there than other places in Omaha. However, it wasn't until she took a real estate course during her sophomore year that she understood the reasons.
"I learned how behind the curve North Omaha is compared to other neighborhoods," she says. "West Omaha is fairly nice and developed and South Omaha has a lot of space for small businesses, which benefits their neighborhood economy – but in North Omaha there isn't too much of either of those."
After graduating in May, Hunter hopes to begin taking the situation head on and she is already well on her way. This summer, she was named just one of 20 students from across the country to receive a $5,000 scholarship from the Commercial Real Estate Women (CREW) Network Foundation – and just one of two students from the state of Nebraska since the scholarship was formed in 2007.
"I want to get involved in my community by working on developing its infrastructure and buildings to contribute to the betterment of the overall community, including public schools," she explains. "Many people don't realize how important the surrounding real estate is to how those schools get funded. The property taxes in an area go to support schools, and in the community I grew up in, there are a lot of delinquent property taxes due to abandoned properties and the lack of investments."
As part of her scholarship, Hunter, who is also a member of UNO's University Honors Program, will get to attend the CREW national convention this October in San Diego and is now an official member of Omaha's chapter of CREW, which has already made an impact.
"Just being able to learn about different developments and other happenings going on in Omaha has been very beneficial," she says.
Hunter's motivation and desire to help her community is something that one of her instructors, David Beberwyk, noticed early on.
"She's been the top student in the two classes I've had her in, and always goes above and beyond course requirements," he explains. "For one of her Honors Program assignments, she approached me about doing an independent study project on a journal article entitled, 'Fairness in Housing in the Omaha Region.' She was passionate about the project and put together an excellent synopsis of the article, and offered her own insightful conclusions. I was impressed with her overview and I've shared it with other students in my classes."
Beyond her work with CREW and the University Honors Program, Hunter is president of UNO's chapter of Rho Epsilon, the UNO student real estate club, and is an intern for Union Pacific's real estate division, where she is gaining experience communicating with customers, valuating properties and drafting, or evaluating, real estate contracts.
Hunter's perspective and focus on how to improve her community, through real estate, is something Beberwyk says the industry needs more of.
"In the commercial real estate industry, women have been a minority for many years, but that is changing as more and more women are choosing to become a part of this previously male-dominated field. The number of females in the UNO real estate Program has also been on the rise over the past three years … and one of the reasons is CREW, especially the Omaha chapter of the organization. They are very active and work wonders to help and support their members, the industry, the community, and our students. I greatly value the partnership between UNO and CREW."
For Hunter, that support and access to scholarships in general, is vital. Now, instead of worrying about paying for college, she is focused on making her goals of improving her community a reality.
"Something that people may not realize is how important these scholarships are to people like myself. Even just a $5,000 scholarship is helpful and inspires students to become further engaged in what they are studying and make a change in whatever industry they plan to go into."