Attitude Is Everything
For upcoming CBA graduate Zac Marquess, attitude has allowed him to excel through college, internships, and life transitions.
published: 2019/03/04
contact: Rachael Smith - CBA Marketing Department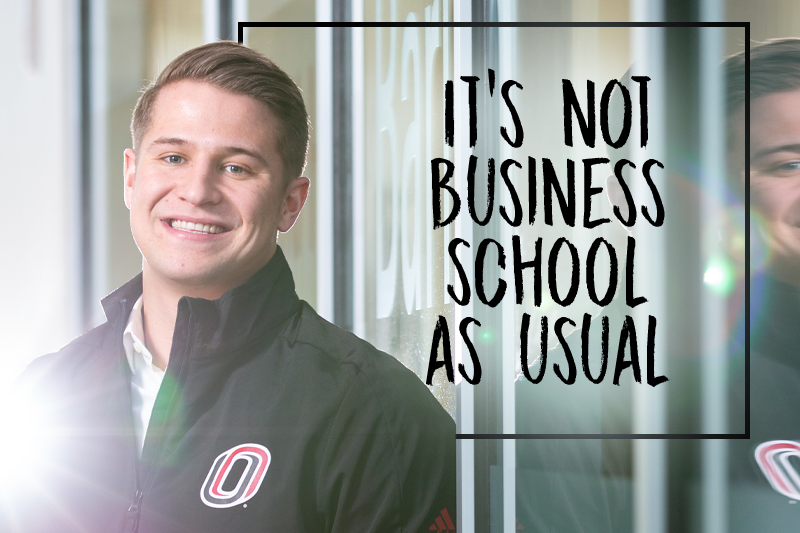 Senior business student Zac Marquess grew up on the words of his idol – his grandfather. Marquess' grandfather worked in the car industry before diversifying into commodities and asset management, and always boasted a "start from nothing, work-your-butt-off and create a good life attitude," Marquess says.
This relationship established early on for Marquess the foundation of how to react when faced with a challenge.
"A lot of people quit early and don't want to do the hard stuff, don't want to put the work in," Marquess says. "In reality, your attitude has so much to do with your daily life."
Marquess was inspired by his grandfather's rags to riches story to pursue his UNO CBA degree and ultimately dreams of working in private equity asset management. He graduates Spring 2019, but his college journey has tested his attitude and changed his life in entirely unexpected ways.
"Coming out of high school, soccer was my thing. I was identified as a soccer player," Marquess says. This drove him to look at schools across the country, and while he was met with several impressive offers, he reopened his decision after encountering UNO and Omaha's welcoming culture.
"My family calls UNO the hidden jewel of the Midwest," Marquess laughs. "As soon as I stepped on campus, I fell in love. The soccer team was amazing, students were amazing, and after meeting with Dean Pol who pitched me on the Scholars Academy – I decided this would be the place for me."
He cites UNO's supportive environment as what drew him in the most.
"The differentiator of UNO versus everywhere else is the people," Marquess continues. "They've connected with me and have been huge mentors in my life. They actually care about you as a person."
After coming to UNO, Marquess welcomed new experiences. He loved interacting with his Scholars Academy cohort and fondly remembers their study abroad trip to Germany. However, life always has its unexpected curves.
During his junior year, Marquess faced a variety of personal challenges that tested his trajectory. This offered him an opportunity to reevaluate his life and make choices that would benefit him long-term. Marquess was ready to grow as a person, making the decision to be known for more than soccer stardom.
"I got real about myself. I looked in the mirror and asked, 'what do I want to do with my life?'," Marquess remembers. "I knew I wanted to be the best person possible, and that my career would be a huge part of that. I shifted my focus to business and asset management."
Marquess pursued the transition from athletic to professional aspirations with his trademark enthusiasm. He again credits UNO for its support in allowing this transition to take place.
"It was hard making the decision to shift my focus and move on from what I was used to," Marquess says. "The UNO CBA was huge in assisting my transition from soccer to creating my professional life."
Despite the difficulty of such a transition, Marquess has excelled during business school and enjoyed several well-earned professional opportunities. He interned at KPMG, an opportunity provided through UNO CBA that allowed him to make connections he's already utilized in his real estate career.
Now, Marquess works at Goldenrod Capital Advisors, a private equity real estate fund company. UNO athletic director Trev Alberts helped Marquess to establish the initial connection with the company, and he hopes to continue working there full-time after graduation.
With his usual positivity, Marquess says he will look back fondly at his challenging, life-changing time at UNO.
"UNO CBA creates opportunities that you didn't know exist," Marquess says. "It helps connect you to the people you need to know to be successful in your field. UNO really does this differently, and it accelerates your career years ahead."
And rounding out his fourth year of undergraduate school, after tackling such significant challenges and periods of growth, Marquess wants to serve as a point of encouragement for anyone facing concerns about the future.
"I just want to say, that if you want to do something bad enough, you've got to put your mind to it. Anything's possible."