Student Entrepreneur: Makayla Rohrer
Meet the UNO freshman who's reimagining emergency training through augmented reality.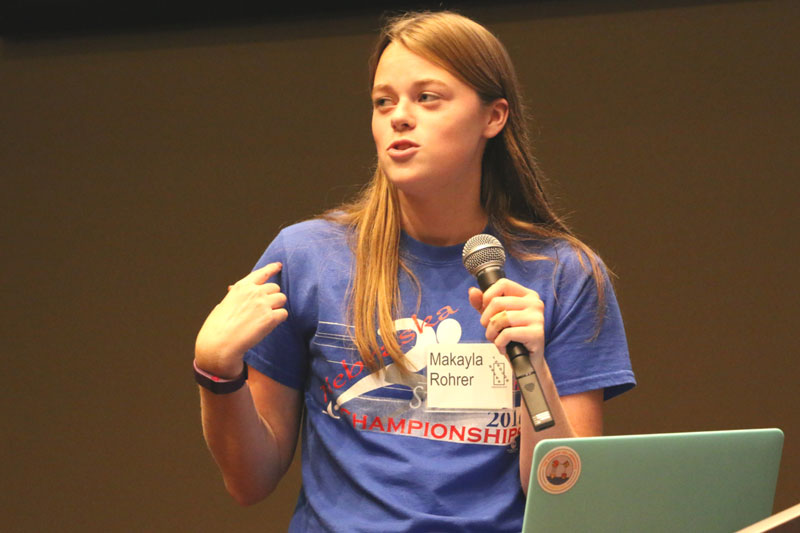 University of Nebraska at Omaha freshman Makayla Rohrer is the most recent winner of Breakthrough Weekend and the force behind VirtuTech, an augmented reality emergency training simulator.
Rohrer, 18, is studying IT innovation with a minor in entrepreneurship and is a member of UNO's Entrepreneurial Living Learning Community (ELLC). Since winning Breakthrough Weekend, she has been working with The Startup Collaborative on her prototype.
"I am excited about everything I have accomplished," she says. "I never thought I would be thinking of starting my own business my first semester of college."
This Hickman, Nebraska, native shares more about her entrepreneurial journey.
What is VirtuTech?
VirtuTech's approach takes emergency drills to a new level. It combines augmented reality with the user's everyday environment to teach real escape tactics when things go wrong, prepare them for multiple scenarios and provide training that saves lives.
How did Breakthrough Weekend help you develop VirtuTech?
Before Breakthrough Weekend, I was just working on the concept as a class project. I thought it was a neat idea, but I never thought about taking it further. After working on it for 54 hours with my team, I realized there is a problem with current emergency drills and training. Winning the event got my name out there and got the idea of taking it further into my head.
How has the Startup Collaborative helped you?
Without the Startup Collaborative, I never would have done anything more after Breakthrough Weekend. They have been such tremendous support, and they try to keep me on track with advances. They are always there and willing to help when I need it. They also have a level system, which makes everything more organized and more accessible to tackle one task at a time.
What has been the most significant success with VirtuTech?
I think the most significant success has just been getting the concept out to the public and gaining new networks. The Startup Collaborative has had me participate in a few of their events, and it helps get people thinking about my concept and giving me feedback on the idea.
Who else has helped you reach your goals so far?
Other than The Startup Collaborative, I would like to thank the UNO College of Business Administration's Jenna Taulman and Dr. Dale Eesley. They lead the ELLC and are always telling us about events that would be great to participate in. I would also like to thank my team from Breakthrough Weekend because they got VirtuTech where it is today because of all of their hard work in less than 54 hours. I would never have made that much progress without them.
Contact Us
If you have a story idea, news tip or inquiry, please contact:
Lindsey Hasenjager, Director of Social Media and Promotions, College of Business Administration
lhasenjager@unomaha.edu • 402.554.3852
Our Campus. Otherwise Known as Omaha.
The University of Nebraska does not discriminate based on race, color, ethnicity, national origin, sex, pregnancy, sexual orientation, gender identity, religion, disability, age, genetic information, veteran status, marital status, and/or political affiliation in its programs, activities, or employment. Learn more about Equity, Access and Diversity.
scroll to top of page