UNO Students Win College Marketing Competition
Business students enjoy back-to-back wins during a marketing competition sponsored by Heartland Chevy Dealers.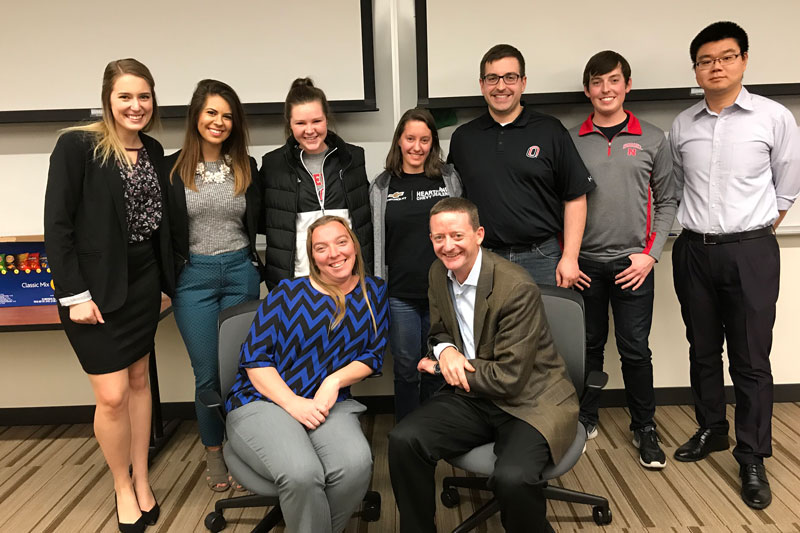 Maverick spirit is running high for students at the University of Nebraska at Omaha College of Business Administration.
It's the second year in a row that UNO business students won a college marketing competition against peers from the University of Nebraska-Lincoln and Creighton University.
In partnership with Heartland Chevy Dealers and Southport Marketing, the competition challenges students to develop a marketing plan for the Chevy brand. Working as a marketing agency with a $100,000 mock budget, teams are tasked with preparing a 30-second TV commercial, social media marketing, event marketing and budget research.
"Winning the competition back-to-back showcases the ability of UNO marketing students to handle real-world marketing challenges," said Dr. Yanhui Zhao, assistant professor of marketing.
UNO's winning team included Erin Dabbs, Amanda Ewoldt, Riya Keyes, Mark Klamm, Amber Meyer, Kurt Payne, Chelse Sellers, Rachel Skolaski, Shannon Suver and Rachel Van Arsdall.
The team presented to a panel of more than 10 managers from Chevy and Southport Marketing, impressing judges with their out-of-the-box thinking and a well-developed marketing plan for the Chevy Trax.
"This competition was a great experience," said Erin Dabbs, a senior business student and member of the winning team. "Creighton and UNL both brought strong teams and set the bar high. Being from three different universities, everyone's presentation styles were unique, and I enjoyed learning from each group."
The team researched the car shopping behavior of millennials by collecting and analyzing consumer data.
"The Heartland executives were receptive to our recommendations," Dabbs said. "It was refreshing. They sincerely wanted to learn from us, asking questions and clarifying how we, as millennials, make buying decisions."
The team also pointed out the ineffectiveness of traditional media in reaching millennials and offered detailed recommendations on how Chevy dealers could influence millennials by using social media.
"Judges praised that this presentation was eye-opening and changed their understanding of millennials, which was what they were looking for when sponsoring the college marketing competition," Dr. Zhao said.
Each year, students enjoy the opportunity to develop a real marketing campaign as part of this competition, which has been in Omaha since 2013.
"It showed me we are capable of implementing the knowledge we have gained at UNO into real-world scenarios," Dabbs said. "It was definitely a confidence boost."