New Faculty: Zhigang Feng
Meet a new addition to CBA's roster of diverse, dynamic faculty.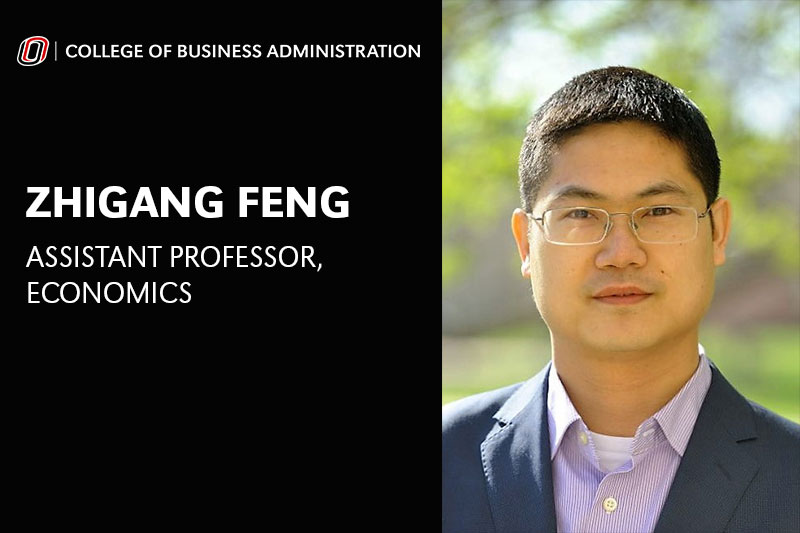 Last fall, the UNO College of Business Administration welcomed nine new full-time faculty members — one of the largest classes in college history.
---
Dr. Zhigang Feng, Assistant Professor of Economics
Ph.D., Economics, University of Miami
Originally from China, Zhigang Feng has enjoyed an extensive career in academia. After receiving his Ph.D. from the University of Miami, he spent three years in Switzerland as a post-doc researcher at the University of Zurich. Later, he worked as a visiting professor at Purdue and the University of Illinois at Urbana-Champaign.
Feng decided to become a professor after witnessing the economic growth in his home country. This fascination launched his career in economics and academia.
Outside the classroom, Feng stays busy with his growing family. He also enjoys collecting artwork and experiencing the great outdoors by hiking and fishing.
Read on to learn more about Dr. Feng.
What are your research interests?
I enjoy researching macroeconomics, public finance and health economics. Currently, I work on understanding the impact of the Affordable Care Act on entrepreneurship. I also study the determination of government debt.
What are your impressions so far of UNO and the College of Business Administration?
UNO has a vibrant campus. Students are motived and eager to learn. Faculty are active and hardworking. Staff offer the best support I have experienced so far.
What's your favorite thing about teaching/working with college students?
To disseminate economic ideas and discuss with them the current economic issues such as income inequality, unemployment, etc.