UNO Business: Beyond the Classroom
Experiential learning opportunities in CBA help students connect theory and practice.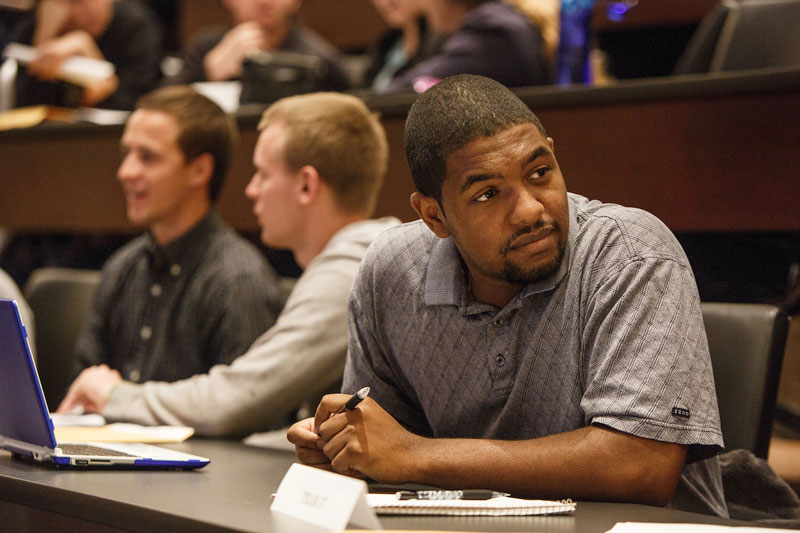 This story is published in UNO Business, the college's annual magazine. View the publication here.
---
Motivate customers to "mob" a business on a specific date using an incentive.
That's the logic behind an experiential project in Dr. Jonna Holland's Integrated Marketing Communications class — aiming to not only engage students and equip them with real-world marketing experience but also enhance UNO's community service initiatives.
Students are tasked with choosing a business and synergistic community cause. Then teams develop and implement an integrated campaign, including advertising messages, face-to-face promotion, a public relations plan and social media strategy.
The class project borrows from the Carrotmob concept, now more commonly called a "buycott."
The concept is a combination of two consumer activism ideas, Holland explains. "The first is about motivating behavior by means of incentive rather than punishment — the carrot rather than the stick — and the second is based on the idea of a flash mob, or synchronized collective action."
An associate professor of marketing, Holland says the project generates high student engagement and an enhanced mastery of learning objectives. "Although challenging, this project provides students a unique opportunity to experience the full breadth of marketing: research, planning, promotions, and partnerships with local businesses and community organizations."
This spring semester, Holland's students partnered with nine local businesses to plan events that spanned the month of April.
The incentive? The events raised money for a local nonprofit, and many included customer discounts or other special perks.
Michelle Ervin, a junior marketing major, was part of one team that planned a social fundraiser to benefit the Fred & Pamela Buffett Cancer Center.
Held at House of Loom in downtown Omaha, the fundraiser featured a $5 donation at the door, live music and DJs from Power 106.9, and various raffle prizes from sponsors such as Stella's, Aksarben Cinema, Spaghetti Works, Liquid Courage Tattoo and more.
Dubbed the Cancer Aid: Power Jam, the event garnered $1,750 in donations during the event and in matching funds from Cricket Wireless, one of the sponsors.
"This event helped to build upon the correlation that community members have between Power 106.9 and giving back to the local community," says Ervin, who appreciates how much the project taught her about marketing and its associated costs, the best (and worst) ways to reach a target audience, and how to create a cohesive theme. "When I sit down for a job interview, I can feel confident knowing I've had experience in the various channels of marketing in a hands-on way."
Other teams' events included a dance night with the Omaha Jitterbugs — amassing 225 pounds of canned food for the Open Door Mission — and a pet spa day at the Green Spot to benefit the no-kill shelter Hearts United for Animals.
All nine teams reported successful events. Combined, the "buycotts" raised more than $4,500 in donations directly benefiting the community partners, not to mention a boost in revenue for local businesses.
The new norm
Holland's class project is just one example of experiential learning opportunities in the UNO College of Business Administration. In fact, many undergraduate and graduate classes employ project-based, active learning approaches to promote students' academic and professional engagement.
AACSB International, the college's accrediting organization, lists experiential learning in its accreditation standards, touting it as an important pedagogy for business schools "as deans, faculty and executives increasingly recognize that critical aspects of managing and leading are learned most effectively through practice."
The college has long employed this important practice, which is quickly becoming the norm rather than the exception.
Since 2010, the college has offered a project-driven marketing class in partnership with Union Pacific Railroad. Students, who must be upperclassmen and meet certain requirements to enroll, work in teams to solve real-world business challenges the company is facing. Past projects have ranged from improving the company's customer claims website to conducting market research on new technologies.
"Students are required to use their knowledge and common sense to address the problem and develop recommendations," says Bill Swanson, who facilitates the class alongside several key Union Pacific representatives, including Assistant Vice President Shawntell Kroese, who developed the course. "We don't give them a how-to sheet."
Teams do ample research and work with subject matter experts from the company and then present their solutions to a panel of Union Pacific managers, who in turn rank the teams based on their presentations and written reports. "It's a competitive process," Swanson says.
In addition to the projects, students visit Union Pacific's corporate headquarters for a half day of job shadowing and attend a managers meeting hosted by the executive vice president, where students present to and mingle with senior marketing managers.
Swanson says the experience provides "excellent exposure for the students to top-level managers within a major corporation." Although the class is hard work, he says that students find it valuable and often recommend it to others. Additionally, several students have secured internships or full-time employment at UP as a direct result of this class.
Matthew Deetz, a business analyst, took the class when it was first offered in 2010 and is now employed full-time at Union Pacific. He says the class was the highlight of his undergraduate college career. Now, he's one of the UP reps who facilitates the class.
"Students are always surprised by the lack of guidelines," says Deetz, who graduated from UNO in 2010 with degrees in business administration and management information systems. "They learn how to do really good research and come up with information that matters to the business. It's a unique experience."
Capstone experiences
Another opportunity that grants students exposure to the business community and tests their research prowess is the CBA Case Study Competition, implemented in 2014 and mandatory for all undergraduates.
This semi-annual competition brings the boardroom experience to seniors enrolled in the Corporate and Business Strategy capstone course. Students form teams and compete in three rounds of competition toward the end of the semester.
Student teams are given a complex case study and have only a few hours to research, analyze and develop solutions before presenting their recommendations to a panel of faculty and area business professionals. The final round of competition is open to other students, faculty and staff as well as family and community members.
Students are not only challenged to synthesize and apply content from across their undergraduate business careers, but they are also given an opportunity to make an impression on business leaders who are serving as judges.
"This case competition has allowed us as faculty members to assess our students' strategic-thinking strengths and weaknesses and also identify ways to enhance the capstone course, ensuring that all CBA students are graduating with the knowledge and analytical skills that will help them address strategic challenges throughout their careers," said Erin Bass, assistant professor of management.
Other undergraduate examples include service-learning classes in sustainability and ethics, a student-managed investment fund, business plan competition, entrepreneurial elevator pitch contest, international trips and internship experiences.
On the graduate side, CBA's MBA and Executive MBA programs both employ experiential learning activities. During a project-focused capstone course, MBA students provide pro-bono consulting to nonprofit and for-profit organizations throughout the Omaha area. Past partners include Girl Scouts Spirit of Nebraska, Omaha Home for Boys, Child Saving Institute and Project Harmony.
While the MBA students stay local, Executive MBA program participants travel abroad, completing an international capstone consulting project. The multi-part project involves extensive pre-travel research for the client, up to two weeks of in-country research and considerable post-travel analysis.
No matter the project, it's clear that experiential learning benefits students, faculty and the business community. This pedagogy also pushes students beyond their comfort zones, allowing them to walk away with new worldviews, problem-solving skills and a heightened sense of self-efficacy.
When Ervin's group was in the thick of event planning, she admits to feeling stress and panic but also pride and satisfaction. "At times it would feel like there was no way we would pull it off," she says. "At the end of the day it was all part of the learning experience, and we were able to end the class knowing we had a successful event, which meant a lot to the whole group."