CBA Debuts UNO Business Magazine
Business is Brewing: Read the story behind CBA's student-run coffee shop and much more in the inaugural issue of UNO Business.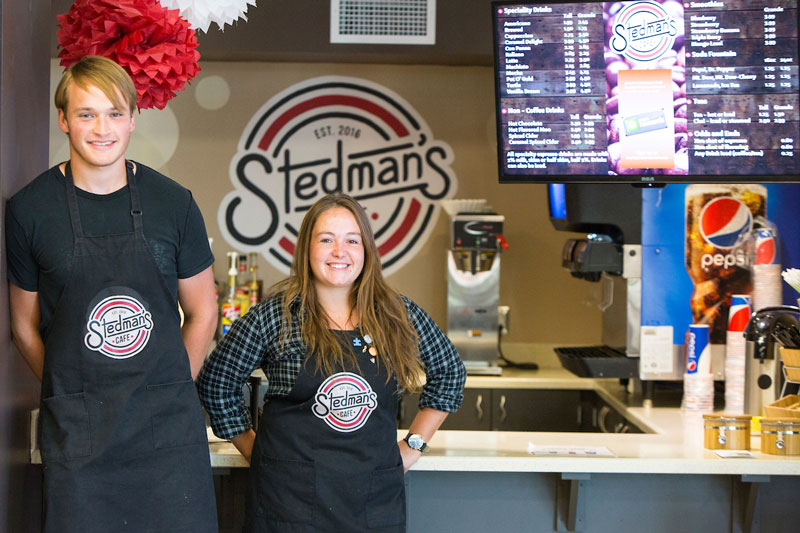 Stedman's Cafe student managers Luke Schnepel and Nicole Partusch
OMAHA – Since 1997, the University of Nebraska at Omaha College of Business Administration has published an annual review packed with stories about the college's people, partnerships and progress.
This year, this flagship publication has a new look and name: UNO Business.
"The change represents our vision to transform this annual review to look and feel more like a magazine, reflecting more accurately its purpose: to tell the story of our great college and celebrate the achievements of our students, alumni, faculty, friends, donors and more," said CBA Dean Louis Pol.
Flip through the online version now.
Here's a peek of what's inside:
CBA earns extension of AACSB International Accreditation
New partnership prioritizes personal finance
Experiential learning opportunities help students connect theory and practice
New student-centered café honors alumnus, serves as learning laboratory
Executive MBA students traverse the globe
Back to back: Best business school for veterans
MBA students awarded competitive research grants
CBA Scholars Academy doubles in size
Studying the global jihad industry
One of CBA's oldest living alumni reflects on career, life-changing encounter with CBA founding Dean John Lucas
A new career aligns alumna's passion for innovation and the environment
UNO Business is published once a year. Pick up a copy in the CBA Dean's Office. To join the mailing list, email unocbainfo@unomaha.edu.