Participation & Recognition
Participation & Recognition
Participant

AASHE is comprised of colleges and universities from the United States and Canada who share the common goal of promoting sustainability in all sectors of higher education. By being a member, UNO can share its progress, find best practices, and access great sustainability resources. 
A membership to AASHE covers every individual at an institution. This means that all students, faculty, and staff  can create a profile to access information on their site. To register, click here and enter your UNO email.
---
Recognition 
A program of AASHE, STARS is a transparent, self-reporting framework for colleges and universities to measure their sustainability performance. The credits included in STARS span the breadth of higher education sustainability and include performance indicators and criteria organized into four categories: Academics, Engagement, Operations, and Planning & Administration.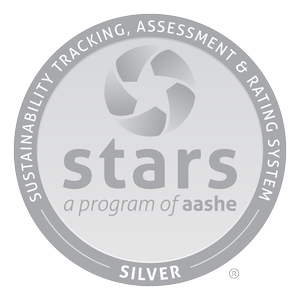 Awarded a Silver Rating in February 2017
STARS report (PDF)
STARS report (online)
---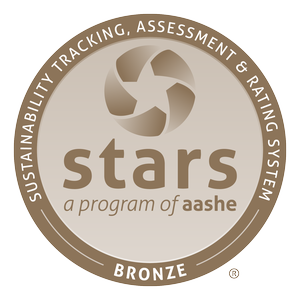 Awarded a Bronze Rating in May 2014   
STARS report (PDF)
STARS report (online)
---
Sierra Club Magazine's 'Cool School'
Open to all four-year undergraduate colleges and universities across the nation, the Sierra Club Magazine's 'Cool School' guide is produced for prospective and current students, administrators, and alumni to compare higher education institutions' environmental commitments. 
Recognized as a 'Cool School' in 2017 (full list)
Recognized as a 'Cool School' in 2016 (full list)
---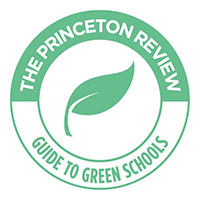 The Princeton Review's Guide to Green Colleges profiles institutions of higher education that demonstrate a strong commitment to sustainability in their academic offerings, campus infrastructure, activities, and career preparation.
---
'Tree Campus USA' honors the leadership of America's colleges and universities for promoting healthy trees and engaging students, faculty, and staff in discussions about conservation. To learn more about UNO's efforts to be recognized as a Tree Campus USA university click here.
UNO has been designated an official 'Tree Campus USA' each year since 2010
---
Sustainable Campus Index
The Sustainable Campus Index, an annual publication by AASHE, recognizes top-performing colleges and universities overall by institution type and in 17 distinct aspects of sustainability, as measured by STARS. The index also highlights innovative and high-impact initiatives from institutions.
Recognized as a Top Performer in the "Coordination and Planning" category in the 2017 Sustainable Campus Index
---
This award is designed to recognize a school for supporting a student-driven, year-long, campus-wide commitment to sustainability through awareness and education of their residential students while addressing ecological issues to sustaining our environment.
Recieved the MACURH "Commitment to Sustainability" award in 2017
Our Campus. Otherwise Known as Omaha.
The University of Nebraska does not discriminate based on race, color, ethnicity, national origin, sex, pregnancy, sexual orientation, gender identity, religion, disability, age, genetic information, veteran status, marital status, and/or political affiliation in its programs, activities, or employment. Learn more about Equity, Access and Diversity.
scroll to top of page