UNO Brand 101: Typesettings
University Communications is introducing a new weekly series of short, informational articles to help everyone in the UNO community serve as ambassadors of the UNO brand.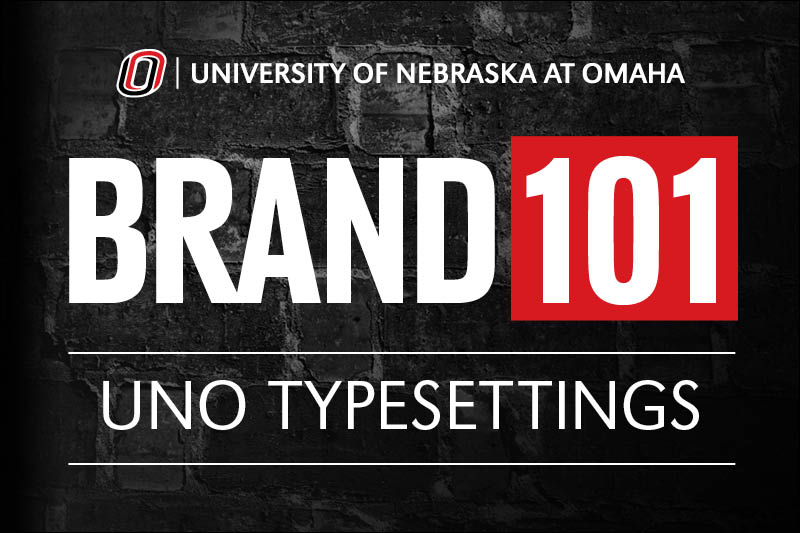 Topics:
This Week's Topic: Typesettings
The UNO typesettings were established to give each college, school, department, program, and center the ability to promote themselves, while maintaining the consistency of the UNO brand across all communications.
The following guidelines should be used when creating UNO typesettings:
The Campus Icon should always be placed either to the left of or above the text.

A vertical bar should always be placed in between the Campus Icon and the text.

URW Grotesk is the only typeface that should be used when typesetting with the Campus Icon.

The vertical bar and all text should be in black or white only.

All text must be in all caps. The only exception is if the name is preceded by "Mav" (i.e. MavSYNC, MavLINK, MavLIFE, MavRIDE, MavTRACK, etc.).
  
If you need a typesetting for your department, here are a few options for you:
Contact your college/unit communications lead or the Office of University Communications (ucomm@unomaha.edu), and let us know your needs. We can quickly share existing typesettings or create a typesetting format that fits your needs.

You can download an editable file from the university website. You must have the URW Grotesk font to be able to edit the file. Please contact the Office of University Communications (ucomm@unomaha.edu) to obtain a URW Grotesk license.
Please remember:
Typesetting are considered the logo for your individual group. Academic colleges, departments, and programs are not eligible for unique secondary logos.

Typesettings are not a replacement for the official University logo. The University logo must be present in all publications.
---
Topic: Typefaces 
A typeface, also known as a font family, is a set of one or more fonts each composed of letters, numbers, and symbols that share common design features. Each font of a typeface has a specific weight, style, and/or italicization. To ensure that all of our visual communications are consistent, the UNO brand rests on one overarching typeface, URW Grotesk.
Primary Typeface: URW Grotesk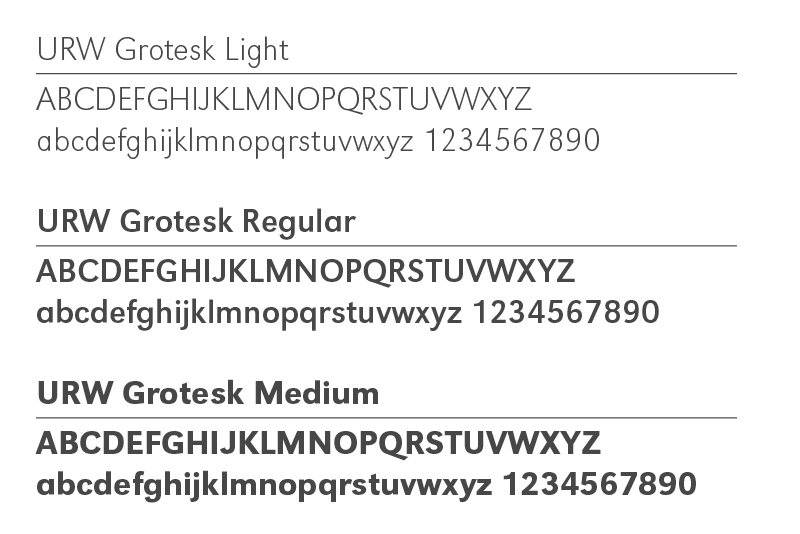 URW Grotesk is the required typeface for all UNO branded publications. It is a clean and modern typeface that is ideal for campuswide use due to its readability. By incorporating different weights (light, regular, and medium), we can achieve a wide range of effects while maintaining consistency across various communication and identity materials.
If you are a UNO employee creating communications materials for your area, please email ucomm@unomaha.edu for a URW Grotesk license.
Other weights and variations within the URW Grotesk type family are also permitted (e.g. Narrow, Condensed, Wide, etc.), but are not provided as part of the university's license and must be purchased independently. Browse the complete URW Grotesk suite.
Please note: the university's font license is limited to UNO employees only. Any vendors creating communications materials on behalf of UNO are encouraged to purchase a font license to complete their work.
Secondary Typeface: Liberation Serif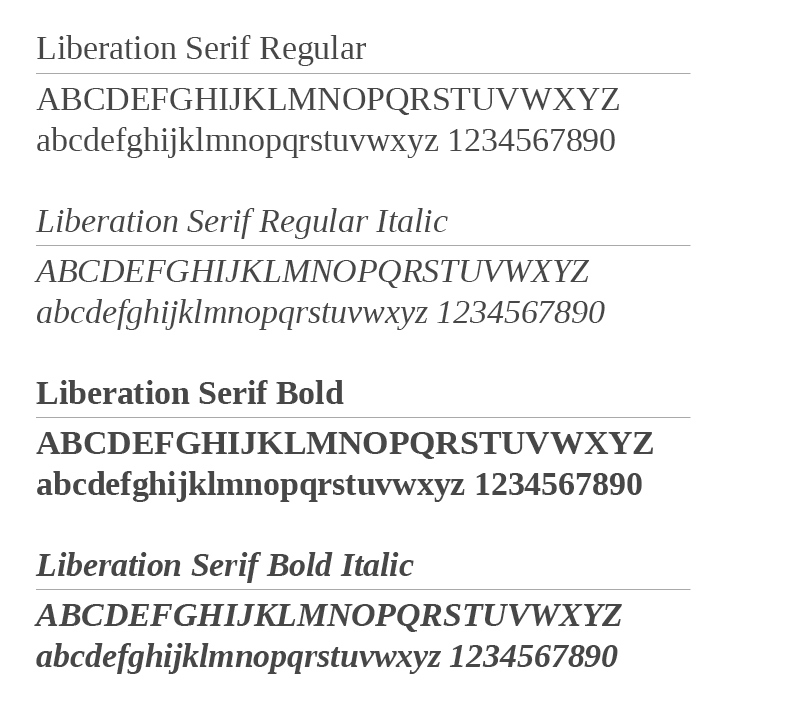 Liberation Serif is the secondary typeface for university publications. This typeface is available to provide the campus with a serif typeface that gives a more traditional feel.
Liberation Serif may be downloaded from the university website. 
Alternative Typefaces
There are certain instances when university typefaces are not available or not suitable for specific platforms and media such as PowerPoint. In those instances, Arial Narrow or Helvetica may be used in place of URW Grotesk, and Times New Roman and Sabon Roman may be used in place of Liberation Serif. 
---
Topic: The UNO "O" Icon
Our Campus Icon, also referred to as the "O," is a symbol that has several layers of meaning. The Campus Icon is designed to suggest momentum and innovation, as well as celebrate our campus mascot. It symbolically represents the letters U, N, and O.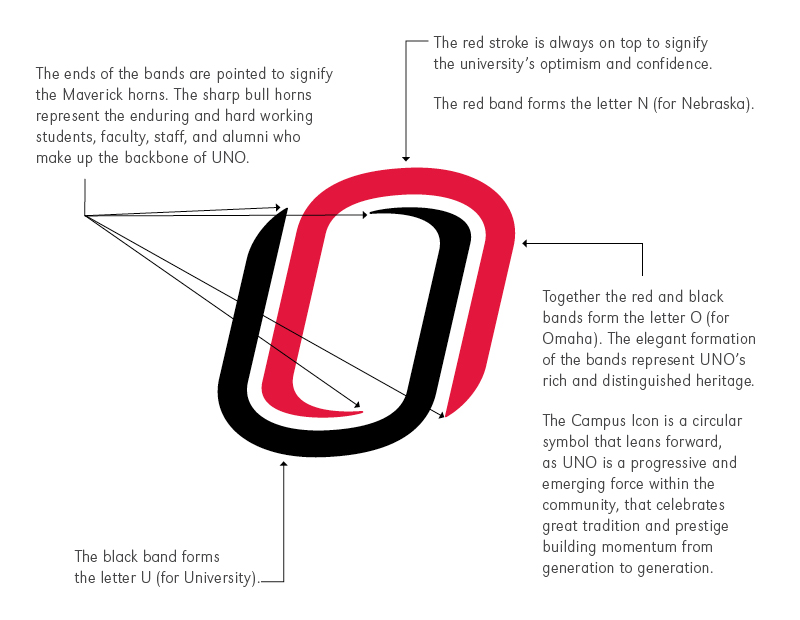 These guidelines should be followed when using the "O" icon in your communications materials:
The white outline is part of the full color Campus Icon. Although it may not be visible on white or light backgrounds, it shouldn't be removed from the original artwork.

The white outline is not part of the all-white and all-black versions of the Campus Icon.

The Campus Icon must appear on all UNO printed academic materials, preferably on the front cover. Make sure it is placed over artwork or photographs that have enough contrast to make it legible.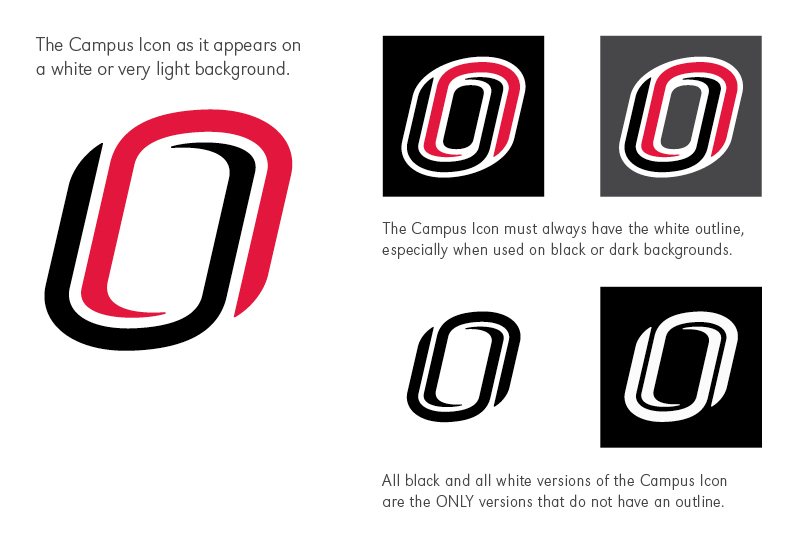 Be aware of proper clearance space. The following diagram shows the amount of clearance that should be allotted for the Campus Icon. Type and other graphical elements should be placed outside of the bounding box.

When used as a graphical element, the Campus Icon cannot be cropped more than 25 percent per side.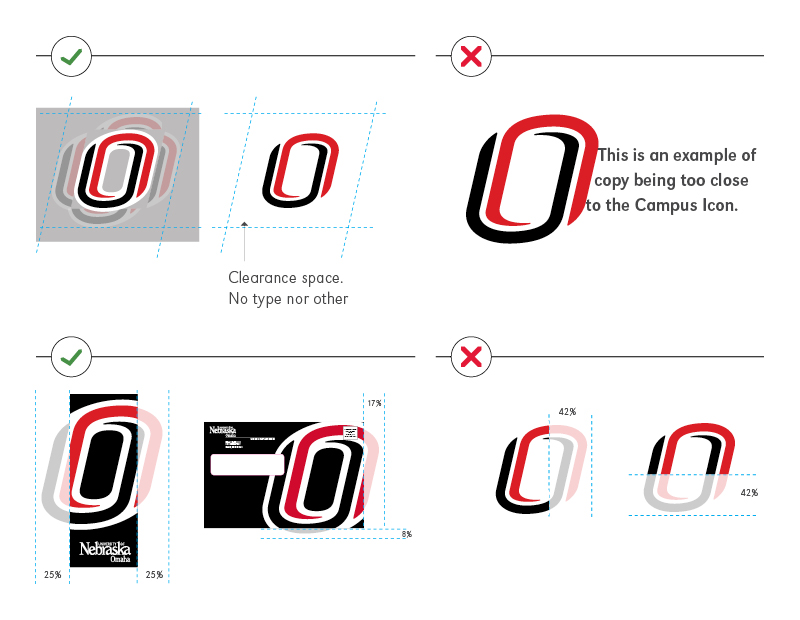 The Campus Icon shouldn't be placed by or locked up with any mark other than the University Logo.

The Campus Icon is not a substitute for the official University Logo (or System Logo). When the Campus Icon is used, the University Logo must still be present on publications and other communication materials.
Examples of improper uses of the Campus Icon: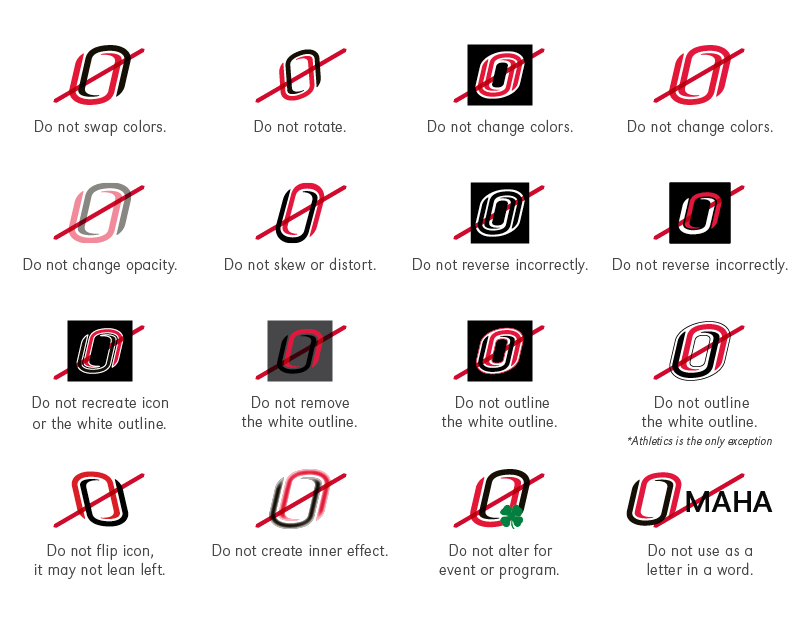 Want to use the Campus Icon in your materials?
Download the original files of the Campus Icon and other official UNO logos and marks from the university's branding website.
---
Topic: Email Signatures
Email signatures are just one identifying factor of UNO's brand, but are a great way for faculty, staff, and student leaders to easily incorporate our brand into every day correspondence. Keeping a cohesive signature creates immediate brand recognition—it's inviting your recipient to check out all that UNO has to offer!
Prefer not to start from scratch? We've made an easy-to-follow template available on our website.
The following guidelines should be used when representing UNO in email correspondence:
UNO's secondary typeface Arial should be used due to its universal use. Font, size, and style should be: Arial, 12-pt or 14-pt size, black.

The background of your email should be white. Avoid color, picture, or pattern used in the background—if it's too busy, your information gets lost.

The UNO Logo Lock-up is the only approved graphical element in email signatures (using the university Lock-up is optional). If you choose to use the Lock-up in your signature, there is one line space between the Lock-up and the text block containing contact information: size of the university Lock-up for emails is 170 px wide by 65 px high.

To keep your message professional and clear, avoid inspirational quotes and/or personal photos.

Include one line space between the upper text block (your name, title, and department) and the bottom text block (your contact information).  
How to identify yourself in your email signature: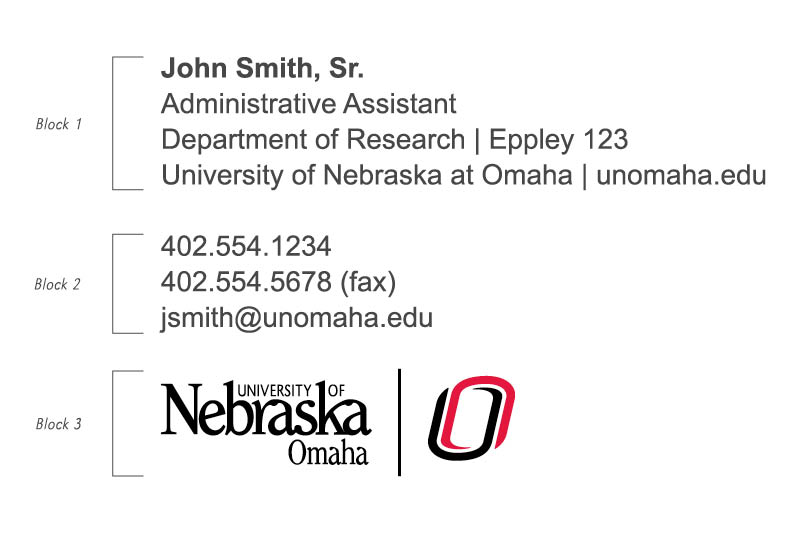 Set your name in bold text.

Use only titles that represent your role here at UNO.

List the official name of your department. If including a college or sub-organization, list the college or sub-organization on a separate line before the department.

List the location of your office on the same line as your department separated by a single vertical bar (|). View official building names.

When there are multiple titles and departments, list the location of your office on a separate line under all the titles and department listings.

The room number should be listed before the building name.
Contact information for email signature:
Phone numbers are separated by periods (.).

List phone numbers before the email address.

Appended mobile numbers with (cell), and fax numbers with (fax).

List only official UNO email address(es).

Only official UNO social media pages or feeds should be listed (e.g. program's Facebook page, department's Twitter account).
---
Contact Us
Contact Us
If you have a story idea, news tip, or other question, please email the UNO News team at unonews@unomaha.edu.
Our Campus. Otherwise Known as Omaha.
The University of Nebraska does not discriminate based on race, color, ethnicity, national origin, sex, pregnancy, sexual orientation, gender identity, religion, disability, age, genetic information, veteran status, marital status, and/or political affiliation in its programs, activities, or employment. Learn more about Equity, Access and Diversity.
scroll to top of page