New Flight Simulator to Prep Future 737 Pilots at UNO
published: 2023/03/22
contact: Brandon Bartling - Office of Strategic Marketing and Communications
email: unonews@unomaha.edu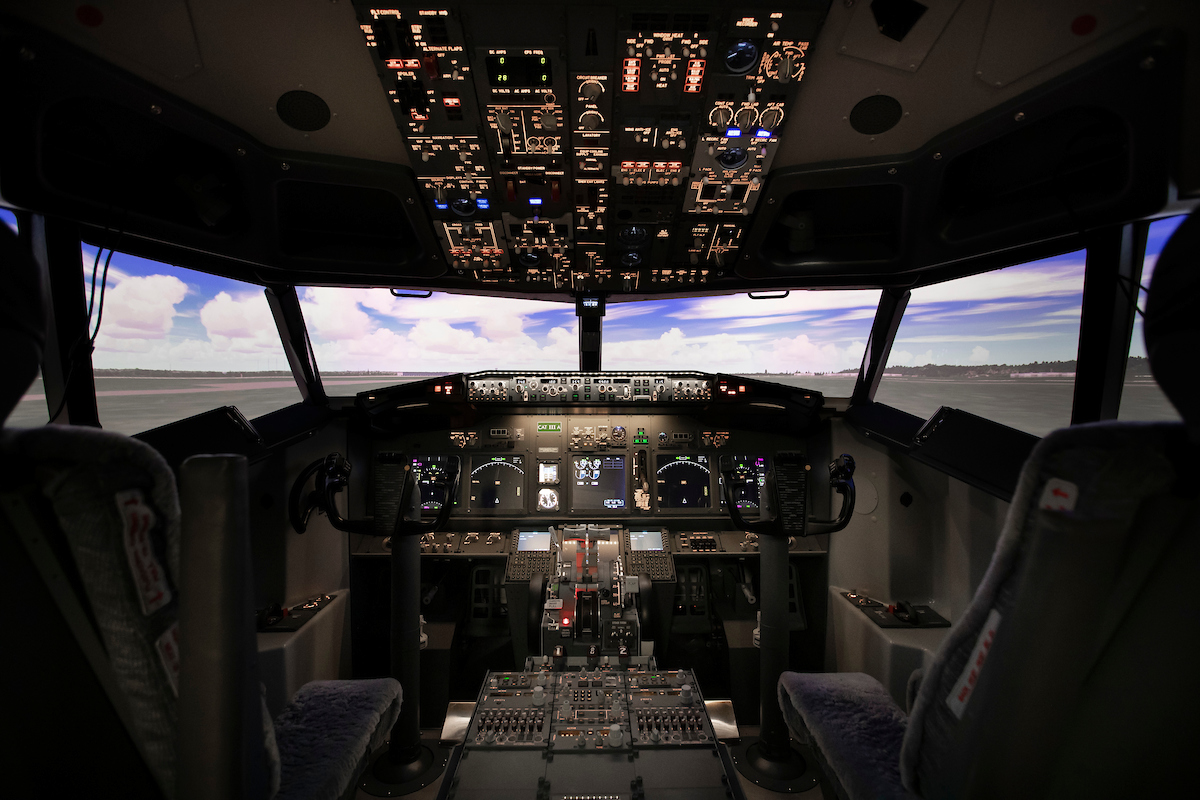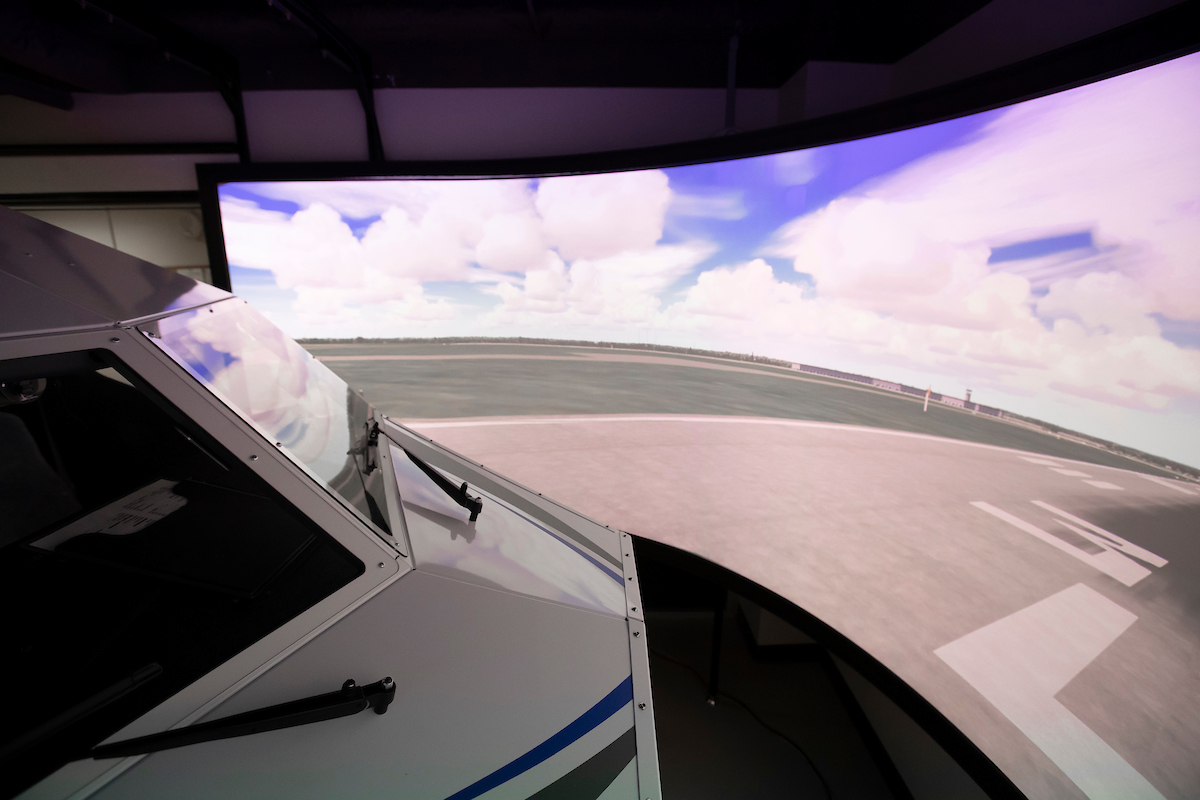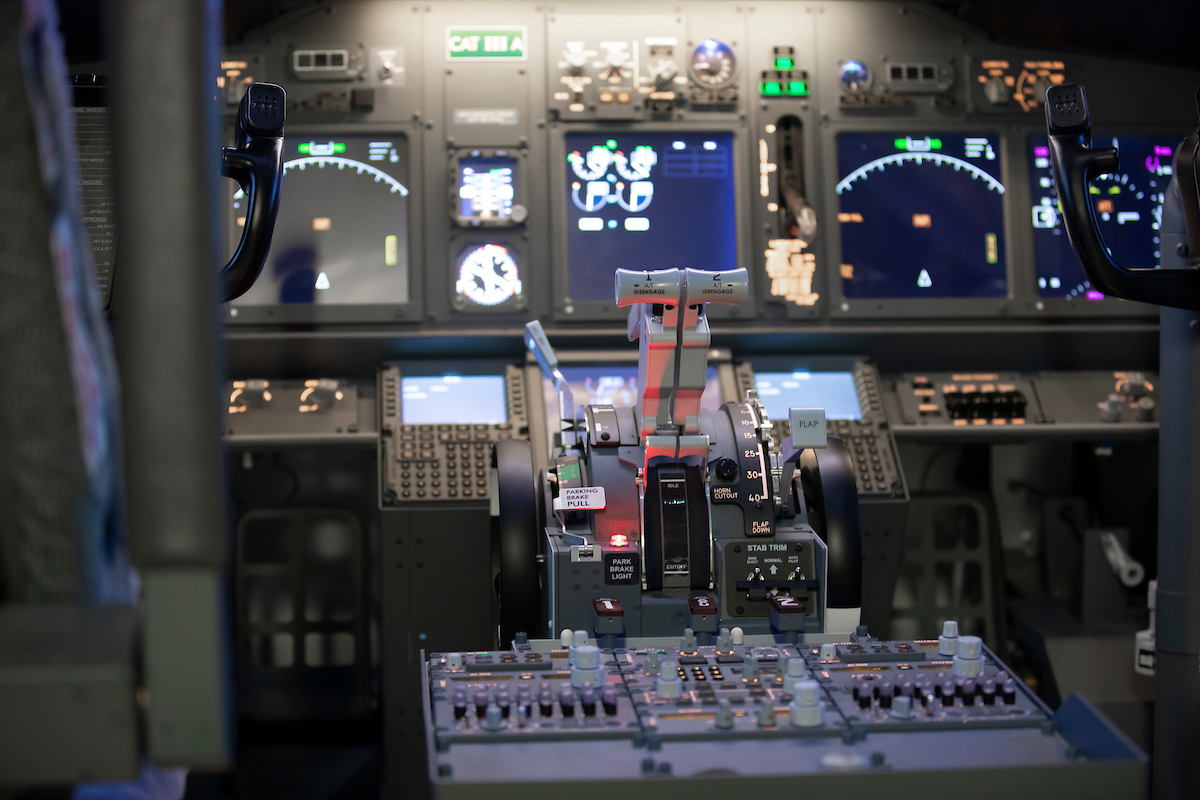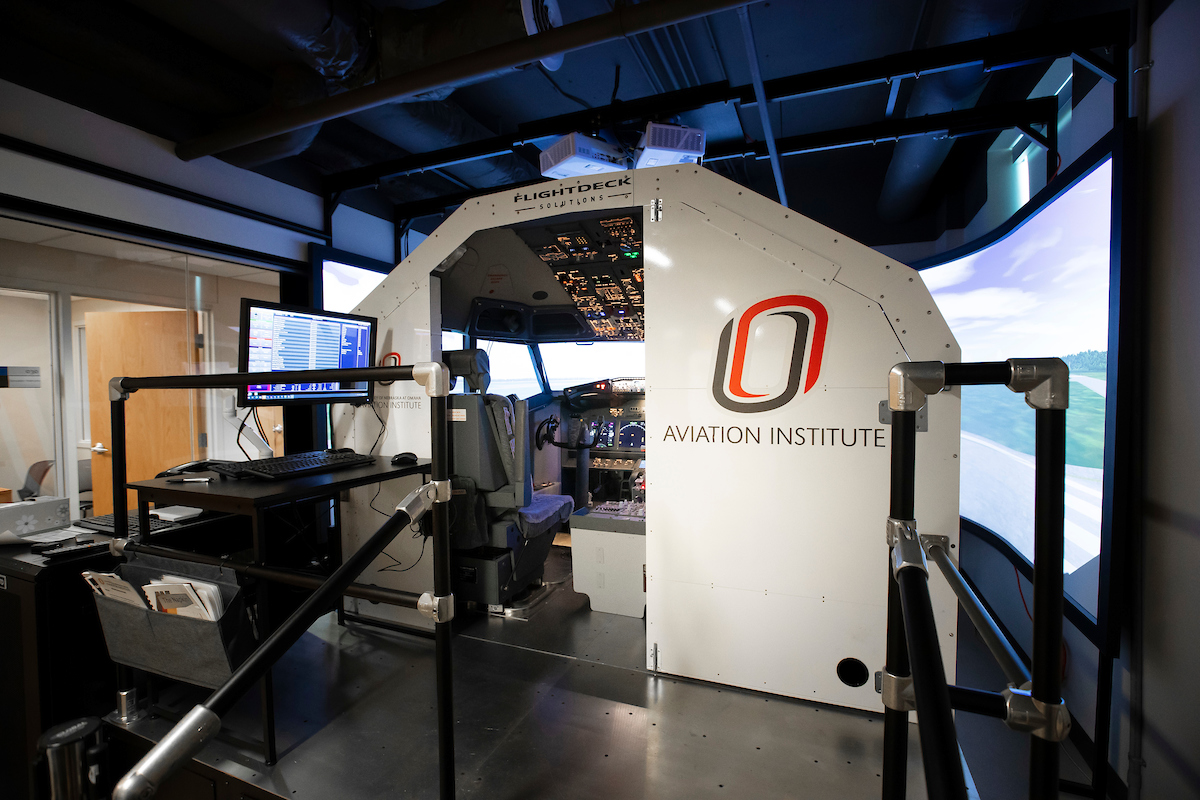 A new flight simulator housed within the Aviation Institute at the University of Nebraska at Omaha (UNO) will provide students with critical experience in preparation for careers flying the Boeing 737 – one of the most widely used passenger aircraft.
The new Boeing 737 Flight Training Device from Flightdeck Solutions (FDS) offers tactile training with a full replica cockpit built to scale. A 200-degree curved screen wraps around the nose of the simulated aircraft providing pilots with an immersive, seamless first-person view as they simulate flights to and from real-world airports, including Omaha's Eppley Airfield. It features high level Sim-Avionics Flight Management System software that fully simulates the operations and measurements of the aircraft on its journey.
Using a simulator with actual aircraft yokes, buttons, switches, gauges, and other instruments allows students to develop a physical, spatial connection to the environment they will be working in – something that can't be replicated in a simulator with such instruments and devices depicted on a screen. Students can also gather behind the simulator and observe as their colleagues take their turn in the cockpit.
Scott Vlasek, director of UNO's Aviation Institute, said the simulator provides students with hands-on training for an aircraft many of them will be flying shortly after graduating from UNO. It also provides opportunities for instructors to challenge them with different situations they may encounter in their careers.
"Simulators put our students into scenario-based training. We can insert failures and rapid weather changes that will force them to use their training and critical thinking skills," Vlasek said. "The instructor can stop a simulation, at any point, to discuss what went wrong and provide opportunities to work through difficult situations. They are tremendous tools that help deal with potential real-world situations."
By training on the aircraft commonly used by top commercial airliners, students are better prepared to enter airline-specific training programs. UNO's Aviation Institute is one of the only institutions in the nation to partner with both Southwest Airlines through its Destination 225° program as well as the United Airlines Aviate program—both of which provide UNO students with direct career paths to the flight deck for major airlines.
The Ethel S. Abbott Charitable Foundation made a gift to the University of Nebraska Foundation to purchase the Boeing 737 jet simulator for the UNO Aviation Institute. The Ethel S. Abbott Charitable Foundation was established in 1972 by its founder, Ethel S. Abbott, who passed away in 1992. Ethel was an aviation pioneer who with her first husband, Raymond H. Page, operated the Lincoln Aircraft Company in Lincoln, Nebraska. The couple trained student pilots, and together they taught Charles Lindbergh to fly. On file at the Nebraska Historical Society is a telegram sent to her by Lindbergh when he landed in Paris in 1927 after his transatlantic flight.
"Our mission is to perpetuate the charitable generosity that Ethel S. Abbott demonstrated through her 97 years of life," said Dorothy Pflug, president of the Ethel S. Abbott Charitable Foundation. "Flight training technologies have evolved tremendously from the aircraft the Pages used to teach Charles Lindbergh to fly. We are pleased to support the next generation of aviators as they pursue their own dreams of flying."
Three flight faculty, Skip Bailey, Eric Taylor, and Alison Adams will be trained on the flight operations of the Boeing 737 over the next few months. It will be integrated and ready for use in the fall 2023 curriculum. UNO's Aviation Institute is now home to three flight simulators, with its existing Redbird MCX simulators being used to train students on flights in smaller aircraft.
The gift in support of the UNO Aviation Institute is part of Only in Nebraska: A Campaign for Our University's Future. Announced last fall, the campaign strives to raise $3 billion from 150,000 unique benefactors to support the University of Nebraska. More information is at OnlyinNebraska.org.