Scott Scholars to Create App For Offutt Pilots
published: 2022/09/02
contact: D.P. Heard - 55th Wing Public Affairs
email: unonews@unomaha.edu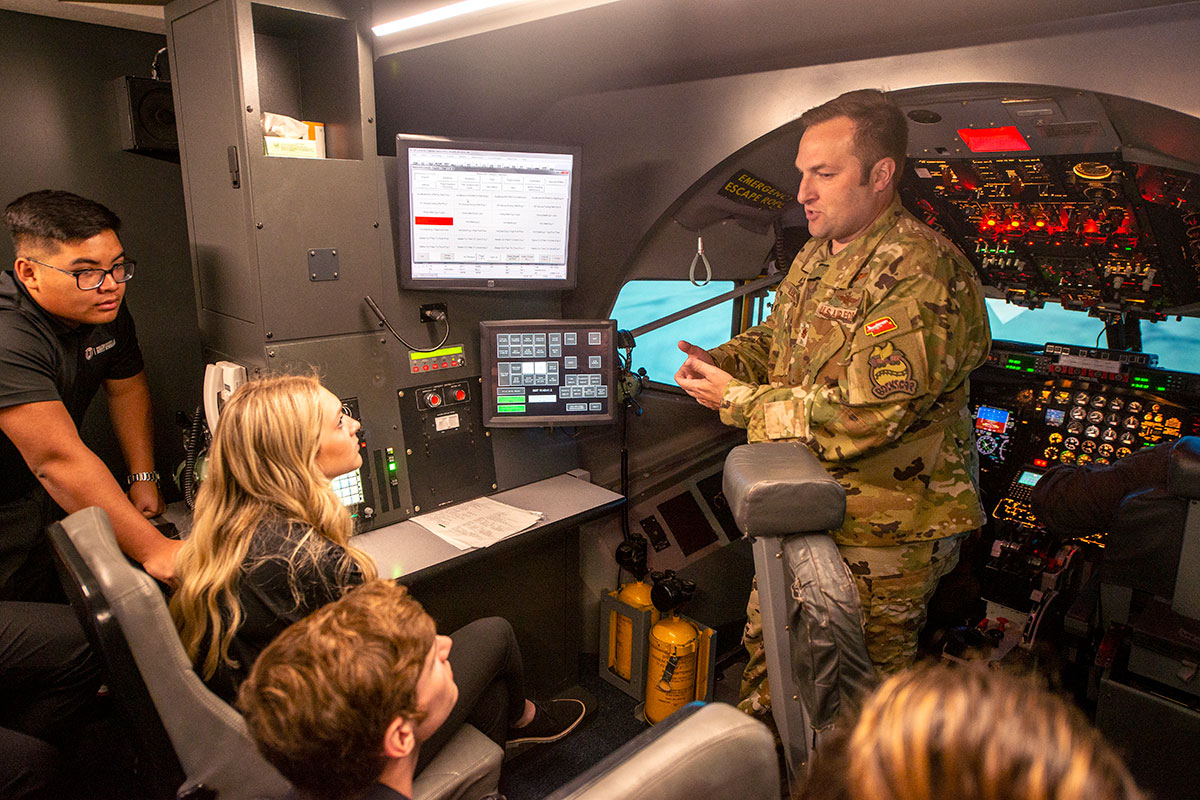 Bella Donovan, left, a UNO Walter J. Scott scholarship winner, and Capt. Erin Bleyl, 45th Reconnaissance Squadron right, gaze into the cockpit of the flight simulator after Donovan completed training on how to land an RC-135. Donovan is the lead student on creating an app for use on the aircraft. (U.S. Air Force photo by D.P. Heard).
OFFUTT AIR FORCE BASE, Neb. – The article below was written by D.P. Heard of the 55th Wing's Public Affairs Office at Offutt Air Force Base. It originally appeared on the Offut AFB website on Sept. 1, 2022.
A group of University of Nebraska students visited Offutt Air Force Base this summer to test out a flight simulator for an application they have been tasked to create.
"They are working to solve a problem identified by Bockscar by creating a customized in-flight calculator application," said Alex Mathews, Walter Scott Junior Scholarship Program coordinator.
Bockscar is an Air Force program that identifies emerging technologies with the goal of creating useful applications for aircrew.
Mathews accompanied them to the base where each took a turn at flying in an RC-135 simulator. By partnering with the U.S. Department of Defense, the interns get the opportunity to utilize their design thinking and coding skills while also learning the skills needed to collaborate with and support a client.
"The app will provide mathematical support to calculate various conversions like temperature, fuel types, airspeed units, fuel state estimates and various weather factors critical to aviation," said Maj. Bryan Allebone, Air Combat Command evaluator navigator.
The 55th Wing Innovation Office, which provides engineering support to the ACC Electronic Flight Bag (EFB) Program, recognized that there is a missing element in flight calculations over the past few years. A specialized calculator known as an E-6B, performs basic and advanced flight functions and formulas that aviators use to double check aircraft systems and document various functions of the flight mission.
Students experienced flight simulations to gather the requirements, gain insight into how the Air Force would use the app, and how it looks and feels when they're flying.
Maj. Damon Wagoner, 55th Operations Group deputy chief for special projects, trained the students.
"I am so proud of my team for leaning in and delivering this app that has the potential to serve over 150,000 individuals in our military. Being able to assist in this way has been a once-in-a lifetime experience," said Bella Donovan, team leader and a UNO sophomore majoring in mathematics and economics.
The students are recipients of the Walter Scott, Jr. Scholarship Program and are pursuing degrees in a variety of science, technology, engineering, and math disciplines.
The app is currently in testing and development with a projected release date in early fall pending cybersecurity evaluation and user feedback results.
Learn More About the Scott Scholars
The Walter Scott, Jr. Scholarship Program (Scott Scholars) is the most prestigious scholarship extended by the University of Nebraska system. The scholarship provides complete funding for an undergraduate college experience that includes tuition, room and board, and whole-person learning opportunities. Eligible areas of study include majors within the UNL College of Engineering, UNO College of Information Science and Technology, and other STEM related programs.
About the University of Nebraska at Omaha
Located in one of America's best cities to live, work and learn, the University of Nebraska at Omaha (UNO) is Nebraska's premier metropolitan university. With more than 15,000 students enrolled in 200-plus programs of study, UNO is recognized nationally for its online education, graduate education, military friendliness and community engagement efforts. Founded in 1908, UNO has served learners of all backgrounds for more than 100 years and is dedicated to another century of excellence both in the classroom and in the community.
Follow UNO on Facebook, Twitter, Instagram, TikTok, LinkedIn, and YouTube.