A Tribute to Two UNO Founding Fathers
Two of UNO's former leaders, Daniel E. Jenkins and Phillip Milo Bail, have been memorialized for their contributions through statues dedicated in their honor. Here are the stories of these two Mavericks thinkers.
published: 2022/09/23
contact: Office of Strategic Marketing and Communications
email: contact@unomaha.edu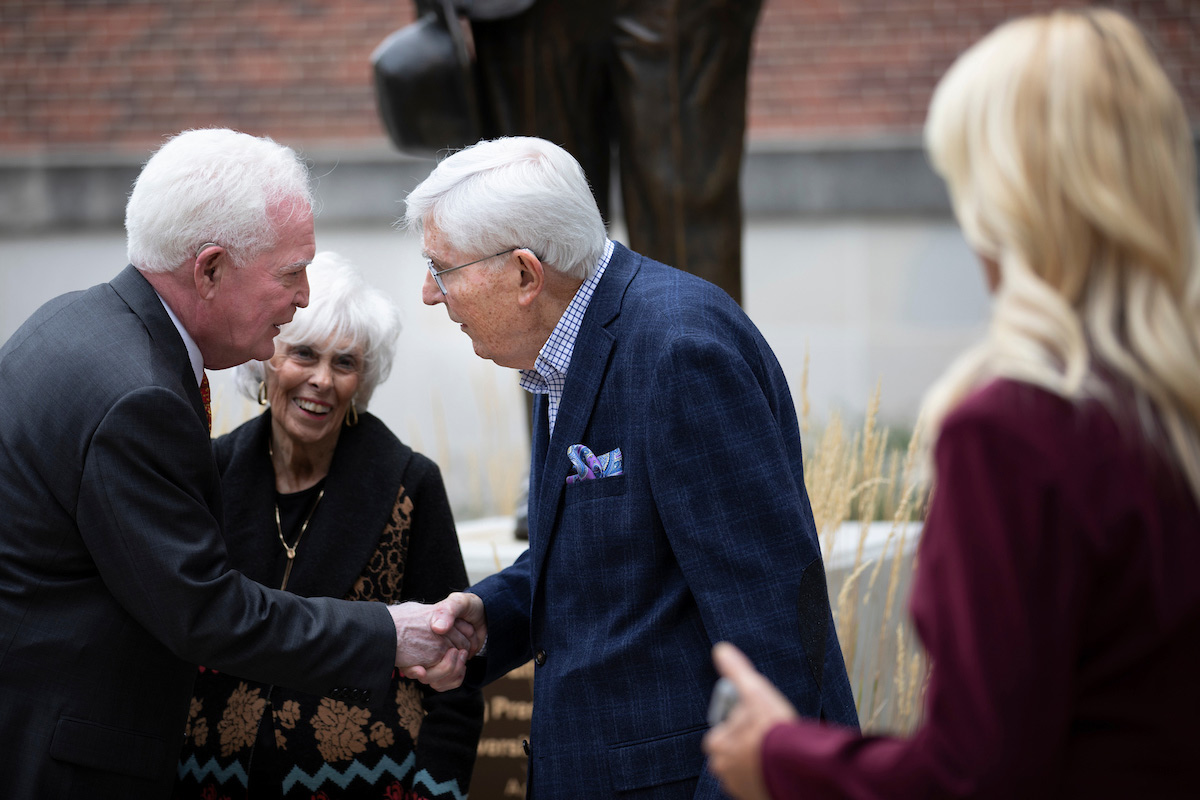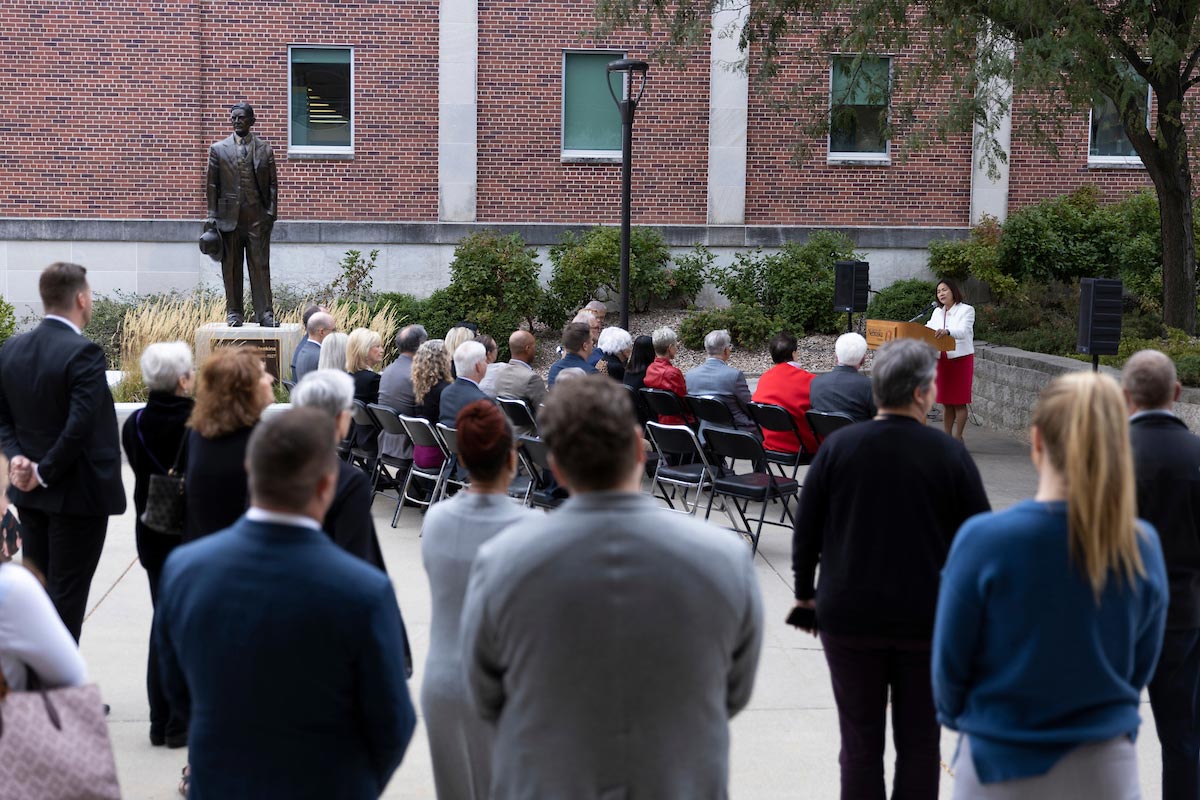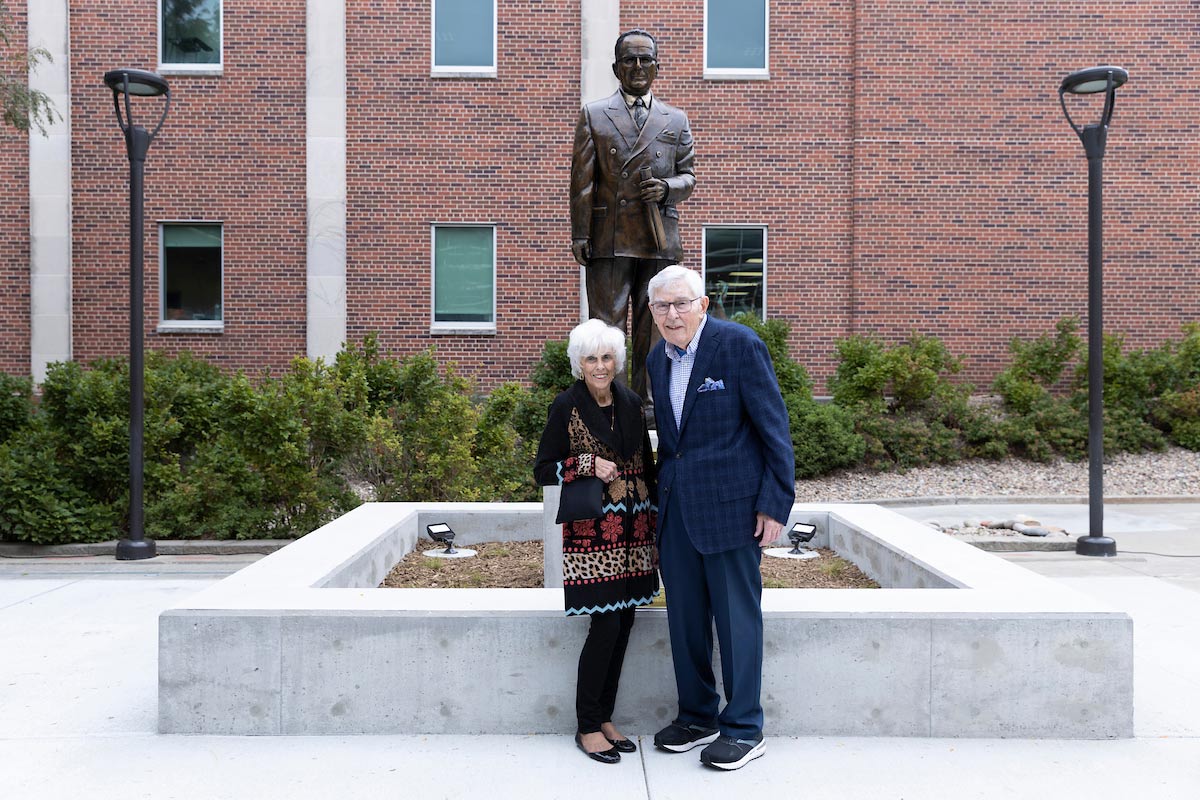 On Thursday, Sept. 22, 2022 the University of Nebraska at Omaha (UNO), in partnership with the UNO Alumni Association and University of Nebraska Foundation, honored two former university leaders with statues dedicated in their honor.
The commemorations of Daniel E. Jenkins, the founding president of Omaha University, and Phillip Milo Bail, who served as president from 1948-1965, now stand prominently on the Dodge Campus' Milo Bail Plaza.
Included below are details on these former leaders and how they shaped the UNO we know and love today.
Daniel E. Jenkins
Daniel E. Jenkins was born in 1866 in North Wales before his parents immigrated to the United States. He would become an ordained Presbyterian minister in 1891. In 1900, he came to Omaha to serve at Omaha's Presbyterian Theological Seminary.
It was a brisk October day in 1908 when a group of influential Omahans put pen to paper and drew up Articles of Incorporation for the creation of a non-sectarian university that would be open and available to all who were willing to put the time and effort into pursuing a college education.
Daniel Jenkins was selected to lead what was then Omaha University, located at 24th and Pratt Streets. Twenty-six students attended the first day of classes, greeted by OU's first president, Daniel Jenkins, an ordained minister.
Jenkins would serve 18 years as president, sometimes at no pay as the university struggled to find its financial footing. In 1926 he began to experience mental exhaustion and took a leave of absence from his post. He spent time at Johns Hopkins Hospital then in a private New Jersey sanitarium, where he died from dysentery. He was 61.
More than 700 people, many of them Omaha's most prominent figures, attended his memorial service. They remembered him with glowing praise.
"He will be remembered as long as the university stands," noted his obituary in the Omaha Bee-News, "and it is destined to endure for ages, just because it is well founded. By his act he devoted himself to a work that sapped his vitality, expended his energy, and yet he gave it all because he believed in his work."
Philip Milo Bail
Born in 1898 in Boonville, Missouri, Bail earned degrees from Missouri Valley College and the University of Iowa. Prior to coming to Omaha in 1948, he served as president of Chevy-Chase Junior College in Washington, D.C. and Dean of Education at Butler University in Indianapolis.
It was July 1, 1948 when Bail began his 17-year tenure as president of Omaha University. The date was fortuitous in that the day was almost 40 years to the day Omaha University was founded, 10 years to the day the campus moved to its current location on Dodge Street, and 20 years prior to joining the University of Nebraska System, which would happen in 1968.
It was at the age of 49 that Bail joined the Municipal University of Omaha, which had transitioned to being managed by the city much in the same way the University of Nebraska system is managed by the state today. At the time, the university's physical footprint was only a fraction of the size it is today. It would be during his tenure that Omaha University would add an Applied Arts Building, which is now home to the College of Public Affairs and Community Service; the Gene Eppley Library, which is now the Eppley Administration Building; and the student center that bears his name today.
Also, during his time as president, Bail oversaw major initiatives that serve as bedrocks of the university today, including graduation ceremonies in December and August as well as in May; continuing education opportunities; support for military-affiliated students; a focus on high-quality faculty; and expansion of athletics programs.
Bail continued to stay involved with UNO following his retirement, including speaking at the university's 75th anniversary Jubilee celebrations in 1983. Bail passed away in 1984.
About the University of Nebraska at Omaha
Located in one of America's best cities to live, work and learn, the University of Nebraska at Omaha (UNO) is Nebraska's premier metropolitan university. With more than 15,000 students enrolled in 200-plus programs of study, UNO is recognized nationally for its online education, graduate education, military friendliness and community engagement efforts. Founded in 1908, UNO has served learners of all backgrounds for more than 100 years and is dedicated to another century of excellence both in the classroom and in the community.
Follow UNO on Facebook, Twitter, Instagram, TikTok, LinkedIn, and YouTube.