Choral Students Lift Spirits of Retirement Home Residents
published: 2020/12/21
contact: Brandon Bartling - University Communications
email: unonews@unomaha.edu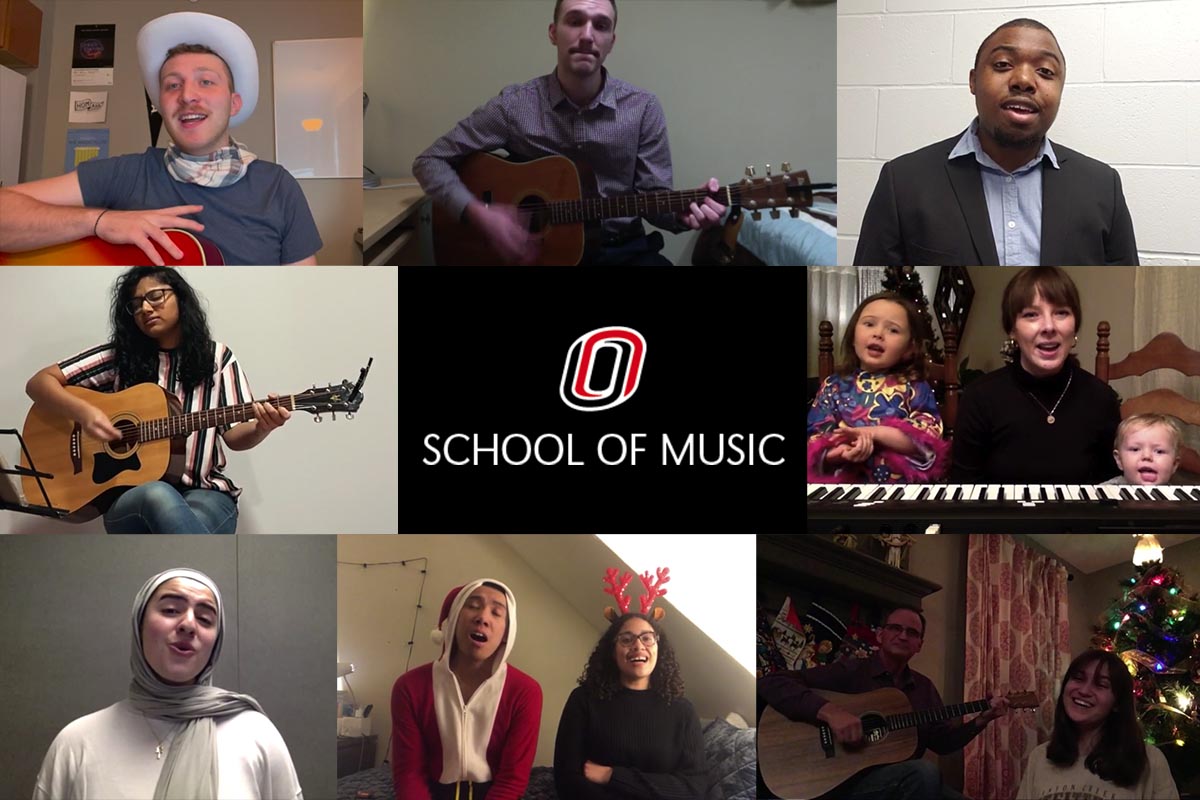 Under the direction of Dr. Derrick Fox, UNO choral students performed songs requested by retirement home residents, recorded their performances, and shared them for the holidays.
There can be a lot of power in music. Melodies and lyrics can lift spirits, evoke emotions, deliver a dose of nostalgia, and even help us face the challenges of today.
Challenges presented by the COVID-19 pandemic are being faced worldwide, but nursing homes and assisted living communities have been hit especially hard. In addition to the spread of COVID-19, these long-term care residents are also faced with isolation as family and friends keep their distance to avoid spreading the coronavirus.
With this in mind, Derrick Fox, D.M.A., Director of Choral Activities at UNO, saw an opportunity to connect students in choral programs at UNO with residents at these communities.
He sent a brief survey to local retirement homes, asking residents to list songs that they connected with great memories or family. Once the responses came in, he asked students to choose a song and record themselves performing it. Recordings of the resulting performances are being shared with residents during the holidays. A brief sampling of some performances can be viewed here.
Seeing "Moon River" on the song request list took Skyler LaNier back to his high school days. "There were other songs to choose from but 'Moon River' has resonated with me for over a decade," he said. "I knew that if I got that nostalgic feeling listening to that song, I wanted to share that feeling with others who'd been in love with the song longer than I have."
"While I may not ever be face to face with who gets to see my performance, I hope that they know that it is personally made for them. These songs are meant to elicit memories of a time when they were younger and I think it would be nice to have our minds taken back to when things felt a bit more stable than what we're going through right now."
Freshman vocal music performance student Yasmine Elrefaie was heartbroken by the idea of residents being stuck indoors, unable to see their loved ones for the holidays as they had in the past. She's hopeful that the music shared through this project will bring smiles and holiday spirit. "It means the world to me to be able to help and is the reason I am in music for the first place: to spread joy, understanding, and true happiness," Elrefaie said. "If I can make someone's day with just my voice, you bet I'm not gonna waste it!"
Christine Robino's past performances for retirement homes combined with her own military background led her to arrange a version of "The Army Song" complete with vocals and an oboe accompaniment. Recently back from basic training herself, this senior instrumental music education student hopes her recording will uplift veterans and their loved ones.
Even for those who aren't veterans, Robino understands the impact of this project. "My grandpa lived in a memory care home the last few years of his life as he faced Alzheimer's, and music on the piano and singing always seemed to bring him some peace," she said.
Fox also invited Doc'Apella, a singing group he advises that is comprised of medical students from the University of Nebraska Medical Center, to take part in the project. The group performed "Bridge Over Troubled Water" to encourage a sense of togetherness and belonging within the UNMC community, but also recorded a performance of "Happy Together" as a fun and uplifting second piece.
Cristina Pravoverov and Wyatt Andersen, two members of Doc'Apella, called it an honor to be part of the project and hoped the music would spark conversations and bring back memories. "It means a lot to us to be able to offer some holiday cheer to those who may not be able to see their families this holiday season," they said. "We hope that it will bring the residents some comfort during these often-isolating times."
Fox said the project has been rewarding and fulfilling both for his students and for himself. "Music is a powerful tool and I believe it will be one of the ways that helps us all make it through this pandemic together."
About the University of Nebraska at Omaha
Located in one of America's best cities to live, work and learn, the University of Nebraska at Omaha (UNO) is Nebraska's premier metropolitan university. With more than 15,000 students enrolled in 200-plus programs of study, UNO is recognized nationally for its online education, graduate education, military friendliness and community engagement efforts. Founded in 1908, UNO has served learners of all backgrounds for more than 100 years and is dedicated to another century of excellence both in the classroom and in the community.
Follow UNO on Facebook, Twitter, Instagram, TikTok, LinkedIn, and YouTube.