A Pre-Holiday Safety Message From Chancellor Gold and the Office of Health Security
Chancellor Jeffrey P. Gold, M.D., and Jane Meza, Ph.D., Interim Executive Director of the Office of Health Security, share guidance on how to stay healthy before, during, and after the holidays.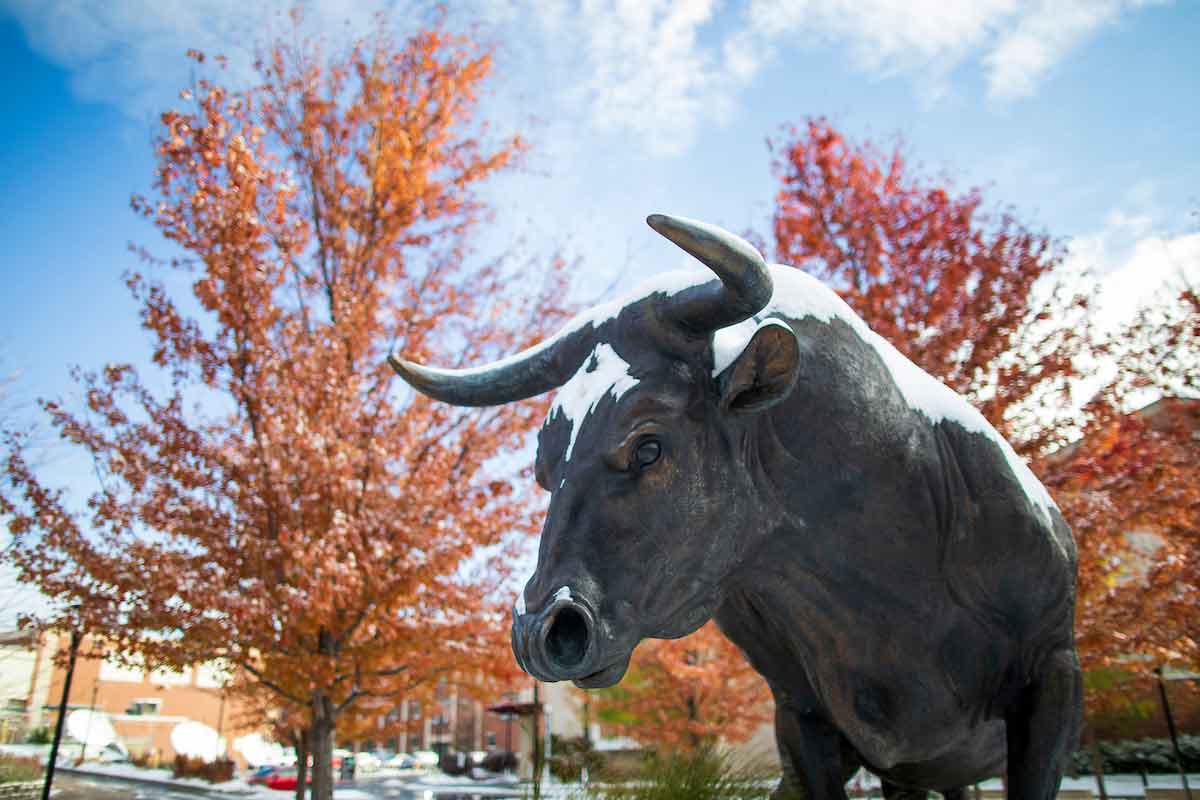 In a message to campus on Wednesday, Dec. 16, Chancellor Jeffrey P. Gold, M.D., and Jane Meza, Ph.D., who serves as interim director for UNO's Office of Health Security, wished the Maverick community a happy and healthy holiday with guidance and resources on how to stay well while the campus is closed for winter break.
Dear Mavericks,
In the more than 100 days that have passed since the start of this semester, we have done an exceptional job as a university limiting the spread of COVID-19 on our campus and in taking the necessary precautions as members of the broader Omaha community.
As you make plans to get some well-earned rest and hopefully relaxation during the upcoming holiday closedown, we ask that you continue to remain mindful of your health. The UNO Office of Health Security has prepared some helpful tips, resources, and reminders to help you promote your own wellbeing and those around you in the coming weeks, which you can find listed below
Adherence to the following guidance during holiday closedown is vital, as our behaviors will play a crucial role in how the virus spreads on campus and within the community when we reconnect in the new year for the Spring 2021 semester.
Before Holiday Closedown
Avoid the Three Cs. Stay away from crowded places, close contact, and confined spaces. This is one of the most effective of ways to limit the spread of COVID-19.


Get tested before you spend time near others. COVID-19 can be transmitted asymptomatically, which means you can spread the virus to others even if you aren't showing symptoms. Testing can help mitigate the spread. UNO students, faculty, and staff can be tested at the UNO COVID Testing Site located at Maverick Landing in Room 117. This is a self-administered, simple, and painless PCR test. There are limited spots available, so please register now through the UNO Office of Health Security's scheduling platform. Additionally, all UNO students, faculty, and staff can be tested for COVID-19 at no cost through TestNebraska at one of their locations.


Know what a negative test means. It is important to note that a negative test is not a free pass to disregard public health protocols. A negative COVID-19 test is a snapshot in time and is not representative of the hours and days that follow. Individuals should continue to wear a face mask, social distance, limit crowds, self-screen with the 1-Check app and wash their hands frequently.


Stay home if you are exhibiting COVID-19 symptoms. If you have been in direct contact (within five feet for more than 15 minutes) with someone who has tested positive for COVID-19 and/or are generally not feeling well, it is best to avoid travel and being in contact with others. Remember: If you have symptoms and get tested for COVID-19 it is crucial that you quarantine until you receive the results of your test.
While You Are Away
Self-screen for COVID-19 symptoms with the 1-Check UNO app. Whether or not you plan to travel during the holiday, daily use of the app supports the university's effort to limit the spread of the virus. You can also encourage friends and family to use the Check COVID app for the web, Apple iOS or Android – a free tool created by the same UNO, UNMC, and Apple development team that created 1-Check UNO.


Follow tried and true health and wellness best practices. Regardless of what your holiday plans are, continue to wear a mask in public, use hand sanitizer, practice physical distancing, and wash your hands.
Before You Return
Get tested again if you plan to be physically on campus. If you spent time near others during the holiday, please consider getting tested for COVID-19 before returning to in-person teaching, working, and learning. If you test positive for COVID-19 or show symptoms in the days leading up to the start of the semester, fill out a quick and easy-to-use BRT form, where you can report a positive case to the Office of Health Security team.


Be on the lookout for expanded testing options during Spring 2021. UNO will have ongoing mandatory testing of all students who live in the residence halls starting January 4, 2020. UNO faculty, staff and students who are in quarantine or experiencing symptoms of COVID may also be tested at the UNO testing site. COVID testing will be widely available to UNO students, faculty and staff. A particular focus will be on individuals in quarantine, individuals experiencing symptoms of COVID, essential personnel, and students and instructors engaged in experiential learning.


Connect. Take Care. Get Help. It is common for individuals to experience feeling of stress, anxiety, or isolation during the holidays. Students can find the resources they need to promote their mental and emotional wellbeing through UNO Counseling and Psychological Resources (CAPS), while faculty and staff can find the same resources through UNO's Faculty and Staff Employee Assistance Program (FSEAP).
If at any point in the days leading up to, during, and after the holiday break, you have questions about your current situation, please contact the Office of Health Security at unohealthsecurity@unomaha.edu. Thank you once again for your unwavering commitment to the health, safety, and wellbeing of our university community. Have a happy and healthy holiday.
In the Maverick Spirit,


Jeffrey P. Gold, M.D.
Chancellor


Jane Meza, Ph.D.
Interim Executive Director, Office of Health Security
About the University of Nebraska at Omaha
Located in one of America's best cities to live, work and learn, the University of Nebraska at Omaha (UNO) is Nebraska's premier metropolitan university. With more than 15,000 students enrolled in 200-plus programs of study, UNO is recognized nationally for its online education, graduate education, military friendliness and community engagement efforts. Founded in 1908, UNO has served learners of all backgrounds for more than 100 years and is dedicated to another century of excellence both in the classroom and in the community.
Follow UNO on Facebook, Twitter (X), Instagram, TikTok, LinkedIn, and YouTube.