Ride ORBT with Your MavCARD
All Mavericks have access to ORBT, Omaha's new rapid bus transit line, and all Metro routes for free with their MavCARD.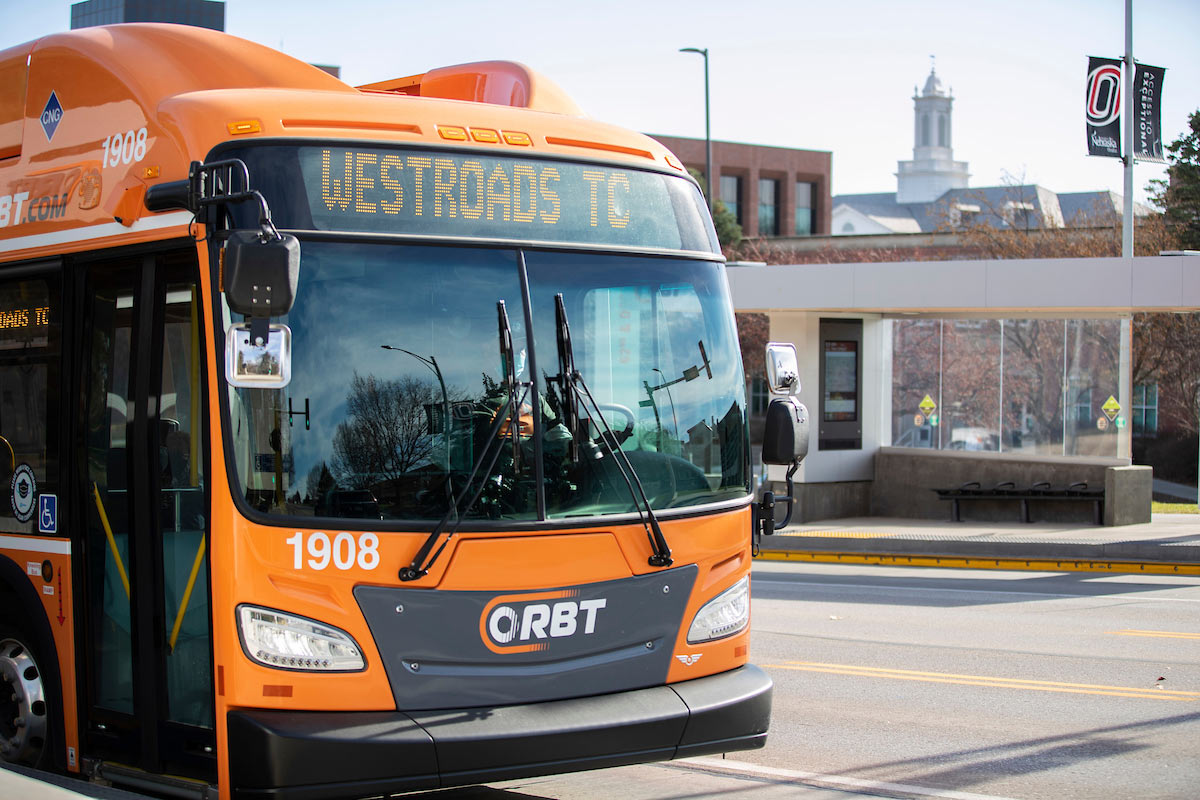 Welcome to the neighborhood, ORBT!
ORBT, Omaha's new rapid bus transit line, launched on Wednesday, Nov. 18, 2020. All Mavericks have access to this new line and all Metro routes for free with their MavCARD, thanks to the MavRIDE free bus pass program.
How to Use Your MavCARD
To use your MavCARD as a bus pass, wait for the bus at an approved stop.
Updated Boarding Process as of Oct. 1, 2021
Here's how upcoming changes to Omaha Metro's payment system will alter the boarding process for those using their MavCARD on city buses, MOBY vans, and ORBT:
On buses and MOBY vans: riders will continue to use fareboxes

On ORBT: riders will board without swiping their cards and must have the MavCARD available for periodic fare inspection
Close to Campus
The new ORBT line runs along Dodge Street, with a stop directly on campus at 62nd Street.
COVID-19 Precautions
Metro continues to take measures to limit the spread of COVID-19. Learn more.
What Resources Can You Access Riding ORBT?
ORBT will run from Westroads Mall to downtown Omaha, replacing Metro's "Route 2" line. It will connect major destinations along Omaha's major corridor and stop less frequently than other local bus routes, helping you reach your destination faster. ORBT will also connect with almost every other bus route that Omaha Metro offers, making the whole system more reliable. This rapid bus transit line is the first in Omaha, with plans expand to more in the future.
Grocery Stores: Wohlner's in Midtown at 33rd station, and many others with a single bus change.

Pharmacies: CVS at stations 72nd and 49th Streets; Walgreens at ORBT stations on 42nd Street, Keystone Trail, and 90th Street.

Doctor's Office: UNMC 3 blocks from the 42nd Street station.

Bank/ATM: Several along route.

Other retail: Target at 72nd Street station.

Restaurants/Entertainment: All along Dodge route and Downtown.

Tailor: GI cleaners & tailors is a one block walk from 84th Street station; Dundee Tailor is a two block walk from 49th station.

Hardware store: Lowe's Hardware at the 72nd Street station.
Rider Bonuses with ORBT
Real-time updates on bus arrival times at station and on app.

Bike access. Bike parking and Heartland B-Cycles stations available at many of the ORBT stations.

Free WiFi at each station.

Raised and heated platforms for safety and ease of boarding.
More About ORBT
More information about ORBT can be found at rideORBT.com
Curious about what to expect as a rider? Wondering how to get on the bus? Check out these helpful videos:
About the University of Nebraska at Omaha
Located in one of America's best cities to live, work and learn, the University of Nebraska at Omaha (UNO) is Nebraska's premier metropolitan university. With more than 15,000 students enrolled in 200-plus programs of study, UNO is recognized nationally for its online education, graduate education, military friendliness and community engagement efforts. Founded in 1908, UNO has served learners of all backgrounds for more than 100 years and is dedicated to another century of excellence both in the classroom and in the community.
Follow UNO on Facebook, Twitter (X), Instagram, TikTok, LinkedIn, and YouTube.