Enhanced Campus Health and Safety Measures Begin Today
Due to the spread of the coronavirus in Omaha, Douglas County, and across the state of Nebraska, new and enhanced health and safety measures will be implemented on our campus; effective starting today.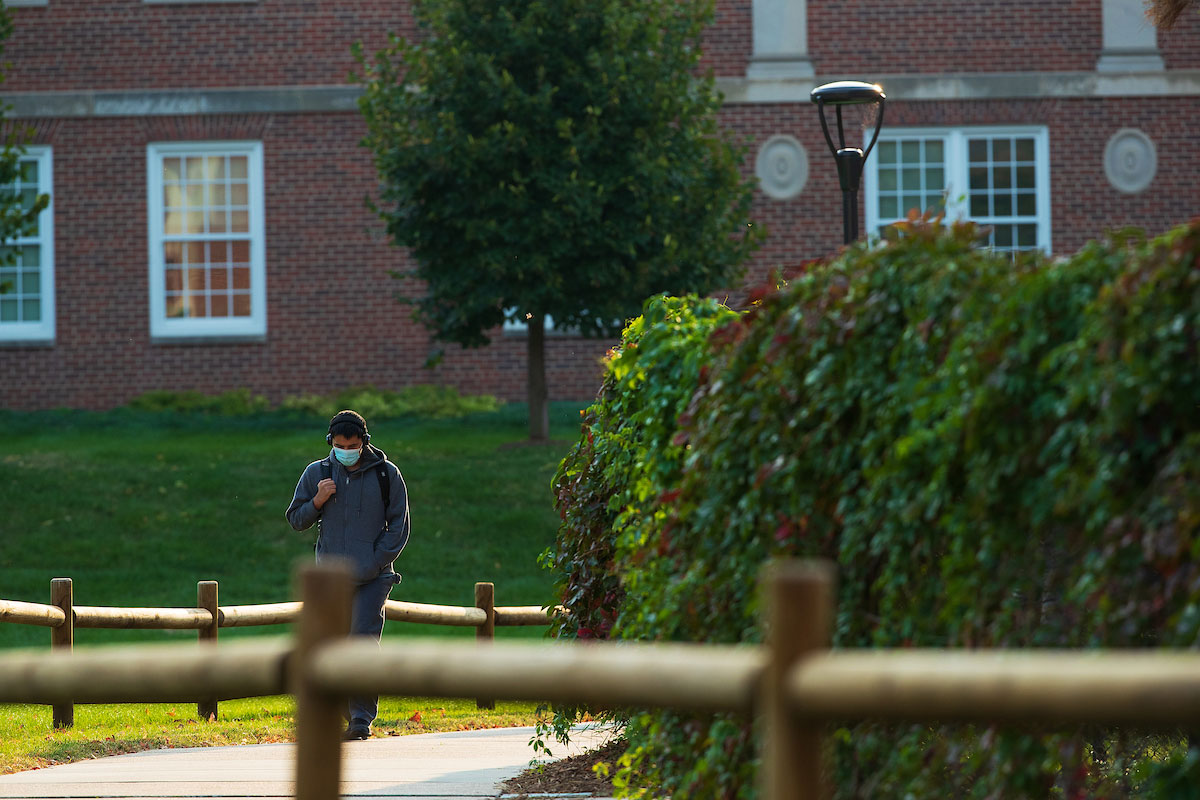 To the Maverick Community,
In recent weeks, we have reiterated that your unwavering commitment to each other's health, safety, and wellbeing during the Fall 2020 semester has allowed us to maintain campus operations and our educational mission all while seeing very few campus-acquired COVID-19 cases. For this, we thank you and encourage you to keep this passion and focus in the coming days, weeks, and perhaps months as we continue to fight this pandemic.
It is also true, as we have said since the beginning of our response to the pandemic in March, our campus would continue to adjust and adapt our teaching, working, and learning plans based on the spread of the virus not just on campus, but in our wider communities, in order to promote your health and safety.
It is with this in mind that, due to the spread of the virus in Omaha, Douglas County, and across the state of Nebraska, new and enhanced health and safety measures will be implemented on our campus effective Monday, Nov. 16. We urge all students, faculty, and staff to view detailed information about these new measures on UNO's Fall Forward website as soon as possible.
As you will read on the Maverick COVID Response website (formerly Fall Forward), there are actions we, as a community, must take, beginning immediately for:
Classes
Deans and their faculty have been asked to examine remaining course meeting patterns for the rest of the semester, paying special attention to labs, studios, and ensembles. They will be working with specific guidance from Academic Affairs.

Faculty should utilize alternatives when possible to in-person exams for finals and remaining exams. Scanned and submitted papers or exams, or online testing is preferred wherever possible.

All labs and studio classes must create accommodations for students who must miss a lab due to individual health concerns or quarantine/isolation.
Research
All research labs with more than 10 people should dedensify.

Research staff should comply with all work from home policies.

All research faculty, staff, and students must use the 1-Check UNO app daily.

Human subject research should either be deferred or appropriately socially distanced.
Events
All events with more than 10 people should discontinue. Academic courses are not included.

No performances should have a live audience (recording or streaming only).
Compliance
Successfully implementing these measures will require your continued cooperation and commitment to the wellbeing of this community. While we must act with a sense of urgency, I ask that you show each other patience and kindness as we enter this new phase of our COVID-19 response together. This is not the first time our university has adjusted our plans in order to promote the health of our students, faculty, and staff, and it will not be the last. We will continue to closely monitor the spread of the virus and keep you up to date as our mitigation efforts adapt and evolve.
I also ask that you continue to do the little things that make a big difference, such as mask-wearing, physical distancing, hand washing, and daily use of the 1-Check UNO app.
Please make sure to take care of yourselves as well. It is common to experience feelings of anxiety, depression, and isolation in times like these, and we encourage all Mavericks to get the help they need. Students can find the resources that promote their mental and emotional wellbeing through  UNO Counseling and Psychological Services (CAPS), while faculty and staff can find the same resources through  UNO's Employee Assistance Program (EAP).
In the Maverick Spirit,
Jeffrey P. Gold, M.D.
Chancellor
Jane Meza, Ph.D.
Interim Executive Director, Office of Health Security
About the University of Nebraska at Omaha
Located in one of America's best cities to live, work and learn, the University of Nebraska at Omaha (UNO) is Nebraska's premier metropolitan university. With more than 15,000 students enrolled in 200-plus programs of study, UNO is recognized nationally for its online education, graduate education, military friendliness and community engagement efforts. Founded in 1908, UNO has served learners of all backgrounds for more than 100 years and is dedicated to another century of excellence both in the classroom and in the community.
Follow UNO on Facebook, Twitter (X), Instagram, TikTok, LinkedIn, and YouTube.