Dual Launch Elevates STEM Concepts, Two High-Altitude Balloons
published: 2020/11/30
contact: Brandon Bartling - University Communications
email: unonews@unomaha.edu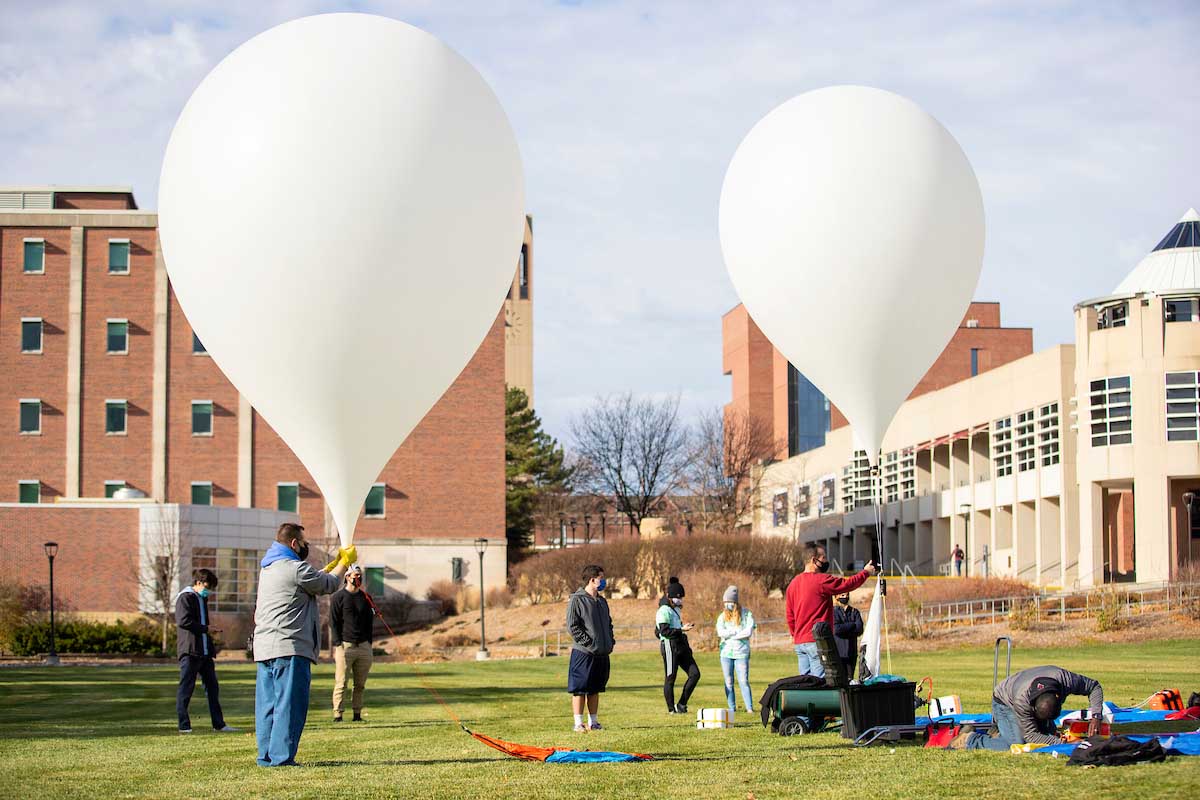 Two teams of students from UNO's Thompson Learning Community and Exploratory Studies programs in launching two high-altitude balloons from the Pep Bowl on UNO's Dodge Campus on Friday, Nov. 20, 2020.
Two balloons destined for the earth's upper atmosphere rose from the University of Nebraska at Omaha (UNO) campus recently in the name of science and exploration.
Derrick Nero, Ed.D. and Dana Richter-Egger, Ph.D., led teams of students from UNO's Thompson Learning Community and Exploratory Studies programs in launching two high-altitude balloons from the Pep Bowl on UNO's Dodge Campus.
Prior to the launch, students worked in groups to devise experiments that would be attached to the balloons and tested in near-space conditions. Nero said that students start with an idea of what experiments they want to do, then refine their plans based on what they learn about the levels of the earth's atmosphere. "They start to make connections between the different types of sciences and start to learn about problem solving and critical thinking skills, which helps them not only in this class but also in their other classes," he said.
"The whole intent is to help build students' self-efficacy, their understanding of science, their ability to do science, and also make connections with science throughout their lives."
Weeks of devising experiments led up the launch preparations on a chilly November morning. Once the experiments and equipment were attached, the balloons were filled with helium and released. The balloons lifted through the clouds in an overcast sky to reach an altitude of about 70,000 feet, thus reaching the upper levels of the Earth's atmosphere.
Ashley Arrowsmith, one of the students in the course, said that one experiment involved seeing how dry ice sublimates, or changes from a solid to a gas, high up in the earth's atmosphere. "It sublimates at warmer temperatures, so we were seeing that, as it got colder, if sublimation would stop or be reduced," she said.
Each balloon was outfitted with GPS devices to enable location tracking and sensors to collect measurements of conditions at a near-space level including oxygen levels, atmospheric pressure, earth's infrared signature, and temperature. Telemetry was transmitted back to the teams using satellite communications.
At each balloon's peak altitude, all that was visible above the onboard cameras was the blackness of outer space. High enough altitudes and low enough atmospheric pressure kickstarted each instrument's descent with a pop. After the balloons burst, parachutes allowed the devices to safely fall back to the surface. Students used GPS devices to track the journey of each balloon and follow its path to make a recovery. Past recoveries have taken teams to portions of western and southwestern Iowa or even as far as northwest Missouri. This round of launches followed a similar trajectory with students making recoveries near Stuart and Adel, Iowa.
Richter-Egger said that, by launching these balloons, students gain experience conceiving, designing, constructing, and conducting their own science experiments in near-space. "They are responsible for the engineering, troubleshooting, revisions, and recovery of the experiments as well as the interpretation and communication of the results. In doing so, they experience the complete process of science and engineering," he said.
In addition to the experiments themselves, freshman Landon Chapin, who plans to study Secondary Education, said that he learned extensively about communication. "Staying in touch and understanding how to communicate effectively will definitely tie in with any teaching field," Chapin said. "I learned a little bit about how important is it to have hands-on experience and stay engaged."
TED/STEM 2800 Scientific Experimentation and Engineering Design is one of only a handful of courses at UNO to use the relatively new STEM course prefix. As a STEM course, students encounter and leverage disciplines within science, technology, engineering, and mathematics in a multifaceted class over the course of a single semester. "Those who go on to be teachers will likely inspire their own students in the future with firsthand experience of the thrills of success, the hair-pulling frustration of hiccups, and the oft eye-opening realization that science and engineering rarely go directly from point A to point B," Richter-Egger said.
About the University of Nebraska at Omaha
Located in one of America's best cities to live, work and learn, the University of Nebraska at Omaha (UNO) is Nebraska's premier metropolitan university. With more than 15,000 students enrolled in 200-plus programs of study, UNO is recognized nationally for its online education, graduate education, military friendliness and community engagement efforts. Founded in 1908, UNO has served learners of all backgrounds for more than 100 years and is dedicated to another century of excellence both in the classroom and in the community.
Follow UNO on Facebook, Twitter (X), Instagram, TikTok, LinkedIn, and YouTube.