A Message from Chancellor Gold on Student Fees
On Monday, Nov. 16, UNO Chancellor Jeffrey P. Gold, M.D., notified students of changes that would be made to UPF and Distance Education fees.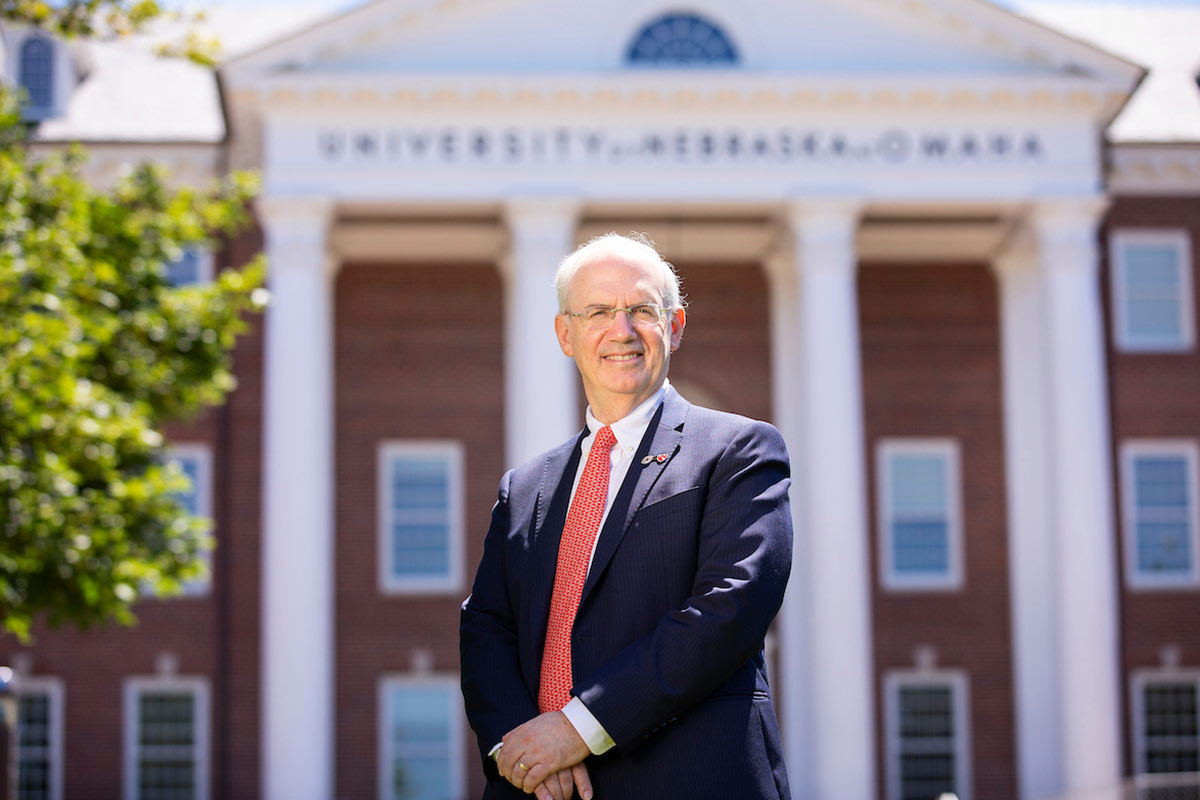 The following is a note sent by UNO Chancellor Jeffrey P. Gold, M.D., on Monday, Nov. 16, regarding student fees and adjustments being made for the Fall 2020 and Spring 2021 semesters:
Dear Mavericks,
I hope that this note finds you and your families well as we continue to move through the Fall semester here at UNO. We remain committed to the health and safety of our students as we focus on your academic journey. I continue to be proud of how our faculty, staff, and students have rallied to support each other during these unprecedented times. So, thank you for rolling up your sleeves and working with us to help keep each other safe.
My purpose in writing today is in follow up to recent conversations we have had with student Senators and other student leaders on campus regarding some questions with the way certain student fees were charged to students this Fall. Specifically, these conversations focused on the combined charges associated with University Programs and Facilities (UPF) and Distance Education (DE) fees in light of the enhanced campus safety approach to courses this academic year. Listening carefully to student concerns led us to immediately charge a small working group of students and senior campus leaders to explore the situation and provide us with specific recommendations as to how we might improve the situation for adversely impacted students this Fall and avoid similar pain points for the Spring in light of the ongoing pandemic.
Based on the working group's recommendations and the recently passed resolution of support for addressing student fee concerns by UNO Student Government, I have directed our leadership team at UNO to take the following corrective steps for students enrolled this Fall and those planning to enroll in the Spring semester:
All students, regardless of fees paid, have access to Counseling and Psychological Services (CAPS). Some students misunderstood that they would not have access to these services. We want you to know these important services, located in H&K, are available to all students if needed.
For the remainder of this Fall semester and all of Spring, students will have access to the Campus Recreation facility (H&K gym), regardless of their online or on campus course schedule.
Some students this Fall were enrolled in an 'in-person' course that was switched to remote instruction by the instructor after the semester began but not switched in the Registrar's course listing. This last-minute switch was done with the best of intentions by the instructor to meet student concerns, but in some instances, it caused a fee implication because it was the last in-person course in a student's schedule. In light of this, we will reduce the UPF fees charged for students taking only one or two on-campus courses to the lowest tier charge as if they'd taken only 1-6 credit hours. In these cases, we will place a credit in the student's account or provide a refund for graduating students. Please note this credit or refund will automatically be applied to the student's account and no action will be required by a student to receive it.
As noted earlier, students who are all online or all on campus pay the same amount of fees. It is the students who have a mixed schedule of in-person and online/remote courses, caused by de-densifying our classes, that can end up paying more in combined student fees. Therefore, for Spring 2021, any student who has only one or two on-campus courses will pay the reduced UPF fee ($314.45) as if their schedule is 1-6 credits. This change for Spring 2021 semester will hold all students' fees to be more similar during this time of greater use of blended online and other types of remote instruction.
I hope you will find these corrective steps helpful in addressing the specific concerns related to UPF and DE fees semester—especially for those of you who are enrolled in a mixed schedule of online and on campus classes. If you have questions regarding these important changes, please reach out directly to the Dean of Students, Cathy Pettid at studentaffairs@unomaha.edu.
Thank you again to the students for bringing these fee issues forward and working with us to investigate and address them. When we find opportunities to revise or strengthen policies to serve our students, it is our aim to move quickly to identify solutions and improve the situation for students ASAP. We believe we have done just that in this instance. Please know we will continue to carefully monitor the pandemic's impact on our living and learning environment and be sure to communicate any necessary changes in campus processes or policies right away to the UNO community.
Stay safe and be well,
Jeffrey P. Gold, M.D.
Chancellor
About the University of Nebraska at Omaha
Located in one of America's best cities to live, work and learn, the University of Nebraska at Omaha (UNO) is Nebraska's premier metropolitan university. With more than 15,000 students enrolled in 200-plus programs of study, UNO is recognized nationally for its online education, graduate education, military friendliness and community engagement efforts. Founded in 1908, UNO has served learners of all backgrounds for more than 100 years and is dedicated to another century of excellence both in the classroom and in the community.
Follow UNO on Facebook, Twitter (X), Instagram, TikTok, LinkedIn, and YouTube.