Students Reap Rewards, Knowledge Through 'Perks for Parking' Program
published: 2020/10/12
contact: Charley Steed - University Communications
email: cdreed@unomaha.edu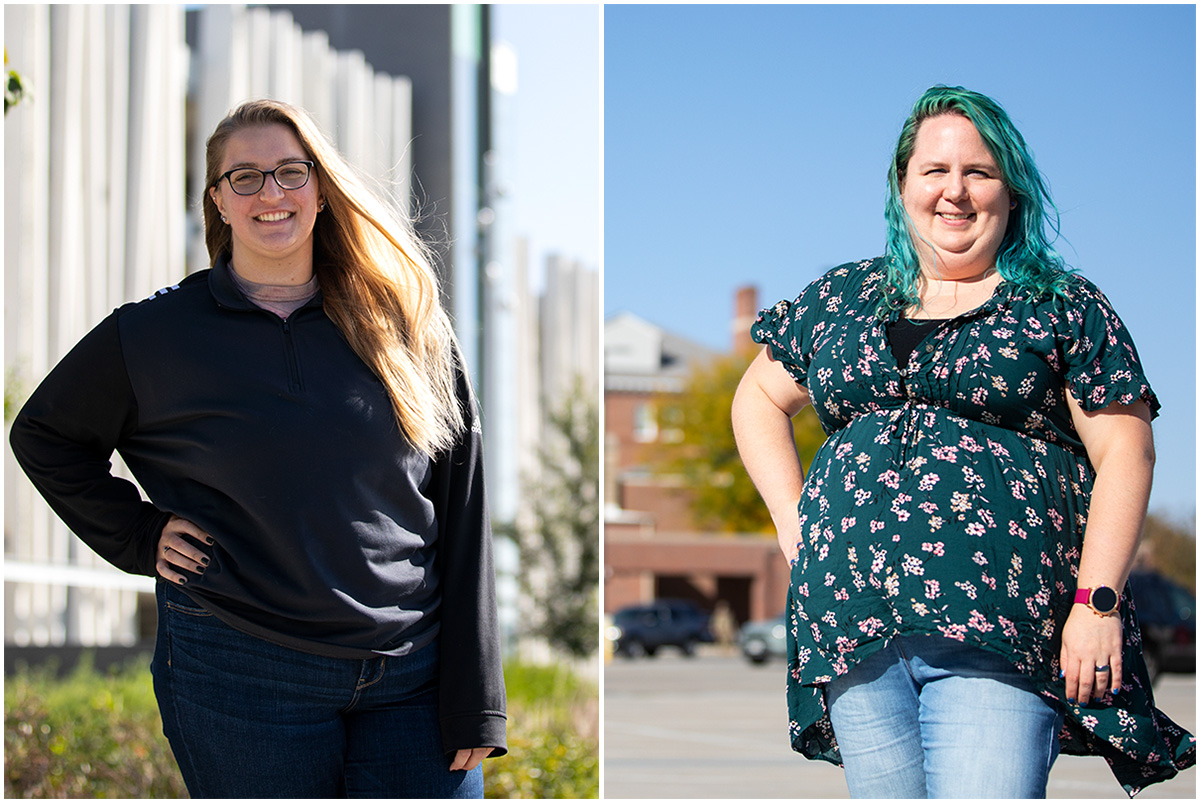 Jen Daily (left) and Sarah Brumfield (right) had enough knowledge about parking and transportation on campus to each earn a free annual parking permit through a new "Perks for Parking" program.
One month ago, graduate students Jen Dailey and Sarah Brumfield received a surprise phone call from UNO's Parking Services office.
While they were initially concerned, they soon found reason to celebrate as they found out they were the winners of the first "Perks for Parking" contest and the recipients of two annual permits for the 2020-2021 academic year.
"It's the nicest way to get called from Parking Services," Brumfield, a master's student in sociology, said. "I wasn't expecting it. It was really exciting and with everything going on it was nice to get some good news."
Both Brumfield and Dailey, a biology master's student, were able to celebrate thanks to participating in a quiz shared with students by Parking Services at the start of the semester.
Vanessa Rath, UNO parking and transit manager, said "Perks for Parking" is a way for students to have more proactive engagement with Parking Services and hopefully learn a bit more about all the different opportunities available for students when it comes to getting to and from their classes.
"We are thrilled to offer these new 'Perks' for students. We wanted to find opportunities to thank students for their good standing with parking and allow them to show us how much they know about parking on campus, while providing a chance for them to get to campus without worrying about the cost."
To win this particular contest, both students needed to correctly answer 10 questions about important parking facts like the shuttle routes available this academic year, what violations can be waived, and how many vehicles can be registered to one permit.
"I knew some of the information beforehand," Dailey noted. "But, what I didn't know, I looked up in the parking handbooks."
Even though it's only been a month, both Brumfield and Dailey, who are teaching assistants in their respective departments, said they have truly appreciated having the annual permit.
"I've loved having the permit because it's saved me a lot of time," Dailey said. "I would typically take the bus or park somewhere near campus and walk."
Brumfield says the benefit for her has been to remove one less variable in managing finances during tough economic times due to COVID.
"You don't have to worry about 'Am I losing money by not being on campus' as much, especially right now ... it's nice to not stress as much about what my daily cost would be versus the pass," Brumfield added.
Dailey plans to graduate in May and says that the permit has also meant the world to her in being able to work towards that goal.
"It makes working on my thesis after school hours and being on campus during school hours much easier," she said. "I'm very grateful to parking services for putting on the contest."
Brumfield, who also earned her undergraduate degree from UNO, recently joined UNO Student Government as the organization's sole graduate student representative. She said that from her conversations with fellow SG-UNO members, and what she has witnessed herself, Parking Services has made important steps toward working with students to provide the best experience possible.
"They do take the concerns they hear from students seriously," she said. "It may not happen overnight, but changes have been made. From how things are enforced to the getting the waiver program back to adding more hourly options to how refunds were issued for last year they take those things seriously and I don't think you would get that at larger institutions."
For those looking for additional opportunities to participate in future "Perks for Parking" initiatives, Parking Services is already hard at work planning their next opportunity for students. In the meantime, they encourage all students to learn about the wide variety of permit options for this academic year, as well as alternative transportation solutions like MavRide, carpooling, or the B-Cycle program, to get to campus.
As for Dailey and Brumfield, they are thankful to have seen the original contest and hope other students take advantage of the next "Perks for Parking" opportunity that comes along.
"I think it's a nice way to more students to know more about parking system works," Brumfield said. "Besides, you can't lose anything for entering a contest."
About the University of Nebraska at Omaha
Located in one of America's best cities to live, work and learn, the University of Nebraska at Omaha (UNO) is Nebraska's premier metropolitan university. With more than 15,000 students enrolled in 200-plus programs of study, UNO is recognized nationally for its online education, graduate education, military friendliness and community engagement efforts. Founded in 1908, UNO has served learners of all backgrounds for more than 100 years and is dedicated to another century of excellence both in the classroom and in the community.
Follow UNO on Facebook, Twitter (X), Instagram, TikTok, LinkedIn, and YouTube.