Big Opportunities on the Prairie
UNO's Glacier Creek Preserve, untouched by technological development, is an ecological oasis; letting aspiring scientists heed the call of the wild.
published: 2020/10/13
contact: Ryan Soderlin - University Communications
email: unonews@unomaha.edu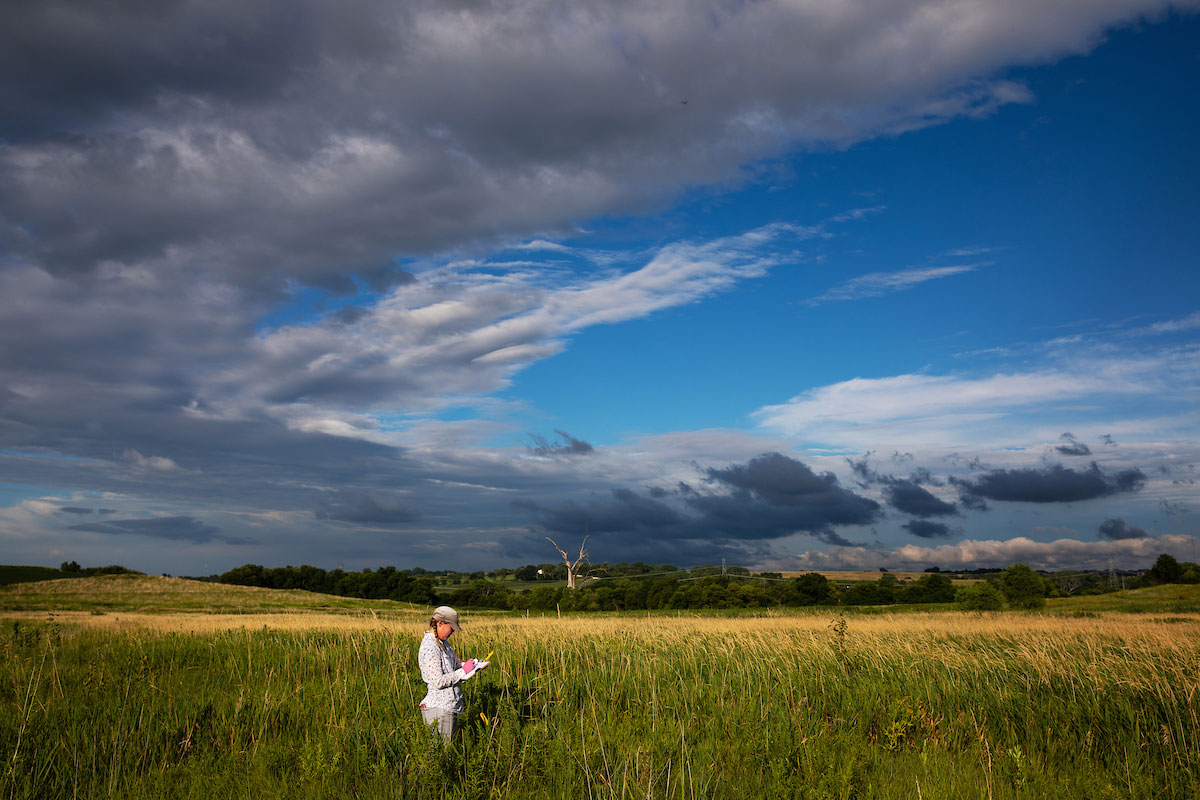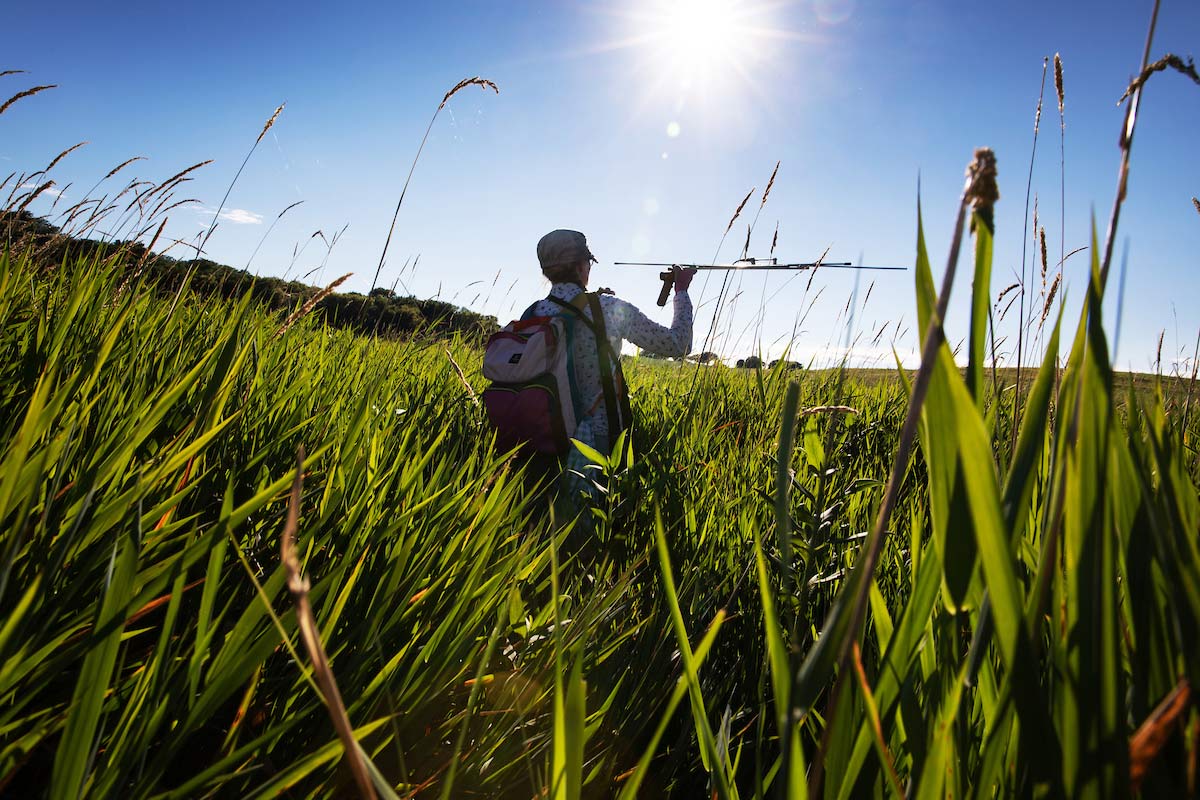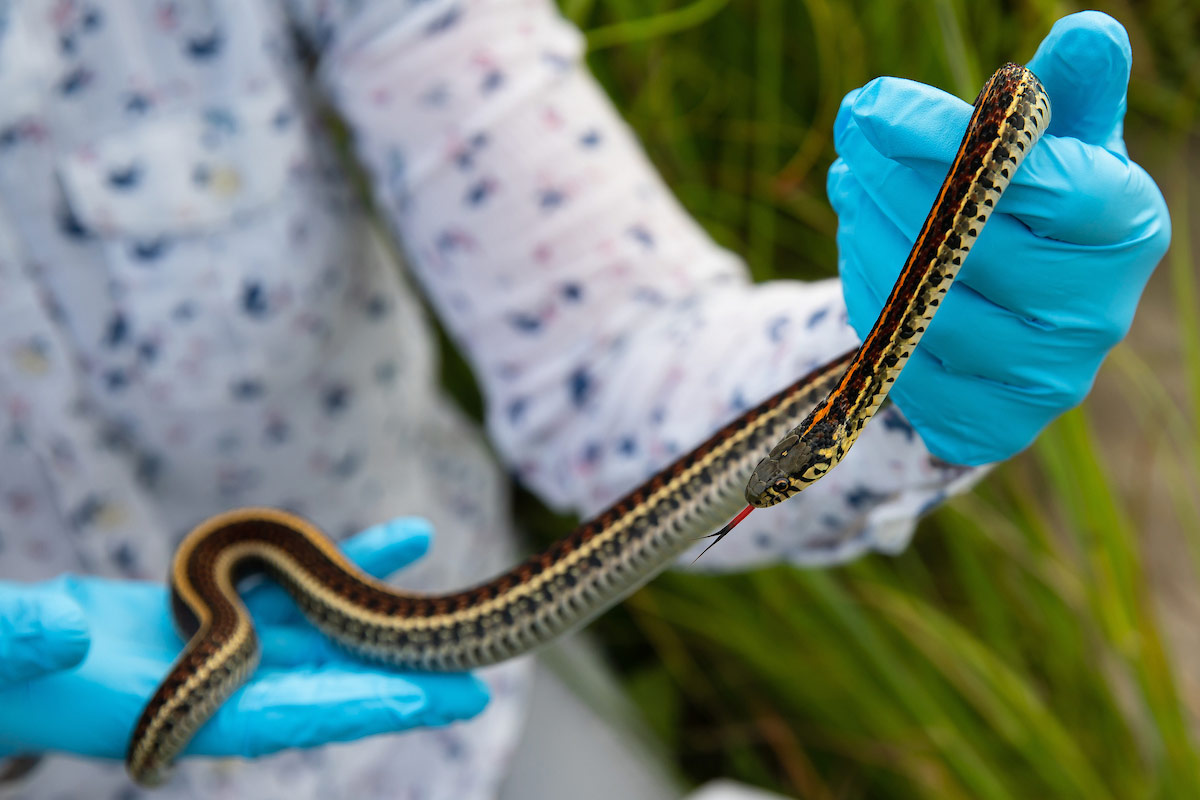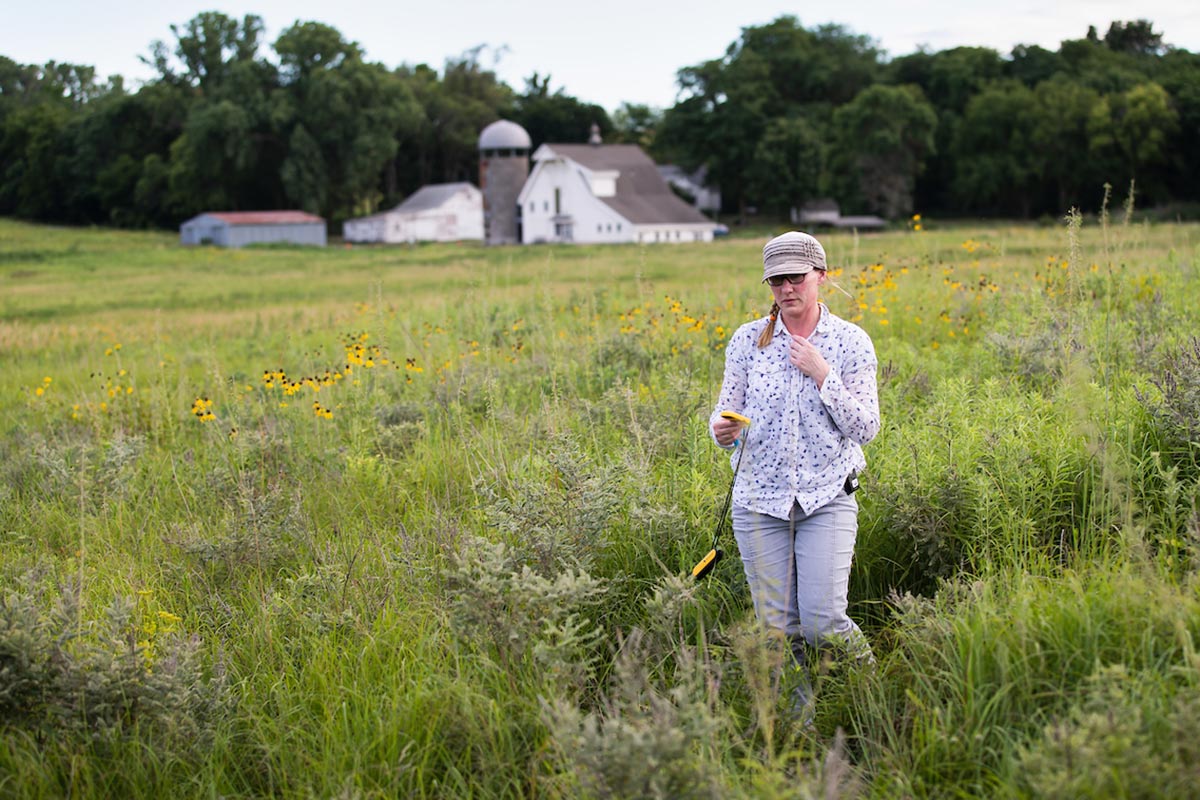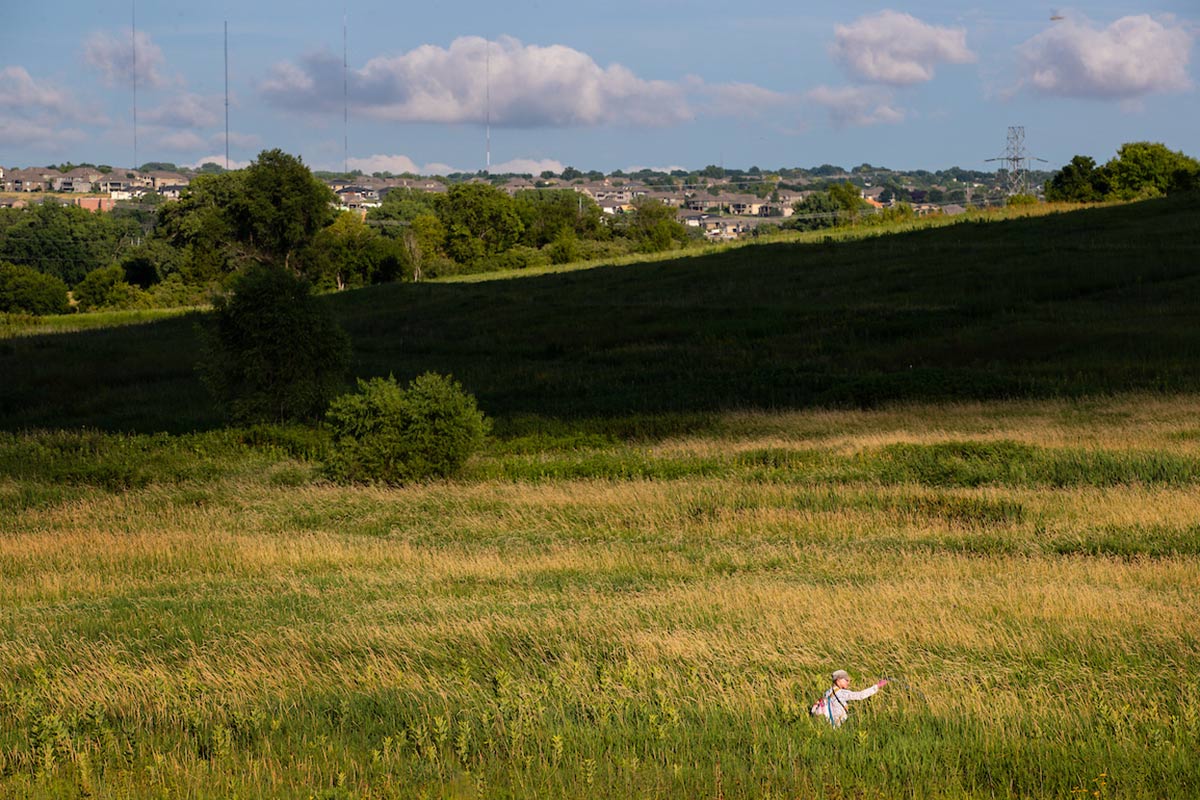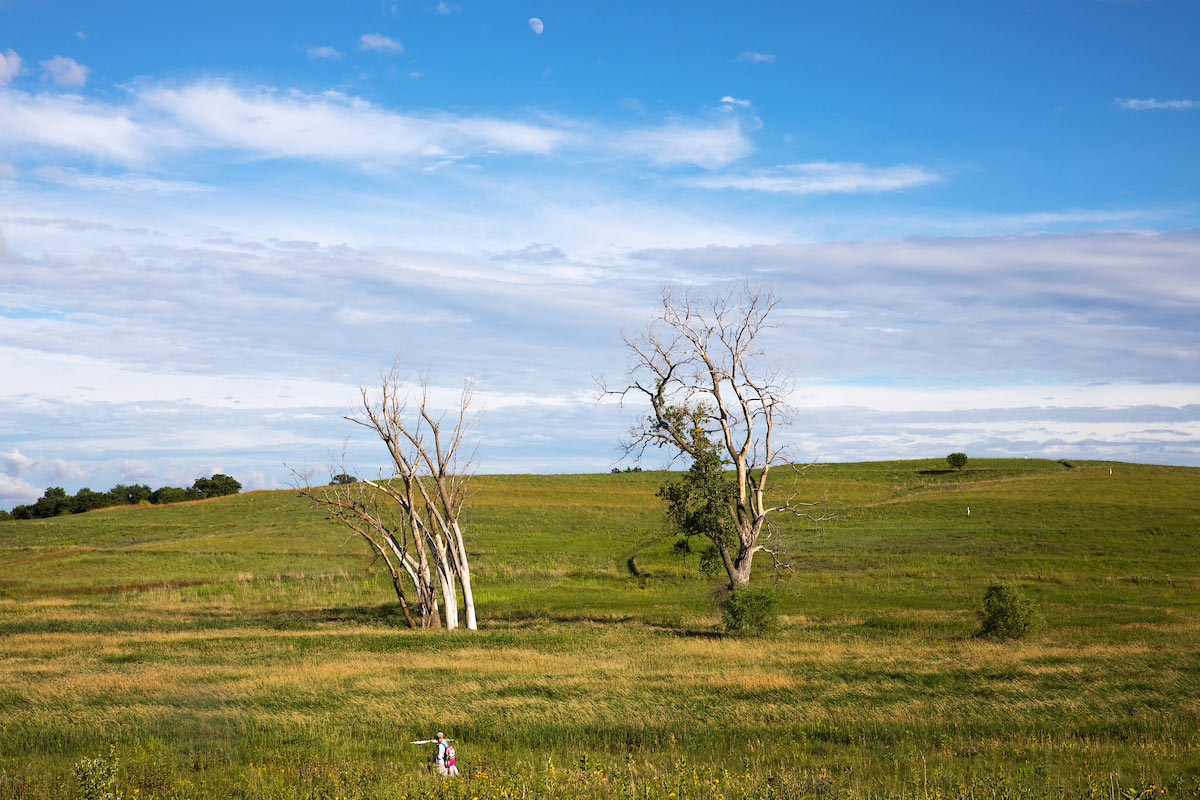 The sound of electronic beeps filled the air around scientist Tracy Coleman as she radio-tracked fox snakes at the University of Nebraska at Omaha's (UNO) Glacier Creek Preserve. The beeps grew stronger and then weaker as she tried to pinpoint the snake's location in thick, shoulder-high grass.
As the afternoon sun beat down on the preserve's reclaimed prairie, Coleman persisted.
She developed her love of snakes studying biology as a UNO undergraduate, when a researcher brought a rattlesnake to a herpetology class she was taking.
"I was instantly taken away by that snake," she said. "Meeting that person and then meeting that snake inspired me to get my master's in biology at UNO."
This desire to know more about snakes and their habitat led her to a position at the preserve, where she works as the Outreach and Administrative Specialist.
"I chose to work at UNO because of the preserve. I'm interested in the conservation of the flora and fauna of Nebraska, and I'm also really interested in outreach," said Coleman.
The preserve's 525 acres, located northwest of Omaha, satisfies those interests.


Of the Glacier Creek Preserve's 525 acres, 160 are Allwine Prairie Tract, a tallgrass prairie donated in 1959 and restored in 1970. There, students from preschool all the way up to graduate school can expand their knowledge of biology and develop a deeper appreciation for nature.
As a research institution, the preserve and Coleman's work enhance the university's capacity for research and education.
Her research seeks answers about the animal population there, and she likes to share that knowledge with visiting students, especially when she can show them a snake that she has captured. "They get really excited. It helps them understand more about animals and nature and appreciate that," she said.
Coleman conducts research on the preserve's amphibian and reptile populations. The more she learns about these animals' seasonal habitats and where they live in the preserve - such as high, mid, or low slope - the better the preserve can be managed for those species.
Thanks to Coleman and others' baseline data collection, these provide knowledge that contributes to tallgrass prairie management and ongoing restoration of the Preserve's remaining acres to native habitats.
Coleman uses radio-telemetry to locate the fox snakes and collect that data - body length, weight, behavior and location within the preserve. The other species of snakes found on the preserve are captured under plywood or metal coverboards placed throughout the preserve.
After capturing a snake, she records its body measurements, species and tags it with a microchip. The tag lets her know if she's captured a snake she's previously studied and helps her monitor growth rates and movement within the preserve. The larger fox snakes re surgically implanted with a radio transmitter. Over time, radio-telemetry has led to discoveries such as where fox snakes hibernate and where they deposit their eggs.
The preserve is a protected site. It's not going to be developed, making it a great place for research, Coleman said.
The 1900's era historic barn on the property, The Barn at Glacier Creek Preserve, (aka the Barn) has been restored and serves as the research and education facility at the preserve. The Barnnot only hosts students and the public, but it provides a place for scientists like Coleman to store their supplies and analyze their data. It's a home—a home for UNO science and research based in biology, chemistry, geology, and geography.
A prairie home nearly surrounded by ever-expanding suburban neighborhoods.
A cool blue light fell on that home as the evening dimmed. Coleman continued her hunt for snakes. Like she did near the cornfield of her Gretna, Nebraska, home as a child.
Her shoes swooshed through tall grass.
Snakes keep her going. "Even now when I'm out on the prairie and I pick up a snake, I really enjoy holding them and photographing them. They're just really interesting creatures to me," Coleman said.
About the University of Nebraska at Omaha
Located in one of America's best cities to live, work and learn, the University of Nebraska at Omaha (UNO) is Nebraska's premier metropolitan university. With more than 15,000 students enrolled in 200-plus programs of study, UNO is recognized nationally for its online education, graduate education, military friendliness and community engagement efforts. Founded in 1908, UNO has served learners of all backgrounds for more than 100 years and is dedicated to another century of excellence both in the classroom and in the community.
Follow UNO on Facebook, Twitter (X), Instagram, TikTok, LinkedIn, and YouTube.