Congratulations to Dean Ali on 15 Years of Leadership
Hesham Ali, Ph.D., will step down from his current role as dean of the College of Information Science & Technology at the end of the academic year, at which point he will will return to the faculty and serve as director of the college's Bioinformatics Core Facility.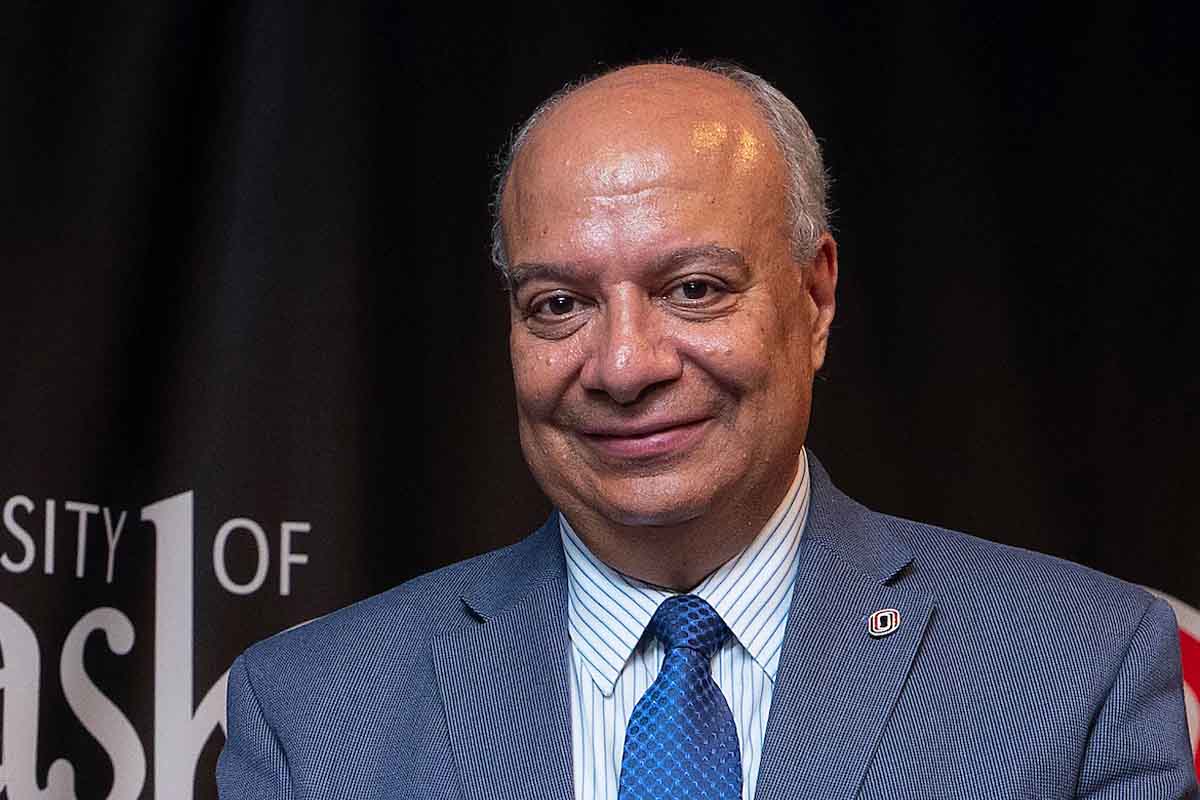 Hesham Ali has served as dean of the College of Information Science & Technology since 2006. He will return to a faculty position following the end of the 2020-2021 academic year.
Following more than two decades in administration, and 15 years as dean of the University of Nebraska at Omaha's College of Information Science & Technology (IS&T), Hesham Ali will conclude his service to the college as its dean at the end of the Spring 2021 semester.
Ali joined UNO in 1988 as an assistant professor and rose to serve as the College of IS&T's associate dean of academic affairs in 2000 before accepting the role of dean of the college – a position he has held since 2006.
"So much of the success of the College of Information Science & Technology since its establishment 25 years ago is inextricably linked to Dean Ali's presence and leadership," UNO Chancellor Jeffrey P. Gold, M.D., said. "His passion and thoughtfulness have guided the college through rapid evolutions in technology and helped our university deliver on its promise to meet high-demand workforce needs by producing equally passionate professionals that serve the state of Nebraska today. I extend my deepest thanks to Dean Ali and wish him the very best."
An accomplished scholar, Ali has been the lead or co-author of more than 50 refereed journal articles, two books, and more than 150 papers in areas of bioinformatics, mobile computing, wireless sensor networks, and scheduling. He also served as PI or co-PI of over 40 research and education grants with a total of over $12 million. Ali will return to the faculty and serve as director of the college's Bioinformatics Core Facility, continuing his active research program.
In addition to leading the recruitment of many of the college's current faculty, Ali worked to ensure national recognition for many programs, including NSA accreditation for cybersecurity. During his time as dean, Ali worked with Omaha area K-12 schools through outreach programs that inspire students to pursue careers in STEM fields and worked to grow the college's sponsored research portfolio.
Recent successes for the college under Dean Ali's leadership include the launch of two new graduate degrees: The Master of Science in IT Innovation and the Master of Science in Data Science–a joint degree with the Colleges of Arts and Sciences and Business Administration. In addition, IS&T's Cybersecurity undergraduate and graduate degrees have created completely online options for both programs. Overall, during his tenure as dean, he lead the efforts in launching three undergraduate programs, four graduate programs and two doctoral degrees in Information Technology and Biomedical Informatics.
"Dean Ali's person-centered approach to teaching, learning, and research in areas of informatics, management information systems, and computer science built a solid foundation for the college's future," Senior Vice Chancellor for Academic Affairs Sacha Kopp, Ph.D., said. "His student-centered, collaborative approach to his work as a leader, an educator, and a scholar will continue to serve as an example of what we as an institution want the entire Maverick academic community to aspire to."
About the University of Nebraska at Omaha
Located in one of America's best cities to live, work and learn, the University of Nebraska at Omaha (UNO) is Nebraska's premier metropolitan university. With more than 15,000 students enrolled in 200-plus programs of study, UNO is recognized nationally for its online education, graduate education, military friendliness and community engagement efforts. Founded in 1908, UNO has served learners of all backgrounds for more than 100 years and is dedicated to another century of excellence both in the classroom and in the community.
Follow UNO on Facebook, Twitter (X), Instagram, TikTok, LinkedIn, and YouTube.