UNO Among Institutions Nationwide Documenting Experiences of Latino Communities Amid the Pandemic
published: 2020/08/18
contact: Brandon Bartling - University Communications
email: unonews@unomaha.edu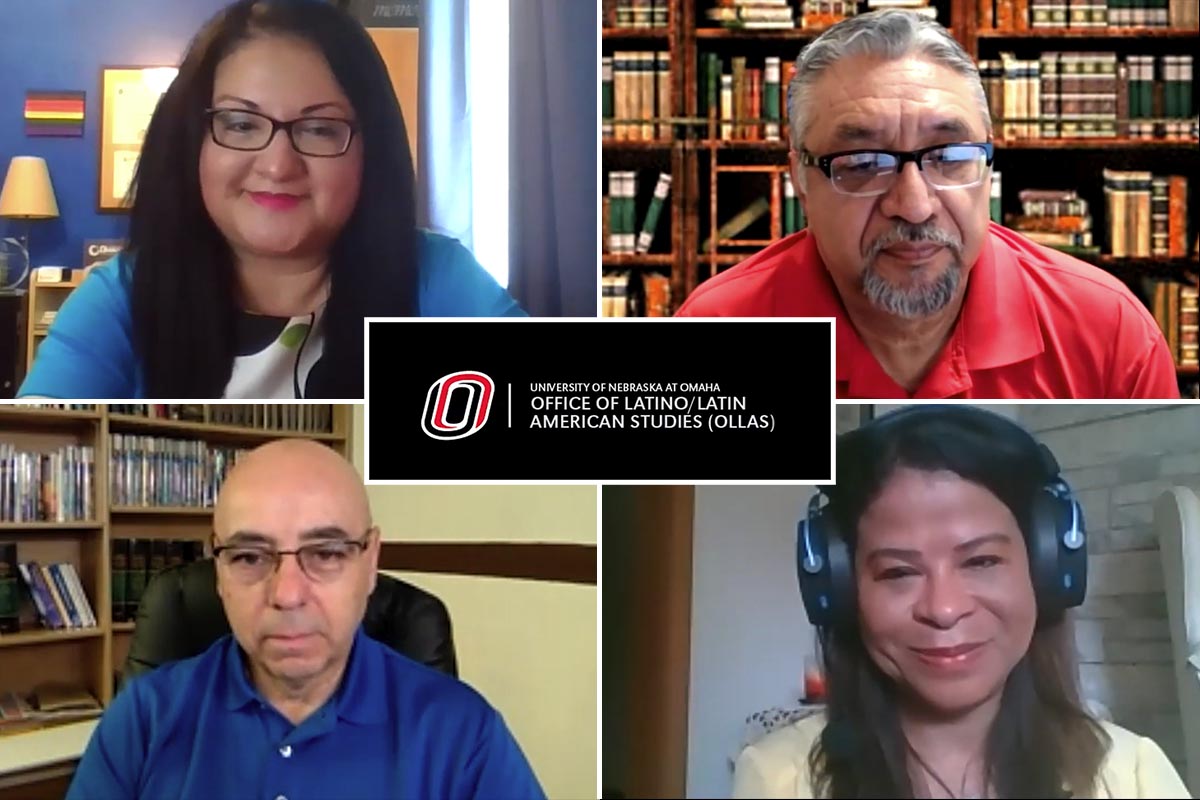 Four of the many Latinos and Latinas who have been interviewed for the Voces of a Pandemic project.
Researchers at the University of Nebraska at Omaha (UNO) are joining with institutions across the nation to document the impact being felt by Latino communities as a result of the COVID-19 pandemic.
UNO's Office of Latino/Latin American Studies, led by Director Cristián Doña-Reveco, Ph.D., joins six partner institutions in recording, preserving, and disseminating the unique perspectives of Latinos and Latinas during this crisis.
The effort, coined "Voces of a Pandemic," is being led by the University of Texas at Austin's Voces Oral History Center. Other partner institutions include Northern Illinois University, Fundación Luis Muñoz Marín, UCLA, Rutgers University, and the University of North Texas.
Latinos have been disproportionately affected by COVID-19 for several reasons. Many are deemed "essential workers" who are required to go to work (some without protective equipment) and face potential exposure to the virus. Others lack health care options and/or insurance coverage, have lost their jobs, or suffer from pre-existing health conditions which put them at greater risk (sometimes the result of poverty and inequality). Thousands are also undocumented, which compounds their vulnerability.
As part of the project, researchers from all seven institutions are conducting interviews via Zoom with Latinos and Latinas who have been impacted by COVID-19. Already they have spoken with:
A construction worker in Arizona who said he never stops working, even in a pandemic
A surgeon in South Texas who recovered from the virus in April and noted that many people don't understand the severity of the illness
A New Jersey woman who said she personally knows at least 20 people who have tested positive for COVID-19
The head of a nonprofit in Omaha who said he is heartened by the community stepping up to help his food giveaway program.
The project began over the summer and continues as researchers collect additional interviews. Completed interviews can be found on the Voces of a Pandemic website at https://voces.lib.utexas.edu/voces-pandemic. Researchers will produce articles, research reports, and essays that will be submitted to the U.S. Latina & Latino Oral History Journal as part of this effort.
Those wishing to contribute their own perspective should contact Cristián Doña-Reveco, Ph.D., at cdona@unomaha.edu for more information.
About the University of Nebraska at Omaha
Located in one of America's best cities to live, work and learn, the University of Nebraska at Omaha (UNO) is Nebraska's premier metropolitan university. With more than 15,000 students enrolled in 200-plus programs of study, UNO is recognized nationally for its online education, graduate education, military friendliness and community engagement efforts. Founded in 1908, UNO has served learners of all backgrounds for more than 100 years and is dedicated to another century of excellence both in the classroom and in the community.
Follow UNO on Facebook, Twitter (X), Instagram, TikTok, LinkedIn, and YouTube.