Recent UNO Alumnus Earns Prestigious National Fellowship
Elias Witte, who earned a bachelor's degree in biology in December, and is currently studying dentistry at UNMC, was named a Phi Kappa Phi Fellow this summer.
published: 2020/08/25
contact: Charley Steed - University Communications
phone: 402.554.2129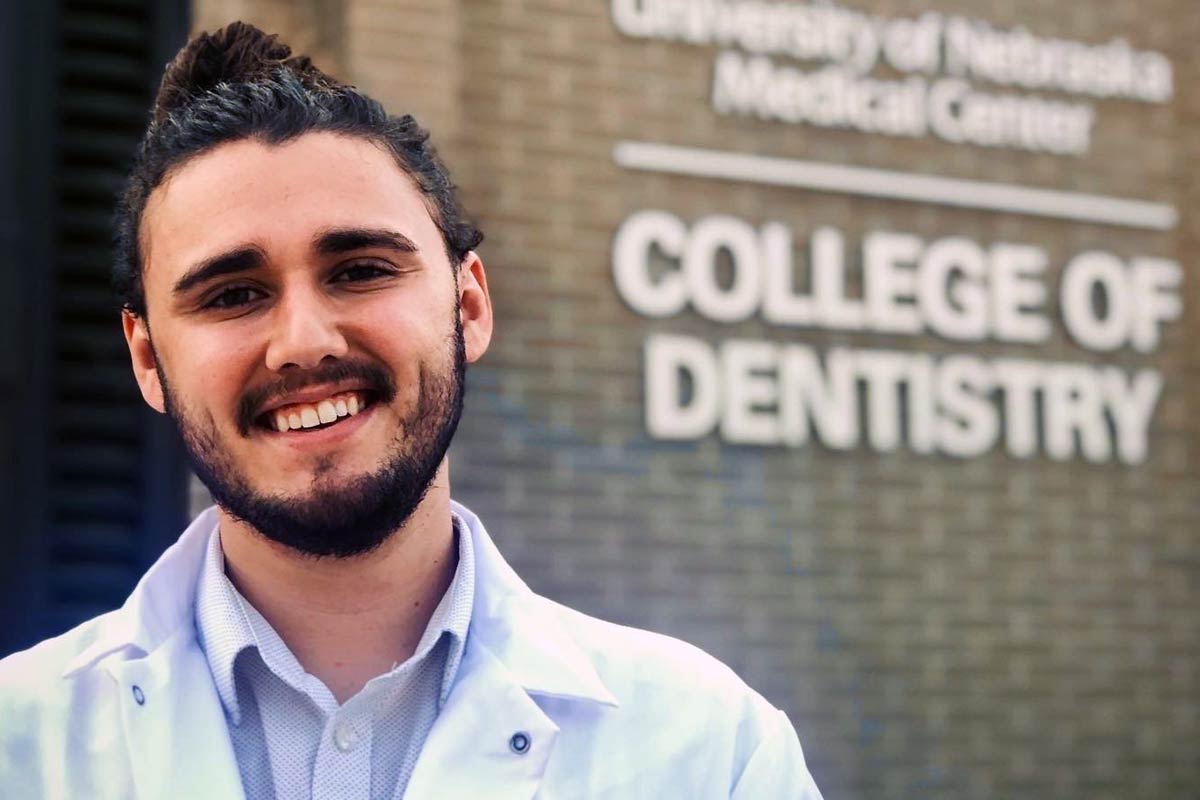 Elias Witte earned his biology degree from UNO in December 2019. He hopes to put the award from his Phi Kappa Phi Fellowship towards the cost of dental school so that he can support communities in need quicker.
For as long as Elias Witte was a student at the University of Nebraska at Omaha (UNO), he knew he wanted to help others. Now, thanks to a scholarship from the Phi Kappa Phi honor society, the recent alumnus and current UNMC dental student is poised to make that dream come true.
This summer, Witte, who graduated with a biology degree from UNO in December 2019, was named just one of 58 students from across the country to earn a prestigious Phi Kappa Phi Fellowship.
The fellowship will allow Witte to put $8,500 towards his dental school pursuits.
"Practicing dentistry is kind of unique in that it's a skill set you can take with you to any community and provide solutions, relieve pain, and improve self-esteem," he said. "Sometimes I think it can be more immediately rewarding than a lot of traditional healthcare services."
Witte said that like most medical professions, the start-up costs for dental practices are steep, but the sooner he can cover his debts, the sooner he can ensure that the communities he wants to serve can get the care they need.
"When you work in an underserved area you have a lot of people who are on Medicare, Medicaid, or don't have insurance at all and they can't pay the cost of a normal medical treatment," he said. "And so I would really like to help subsidize the costs and help give treatment to those in need, but you can't really do that until you pay down your debt from dental school, so any scholarship I can get to help lower my debt burden is the quicker I can get to those areas that really need the help."
An Omaha native and Westside High School graduate, Witte came to UNO as part of the inaugural class of the Urban Health Opportunities Program, a UNMC partnership program that helped fund students along their way to becoming physicians.
While Witte, who was also a member of the UNO Honors Program, traded a medical track for a dental one, he says his faculty mentors, like Paul Davis, Ph.D., associate professor of biology, and Lucy Morrison, Ph.D., director of the University Honors Program, at UNO were always available and helped him build a resume that helped him earn one of a select few fellowship awards.
"I think UNO as a whole is incredibly supportive and all the staff just want to help students succeed," he said. "I truly think any success that I have is 100 percent because of them."
Phi Kappa Phi is the nation's oldest and most selective multi-disciplinary collegiate honor society, which initiates 30,000 students across 300 campuses each year. The Phi Kappa Phi Fellowship was established in 1932 and annually provides support to first-year graduate students who are nominated by their campus chapters.
Witte is the latest UNO student to receive a prestigious honor from Phi Kappa Phi's national organization. Engineering graduate Samuel Wood earned a fellowship in 2019 and biology graduate Harim Won received a Phi Kappa Phi Fellowship in 2018.
About the University of Nebraska at Omaha
Located in one of America's best cities to live, work and learn, the University of Nebraska at Omaha (UNO) is Nebraska's premier metropolitan university. With more than 15,000 students enrolled in 200-plus programs of study, UNO is recognized nationally for its online education, graduate education, military friendliness and community engagement efforts. Founded in 1908, UNO has served learners of all backgrounds for more than 100 years and is dedicated to another century of excellence both in the classroom and in the community.
Follow UNO on Facebook, Twitter (X), Instagram, TikTok, LinkedIn, and YouTube.