International Partnership to Open Doors in Music Education
published: 2020/08/07
contact: Brandon Bartling - University Communications
email: unonews@unomaha.edu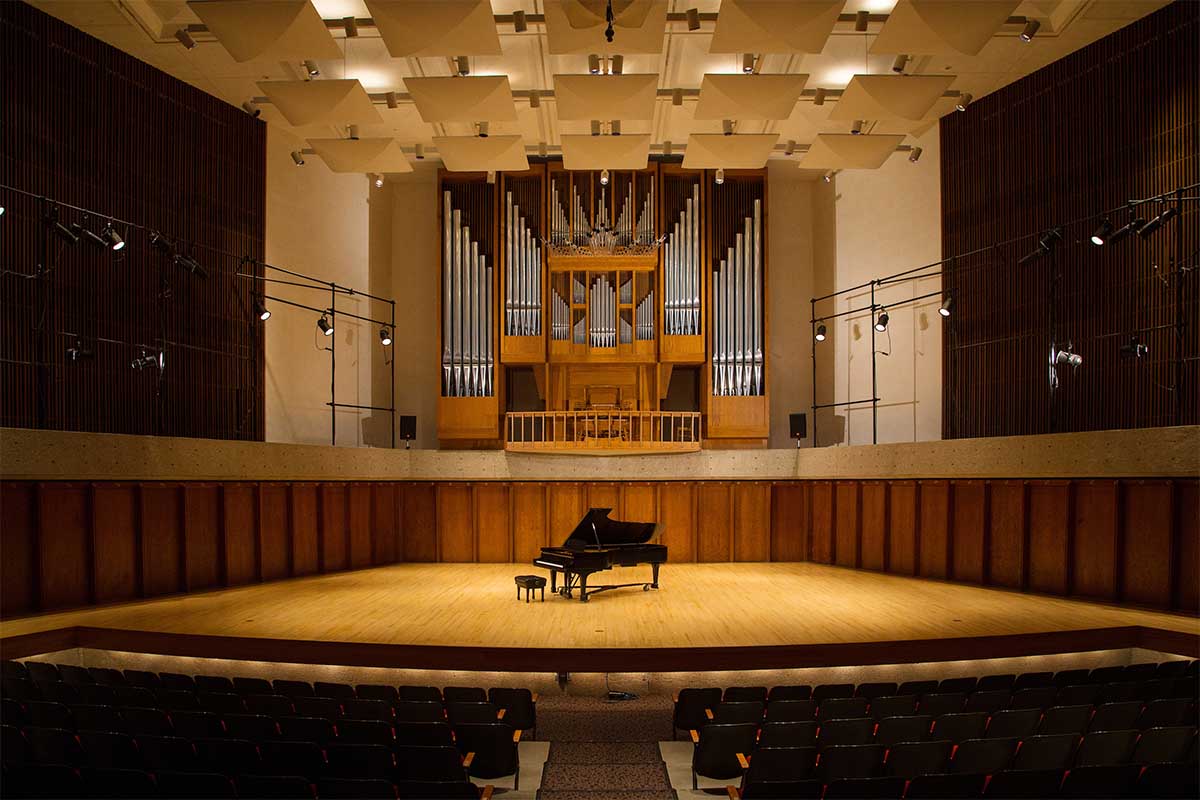 The Concert Hall within the Strauss Performing Arts Center at the University of Nebraska at Omaha
A new agreement between the University of Nebraska at Omaha's (UNO) School of Music and the Universidad Nacional de Música (UNM) in Lima, Peru will set the stage for new educational opportunities in music.
The two institutions recently signed a memorandum of understanding to establish a relationship and lay the foundation for future collaborations, educational programs, and student and faculty exchanges. Once the partnership is up and running, the goal is to create opportunities for students to learn at both institutions; study and perform internationally; and earn degrees from both institutions.
Establishing a relationship between UNM and UNO will create a pipeline, bringing these talented students from Lima, Peru to Omaha, Nebraska to pursue a graduate degree in orchestral studies; a program which will be led by world-renowned maestro Miguel Harth-Bedoya, who will join UNO this academic year as the Director of Orchestral Studies. Likewise, students and faculty will have opportunities to travel to the partnering institution to participate in festivals and concerts for international audiences, compete in music contests, and teach in a different country.
Established in 1910, UNM is a prominent institution in Peru that offers undergraduate programs in music with an expansive variety of specialties. Its programs prepare students for careers in music performance, composition, musicology, music education, and interpretation. UNM's most recognized alumni include Peruvian pianist Priscila Navarro, composer Jimmy López Bellido, operatic tenor Juan Diego Flórez, and many other established names in music.
Harth-Bedoya was instrumental in connecting the two campuses. "When we explored how to expand the network and magnetism of the School of Music at UNO, we began talking about partnerships between institutions around the world," he said.
A Peruvian himself, Harth-Bedoya's nearly lifelong connection to UNM President Carmen Angélica Escobedo Revoredo helped the two institutions realize the potential for collaboration. UNO's academic programs, accessibility, and affordability made it an ideal partner for UNM. "We are very pleased to have a connection with [UNO]," Escobedo Revoredo said. "Our students often go to some of the top universities in other countries to get their master's degrees."
UNO School of Music Director Washington Garcia, DMA, believes students should be excited about the opportunities this partnership will bring. "Partnering with the Universidad Nacional de Música is a huge step forward for both institutions, but particularly for UNO's Orchestral Studies programs," Garcia said. "This connection to the preeminent music institution in Peru raises the profile of both of our institutions and opens for doors for students and faculty now and in the future."
Harth-Bedoya is also working to establish a bachelor's program in orchestral conducting, which will be one of the first active conducting practice programs since many disappeared in the past 20 years. He said that orchestras need conductors, and conductors need orchestras. These programs and this partnership with UNM will fulfill both needs—all while providing opportunities for students and faculty to immerse themselves in a different culture and gain exposure to new genres of music.
"These partnerships or collaborations between institutions across countries around the world are a little like music: There are no frontiers. Music has no borderlines," Harth-Bedoya said. When it comes to a new international partnership between UNO and UNM, here's hoping there's no ceiling, either.
About the University of Nebraska at Omaha
Located in one of America's best cities to live, work and learn, the University of Nebraska at Omaha (UNO) is Nebraska's premier metropolitan university. With more than 15,000 students enrolled in 200-plus programs of study, UNO is recognized nationally for its online education, graduate education, military friendliness and community engagement efforts. Founded in 1908, UNO has served learners of all backgrounds for more than 100 years and is dedicated to another century of excellence both in the classroom and in the community.
Follow UNO on Facebook, Twitter (X), Instagram, TikTok, LinkedIn, and YouTube.