ISSUED: (Thursday, January 14, 2021 21:55 PM)
SEVERE WEATHER ALERT
All classes, campus operations, and campus events will be suspended for Friday, Jan. 15, unless otherwise noted. Normal operations will resume on Saturday, Jan. 16.
More Information
CLOSE

X
Online Data Dashboard Shows COVID-19 Impact on Local Economy, Workers
The Dashboard, a project of UNO's Center for Public Affairs Research, provides data visualizations and key insights on the state's economic health through the COVID-19 pandemic and into recovery.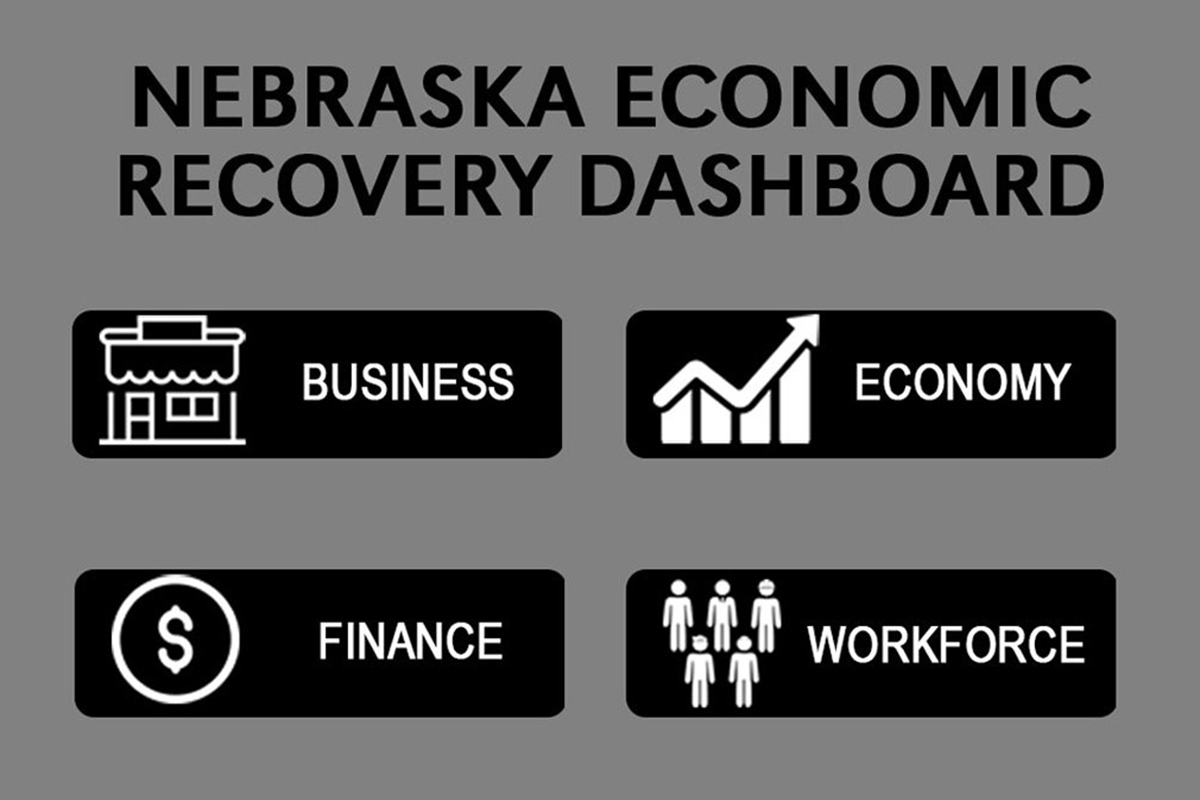 The new Nebraska Economic Recovery Dashboard is a cutting-edge tool that provides data visualizations and key insights on the state's economic health through the COVID-19 pandemic and into recovery. The dashboard includes data indicators in four major areas: business, economy, finance, and workforce.
More than 20 dynamic data visualizations are available on the dashboard, with options to view comparisons with other states, regionally, and nationally, including:
Share of jobs at high risk of unemployment due to COVID-19 by state
Unemployment claims, weekly and over time
Business opening and closing rates
Loan count and dollar amounts from the Payroll Protection Program by state
The dashboard is a joint project of the Planning Committee of the Nebraska State Legislature and the UNO Center for Public Affairs Research (CPAR). Senator Tony Vargas, Chair of the Planning Committee, stated, "CPAR continues to be an invaluable resource and partner for the Committee, the Nebraska Legislature, and the state at large. We are living in unprecedented times, and it is critical that policymakers and public health leaders have as much information about COVID-19's effects on our state and local economies as possible to enable us to make informed decisions and educate our communities and the public."
The Legislature's Planning Committee is tasked with studying shifting demographic trends to inform the Legislature's long-term policy making decisions. CPAR is a unit in the College of Public Affairs and Community Service at the University of Nebraska at Omaha. Its mission is the collection and wide dissemination of public affairs data to facilitate an evidence-based approach to governance in Nebraska.
Data on the dashboard is compiled from a range of trusted sources that were vetted for accuracy, consistency, and comprehensiveness to ensure that indicators are available for all areas of the state. Data will be updated regularly to provide timely, ongoing information during the evolving pandemic. The dashboard can be accessed at cpar.unomaha.edu/policy. All data is freely available for public, journalistic, and other uses with proper attribution.
About the University of Nebraska at Omaha
Located in one of America's best cities to live, work and learn, the University of Nebraska at Omaha (UNO) is Nebraska's premier metropolitan university. With more than 15,000 students enrolled in 200-plus programs of study, UNO is recognized nationally for its online education, graduate education, military friendliness and community engagement efforts. Founded in 1908, UNO has served learners of all backgrounds for more than 100 years and is dedicated to another century of excellence both in the classroom and in the community.
Become a fan of UNO on Facebook and follow UNO's Twitter updates. 
Contact Us
If you have a story idea, news tip, or other question, please email the UNO News team at unonews@unomaha.edu.