Resources and Support to Find Employment and Internships in Uncertain Times
published: 2020/05/15
contact: Brandon Bartling - University Communications
email: unonews@unomaha.edu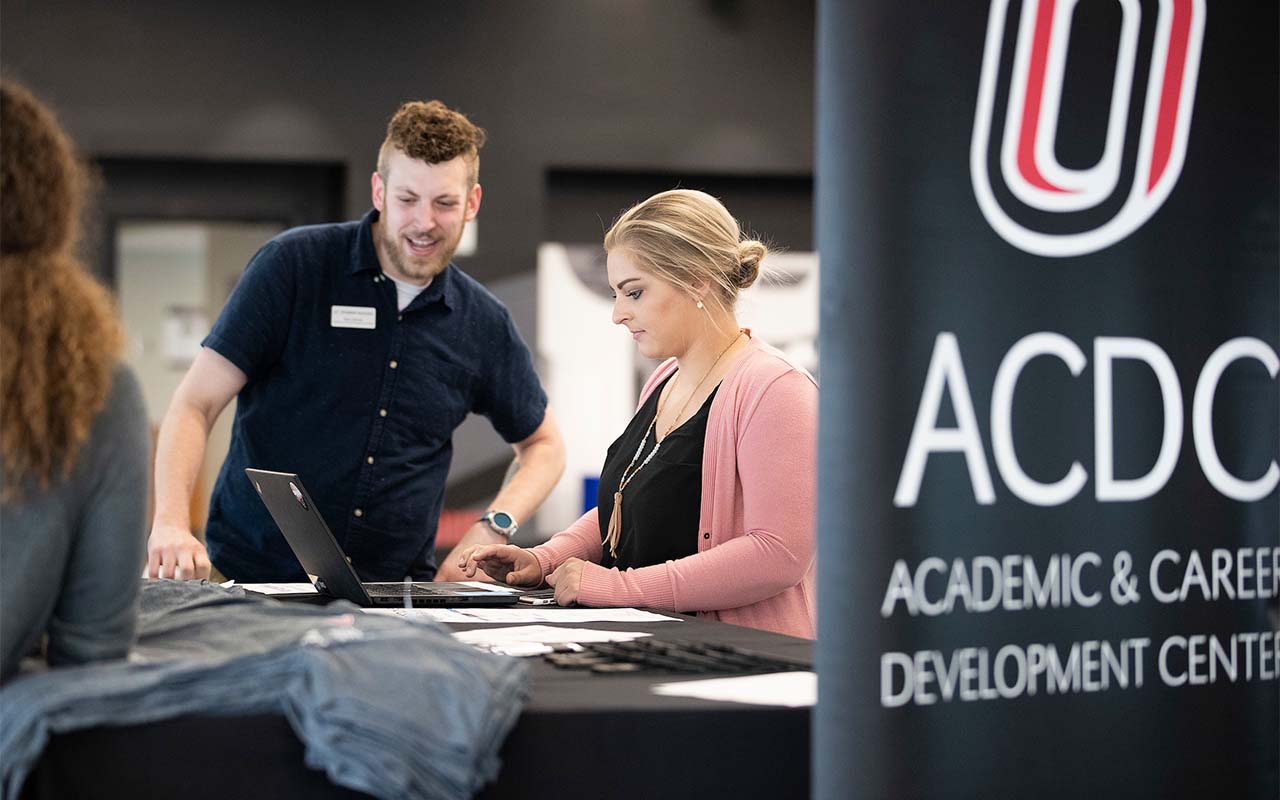 ACDC representatives help students sign up for Handshake while also sampling beverages from The Campus Grind during Jobs and Java in Maverick Landing as part of Durango Days in August 2019.
Finding employment under normal circumstances can be a daunting task; one that becomes more complex as the COVID-19 pandemic continues to impact businesses and everyday life.
Thankfully for students and alumni at the University of Nebraska at Omaha (UNO), resources and support through UNO's Academic and Career Development Center, known as ACDC, are readily available to help them put their best foot forward to find employment or internships.
New graduates and those who have found themselves out of work due to the pandemic are entering the job market at a time that's less than ideal. However, ACDC's services and a frequently asked questions guide prepared by ACDC experts are helping to provide support and clarity in these uncertain times.
ACDC commonly provides resume reviews, practice interviews, career exploration, and job search assistance. The center also partners with area employers to gather and share job opportunities through career fairs and Handshake, an online job listings platform for students and alumni.
Here are just some of the helpful tips that can be a benefit to anyone - no matter where they are at in the job-search process:
One Size Doesn't Fit All for Companies: There's no denying that certain companies will not be hiring. That's a reality in a global pandemic. That said, it's important to remember that every company is different and things change on a daily basis. Some companies may even expand.
Remain Invested: Continue the job hunt as if everything was business as usual. You won't find a job unless you invest time into your search. Networking can play a key role in the search, too, and job or internship seekers are encouraged to take their networking online.
Dress to Impress: Whether in person or virtually, it's important to dress the part. Do research about the company. Be ready to ask relevant questions (interviews are a two-way conversation as you are interviewing them as much as they are interviewing you).
Balance Short Term Needs with Long Term Goals - If you do receive a job or internship offer, don't feel obligated to immediately say yes. Deciding on any employment offer – regardless of time – requires careful thought. Think about how the new offer helps you both short and long term in relation to questions that matter the most to you.
Additional questions and answers can be found in the full frequently asked questions guide.
Much like job interviews with prospective employers, the COVID-19 pandemic has also required ACDC staff to provide the same services through an online, virtual format. Students and alumni can schedule academic advising or career advising appointments by phone at 402.554.3672 or online through the ACDC website.
Joe Hayes, associate director of career development and employer relations within UNO's Academic and Career Development Center, recently took part in a panel discussion hosted by KMTV 3 News Now on job-seeking tips and best practices. A recording of the discussion can be seen below or on the KMTV website.
About the University of Nebraska at Omaha
Located in one of America's best cities to live, work and learn, the University of Nebraska at Omaha (UNO) is Nebraska's premier metropolitan university. With more than 15,000 students enrolled in 200-plus programs of study, UNO is recognized nationally for its online education, graduate education, military friendliness and community engagement efforts. Founded in 1908, UNO has served learners of all backgrounds for more than 100 years and is dedicated to another century of excellence both in the classroom and in the community.
Follow UNO on Facebook, Twitter (X), Instagram, TikTok, LinkedIn, and YouTube.