UNO Aviation's Lutte Named to FAA Women in Aviation Advisory Board
published: 2020/05/21
contact: Brandon Bartling - University Communications
email: unonews@unomaha.edu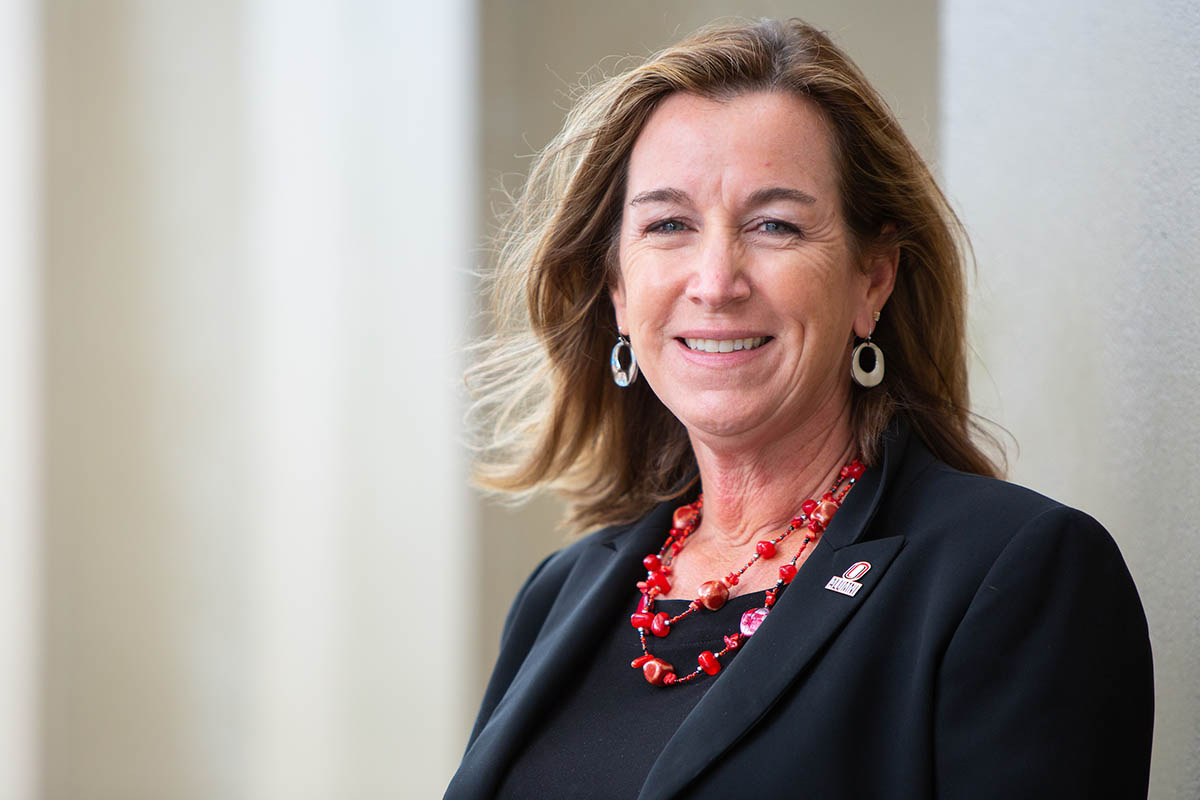 Becky Lutte, PhD, Associate Professor, UNO Aviation Institute
Becky Lutte, Ph.D., associate professor within the Aviation Institute at the University of Nebraska at Omaha, is among 30 industry professionals and experts named by U.S. Secretary of Transportation Elaine L. Chao to the newly formed Federal Aviation Administration (FAA) Women in Aviation Advisory Board (WIAAB).
The board was established by the FAA in October 2019 to develop strategies and recommendations to encourage women and girls to enter the field of aviation. The FAA recently announced the selections in a news release. A full list of board members can be found on the FAA website.
Lutte was chosen from a pool of nearly 200 applicants to join the board alongside aviation professionals and executives from major airlines and aerospace companies, nonprofit organizations within the aviation industry, aviation and engineering business associations, the U.S. Air Force Auxiliary, Civil Air Patrol, aviation trade schools, and other institutions of higher education.
John Bartle, Ph.D., dean of the College of Public Affairs and Community Service, said her selection speaks to her experience and leadership in the field. "Becky Lutte has established herself as a national leader in the issues affecting women in the aviation industry," he said. "While it is an honor for her to be named to this board, I have no doubt that her service to our nation will be greater. This Board is poised to open the industry up to women and transform it forever."
One of the primary responsibilities of the WIAAB will be to compile a report on industry trends and supportive efforts impacting the number of women pursuing careers in aviation. This report will also include a comprehensive plan designed to create and enhance scholarship, training, education, and mentorship opportunities to ultimately boost the number of women working in the aviation industry.
"I am honored to have been selected and look forward to working with the board on this important mission," Lutte said. "The Women in Aviation Advisory Board is an exciting opportunity to develop strategies to enhance the number of women in aviation. I am ready to get to work."
UNO Aviation Institute Director Scott Tarry, Ph.D., said the honor was well-earned. "Becky Lutte has long been recognized for her leadership and advocacy for expanding the number of women working at all levels of the aviation industry. It is truly remarkable, yet not entirely surprising, that she would be called upon to be a voice for women in the industry at the national level. All of us at UNO's Aviation Institute are proud to have one of our own working side-by-side with many of the top women in aviation today."
Lutte's past research, including a collaboration with the Women in Aviation International and funded by the NASA Nebraska Space Grant, resulted in the Women in Aviation Workforce Report.
"Women are underrepresented in many fields in aviation, with the greatest gaps in operations areas such as pilots and maintenance technicians," she said. "While there has been some improvement, the overall numbers have remained relatively stagnant and we can do better. We can build on the existing programs and efforts and explore new ways of looking at outreach and recruitment of women to share the exciting opportunities for women in aviation."
The new board will meet twice per year. It will submit its report to the FAA Administrator and Congressional committees within two years.
About the University of Nebraska at Omaha
Located in one of America's best cities to live, work and learn, the University of Nebraska at Omaha (UNO) is Nebraska's premier metropolitan university. With more than 15,000 students enrolled in 200-plus programs of study, UNO is recognized nationally for its online education, graduate education, military friendliness and community engagement efforts. Founded in 1908, UNO has served learners of all backgrounds for more than 100 years and is dedicated to another century of excellence both in the classroom and in the community.
Follow UNO on Facebook, Twitter (X), Instagram, TikTok, LinkedIn, and YouTube.