Keeping Kids Engaged During a Socially Distant Summer
published: 2020/05/01
contact: Jared Meister - Omaha Athletics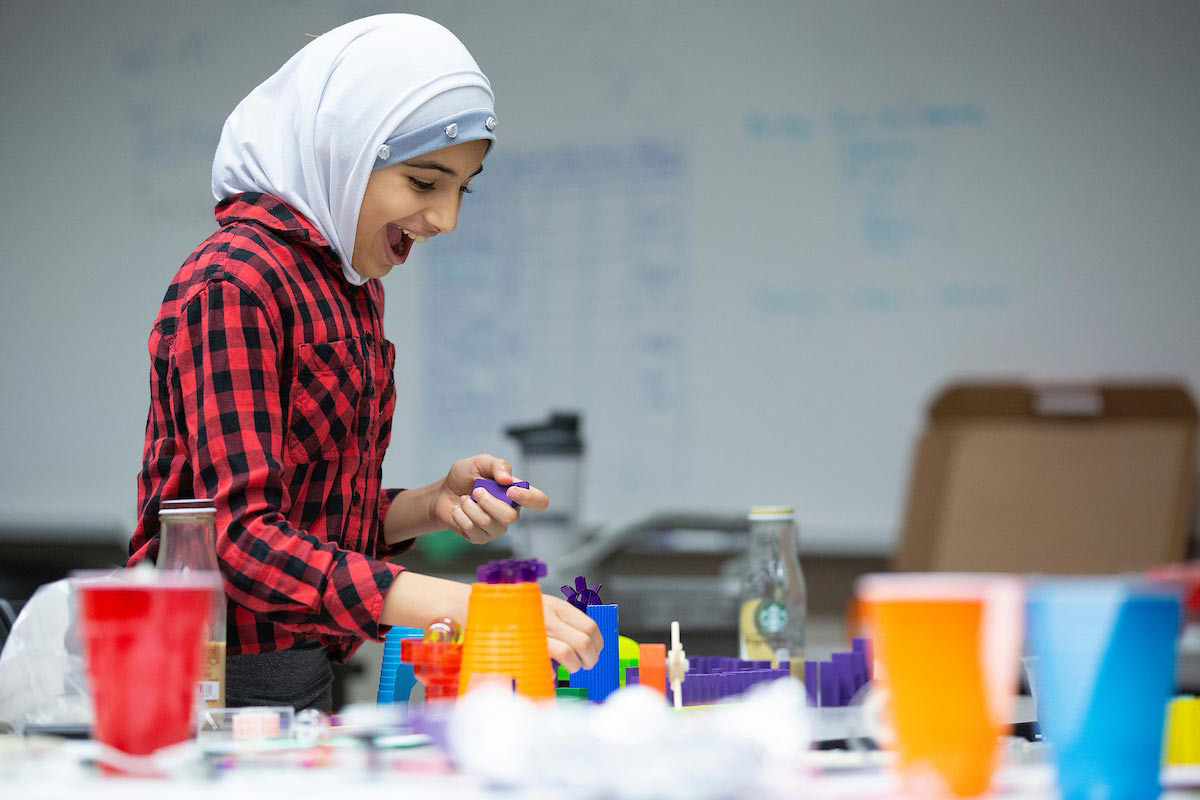 Students build Rube Goldberg machines during last summer's Nebraska GenCyber Camp on UNO's campus
While students have school work to keep them focused for the time being, parents will need to shift their attention to search for options to keep their kids busy without the normal summer options available.
Here are some tips and practices for parents to being preparing and taking advantage of today's current situation from Rachael Jensen, Director of Youth Safety at UNO.


Maintaining a Structured Environment
One way to foster new routines for your children's day is by helping them create schedules or lists of activities they need to complete. This schedule or list should include tasks, breaks, and meals as well as feature beneficial life skills like writing down your daily goals, completing the goals, and celebrating the small wins.
Quick questions to ask your child to help build routines:


Discuss your plan together – What do I want to accomplish today?
Write down your goals – What will I complete by 10 a.m.? 2 p.m.? 5 p.m.?
Discuss your day together – What did I accomplish today and what do I need to move to tomorrow's list
Celebrate! – What rewards are important to me?
Risks and Warning Signs
With a priority on social distancing, it's important to make sure that we are not socially isolating instead.
Inviting your children to do activities together is beneficial and can create a sense of inclusion. The effort never has to be perfect, just remember to be patient and understanding because just like adults, children are feeling stress from these changes, too.
Consistently withdrawing from activities they once enjoyed; drastic changes in mood or behavior; changes in eating habits; or difficulty sleeping are some warning signs to look out for.
As a parent, be aware of how often the news is playing in the background, as this may overwhelm your children if they aren't able to fully process some of the panic portrayed in mass media.
Also, with an increase in online usage from kids of all ages, it is important to discuss online safety. Some warning signs for online danger include: suddenly turning off devices when you enter a room; withdrawal from family life and reluctance to discuss online activities; unsolicited gifts arriving in the mail; and phone calls from people you do not know.

Keeping Peer Relationships
Phone calls, video chats, writing letters, and drawing can be great ways to remain connected and stay in touch with family and friends.
A couple of options for activities include weekly zoom calls, virtual pizza parties, watching movies together, or starting a book club.

Resources
There are many online resources, depending on the age of your child, to help build teachable moments.
At UNO, Techademy and CodeCrush are working to put content online for a virtual summer camp experience. The UNO STEM TRAIL Center has published some at-home STEM-based activities while the Omaha STEM Ecosystem provides educational resources and family tips here.
For additional activity ideas, PBS offers games and printable coloring pages. For activity ideas based on age, the Learning Heroes Roadmap links you to resources to help your child learn and grow.
Remember to give yourself and your children grace during this time. Use this time to build on your child's creativity by having them create new games, tell familiar stories with new endings, or invent solutions to common household dilemmas ... like find the missing socks.
About the University of Nebraska at Omaha
Located in one of America's best cities to live, work and learn, the University of Nebraska at Omaha (UNO) is Nebraska's premier metropolitan university. With more than 15,000 students enrolled in 200-plus programs of study, UNO is recognized nationally for its online education, graduate education, military friendliness and community engagement efforts. Founded in 1908, UNO has served learners of all backgrounds for more than 100 years and is dedicated to another century of excellence both in the classroom and in the community.
Follow UNO on Facebook, Twitter (X), Instagram, TikTok, LinkedIn, and YouTube.