What is a Virus, Exactly?
published: 2020/04/14
contact: Charley Steed - University Communication
email: unonews@unomaha.edu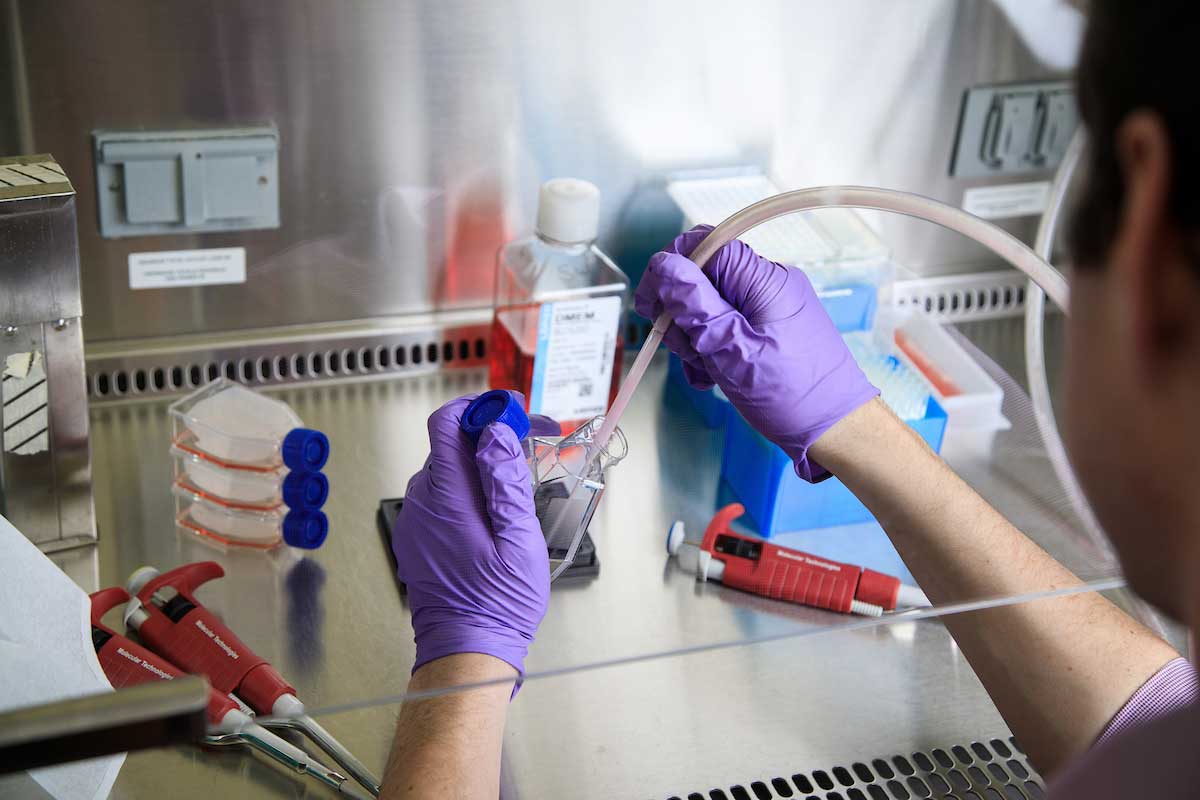 With a constant influx of information, daily, about COVID-19 it can sometimes be easy to overlook some of the most basic aspects of the disease and why it does what it does.
In other words, what is it that makes coronavirus a virus, exactly?
It's Different Than a Bacteria or Fungus
Bill Tapprich, a professor of biology at UNO, says one of the key things to know about viral infections, compared to bacterial or fungal infections, for example, is that viruses are hard to stop because they aren't cellular, but instead use cells to multiply.
"For example, bacterial pathogens are inhibited by antibiotics, which can target cellular processes unique to bacteria. Anything that inhabits viral multiplication also inhibits host cells and usually, inhibition of host cells is very toxic."
Tapprich says that when a new virus, like COVID-19, emerges, tests - and ultimately vaccines - are needed that can narrow down which molecules are unique to the virus that won't also attack otherwise normal host cells.
"Since genetic material is so specific to the particular virus, detection of genetic sequences can easily differentiate between different viruses and even different strains of the virus."


It Can Mutate, Rapidly and Significantly
In the same way that seasonal viruses like the flu can have any number of mutations, the same goes for SARS-based viruses like COVID-19. That is why, Tapprich says, viruses that ultimately infect humans can originate in bats, birds or other species. Although those cases are quite rare, the resulting virus can cause a significant impact because of that level of uniqueness - just like Avian Flu or Ebola.
"There is generally a barrier to jumping species because the proteins that attach to the host cell are so specific for the receptors present in the normal host," he explains. "A different host has slightly different proteins and usually will not allow entry. Occasionally, a mutation in the viral protein enables a variant to enter the host cell of a new species and the virus establishes in a new host."


It Can Be Spread Multiple Ways
Now that COVID-19 has found its way into humans, Tapprich says that the push for social distancing, face masks and limiting large gatherings is because unlike other viruses, COVID-19 is highly infectious due to being spread through coughing, sneezing and touching contaminated surfaces then touching your face, mouth or eyes.
"The most infectious viruses, such as measles virus, can spread through the air; but many viruses require direct contact to spread," he says. "Different viruses have very different lifetimes on surfaces. It seems like SARS-CoV-2 also lives for days on surfaces, but many viruses only live for seconds or minutes on surfaces."
It's Not Going Away
Tapprich's cautions that even though COVID-19's number of infections will eventually level off, much like the flu, COVID-19 is not suddenly going to disappear from our lives.
"It's hard to keep up with all the conspiracy theories that emerge and disappear. I would encourage everyone to use information streams that are trustworthy and evidence based, for example the CDC. While the CDC may need to modify their information as more evidence emerges, they publish the most reliable current information on their website.
Need more info on COVID-19? Visit UNO's Coronavirus information page.
About the University of Nebraska at Omaha
Located in one of America's best cities to live, work and learn, the University of Nebraska at Omaha (UNO) is Nebraska's premier metropolitan university. With more than 15,000 students enrolled in 200-plus programs of study, UNO is recognized nationally for its online education, graduate education, military friendliness and community engagement efforts. Founded in 1908, UNO has served learners of all backgrounds for more than 100 years and is dedicated to another century of excellence both in the classroom and in the community.
Follow UNO on Facebook, Twitter (X), Instagram, TikTok, LinkedIn, and YouTube.