Tips to Help You Get Started On That Writing Project
While there is a lot to keep us busy during this time of self-isolation, the UNO Writer's Workshop notes it can also be an opportunity to experiment and get a start on that writing project you have been holding off on.
published: 2020/04/23
contact: Jessica Hilt - University Communications
email: unonews@unomaha.edu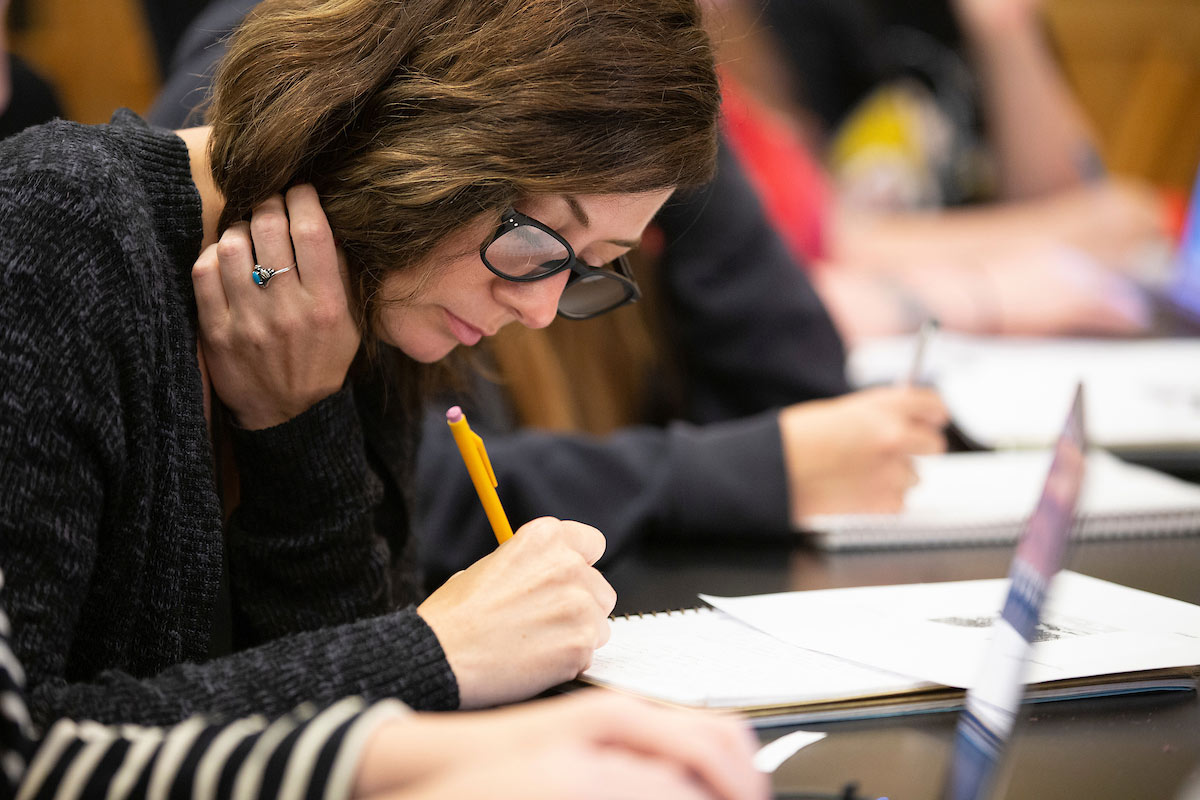 On what used to be a regular day, maybe you were used to physically going into work. Once the work day was over, maybe you would decide to hit up the gym or run some extra errands; or take the kids to sports practices or music lessons. Finally, you would end your day at home, making a meal for your family before putting the kids to bed and then yourself.
Now that many of us are working from home, the gyms are closed, sports have been put on hold and music lessons are happening over Zoom; so now what?
While there is certainly a lot to keep us busy during this time of self-isolation, it can also be an opportunity to experiment and, maybe, you can finally get a start on that writing project you have been holding off on.
Whether you were too busy, or didn't quite have what you needed, Kevin Clouther, program coordinator for UNO's Master of Fine Arts in Writing program has useful tips you need to finally put pen to paper:
First, remember that projects don't always have a set path and writing is no different. What we do know is that you need to start with an idea in mind, but where do you go from there?
"I like to ask myself a question I don't know the answer to and write my way toward meaning," Clouther explains; he imagines 20th-century author Franz Kafka walking through the streets of Prague – maintaining six feet from other passers-by – wondering how he would react if he woke one morning as an insect.
Second, make sure that you can hold onto that inspiration when you get a good idea. Often times, we can get a good jump start on our work before we're cursed by the unforgiving hand of writer's block; when you lose your train of thought, or run out of ideas, and your work is again put on hold. Clouther mentions there's no immediate way to break writer's block but suggests some helpful ways to guide yourself around it.
"Turn off the internet and hide your phone. Then put on a timer, set it for at least 20 minutes - more if you can. Sit before a blank screen or sheet of paper and don't put pressure on yourself to do anything but try to write for that time."
He says doing this daily for a stretch of six days straight can help you get out of your writing funk.
Third, when you have finally beaten the writer's block and you feel like you are nearing an end to your project, it can be difficult to say "This is finished." Sometimes, the writer cannot determine this on his or her own, but Clouther says this is when trusted readers are essential.
"When you can't tell if you're making a piece better or worse, I advise putting it aside for at least a week. When you return to the piece, you may see it differently," Clouther says. "If you don't, send it to a trusted reader. You don't need many of these people, but they're invaluable."
Finally, you've finished you're big writing project and you're feeling great, but where do you go from here? A big step is to prepare your work to send to a publisher; however, Clouther advises not to send your recently finished piece and don't start big.
"After you've sent your work to a trusted reader and revised it, I recommend submitting it to literary magazines. You should be familiar with the magazine before you submit your work, and there are many available online or through electronic delivery from libraries."
But the most important thing Clouther says to remember is don't be discouraged by rejection.
"All writers get rejected. Keep writing, revising, and submitting."
About the University of Nebraska at Omaha
Located in one of America's best cities to live, work and learn, the University of Nebraska at Omaha (UNO) is Nebraska's premier metropolitan university. With more than 15,000 students enrolled in 200-plus programs of study, UNO is recognized nationally for its online education, graduate education, military friendliness and community engagement efforts. Founded in 1908, UNO has served learners of all backgrounds for more than 100 years and is dedicated to another century of excellence both in the classroom and in the community.
Follow UNO on Facebook, Twitter (X), Instagram, TikTok, LinkedIn, and YouTube.