Aviation Institute Encourages Students, Community to Stay on Course
With travel halted across much of the world, times are tough for the aviation industry. However, experts from the UNO Aviation Institute say brighter days are on the horizon.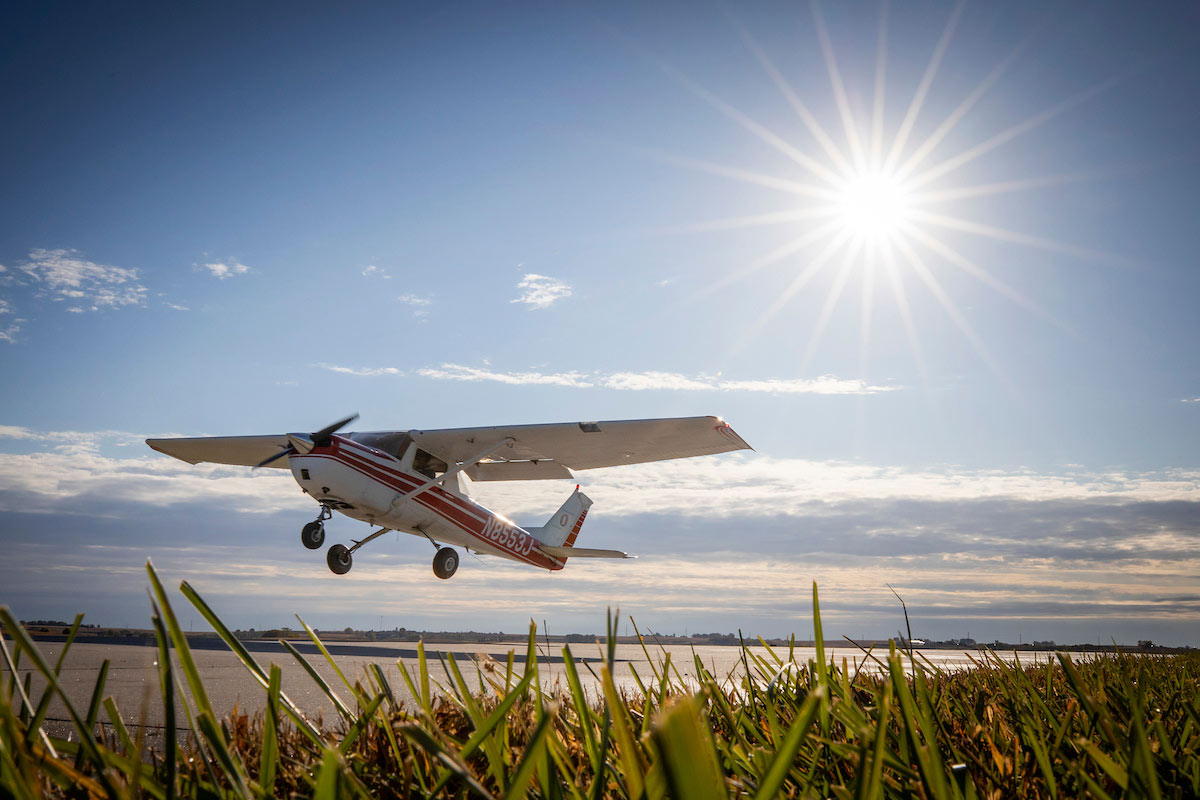 An underlying core value in aviation is 'Always Safety.' True to that value, The COVID-19 pandemic has caused the tough decision to be made to cancel flights and shut down airports around the world, leaving the state of the airline industry in a whirlwind. The combination of trip cancellations and country-specific restrictions on international flights has had a staggering impact on the global airline industry.
The decision has also affected the UNO Aviation Institute. With cuts and layoffs happening in the flight industry, students have seen their hopes for prospective full-time jobs in the field put on hold.
"I really think this industry has been turned on its head," says Scott Tarry, director and professor of the UNO Aviation Institute. "If we had this conversation two month ago, we still would have said that the industry has never been in a better place in terms of our graduates. Whether they are in our flight or administration program they were all looking at a job market that was excellent.
"Now we have people in the industry where their schedules are being cut or being laid off. The numbers travelers have shrunk dramatically."
The aviation program has also experienced adjustments for students in terms of professional development, where airlines cannot come to campus to speak to and recruit students for hands-on experience due to the pandemic. Students who also secured part-time positions while finishing their education have seen both put on hold thus far.
Despite the recent cuts, the industry is hopeful that it will get back on its feet down the road and the Aviation Institute is encouraging its students to stay the course.
"One of the biggest things that's been publicized is that there is a pilot shortage in the industry," Tarry says. "There is a considerable demand for new pilots. That demand still hasn't gone away and was reliant on the impending retirements on those people in the industry.
The airline industry, however, will always have a demand for pilots and airline administrators in the future. With that, the university keeps its focus on educating and training its students as effectively as possible in wake of the COVID-19 pandemic.
"We've always told our students to train and be prepared for opportunities even if it may take a while to get things rolling again," Tarry says. "Our plan is to make sure that our students are as ready as possible to seize those opportunities. Those retirements will still happen so those positions will need to be filled. That's the main thing we need to keep our eye on."
A 30-year veteran and associate professor for the Aviation Institute, Becky Lutte has seen the result of the pandemic from a multitude of perspectives in the industry. Her husband flies for a major airline and her son is a current student in UNO's aviation program.
"I think one of the biggest points we try to keep in mind and share with our students is that it is definitely a cyclical industry. While we took a big hit and it has devastated the market industry – it will come back. It will be a strong industry again and the need will be there. It will, however, be a slow burn. When we see the demand pick up again is hard to predict, but certainly based on past performances it will increase again."
As far as impacting people's willingness to fly, the question is not if, but when will people be back in airports boarding planes again.
"We saw a decline back during 9/11 due to concern," Lutte says. "This is different, in that regard, because of the cause. Once people get the 'all clear' and get the approval to travel all around the country, I think you will see people excited to get up and about. We are hopeful that the traffic will pick up and pick up quickly. Realistically, we know it will be a slow climb, but I think people will be eager to be mobile again."
About the University of Nebraska at Omaha
Located in one of America's best cities to live, work and learn, the University of Nebraska at Omaha (UNO) is Nebraska's premier metropolitan university. With more than 15,000 students enrolled in 200-plus programs of study, UNO is recognized nationally for its online education, graduate education, military friendliness and community engagement efforts. Founded in 1908, UNO has served learners of all backgrounds for more than 100 years and is dedicated to another century of excellence both in the classroom and in the community.
Follow UNO on Facebook, Twitter (X), Instagram, TikTok, LinkedIn, and YouTube.