Students Produce, Showcase Talents at 2020 Research and Creative Activity Fair
published: 2020/03/09
contact: University Communication - University Communications
email: unonews@unomaha.edu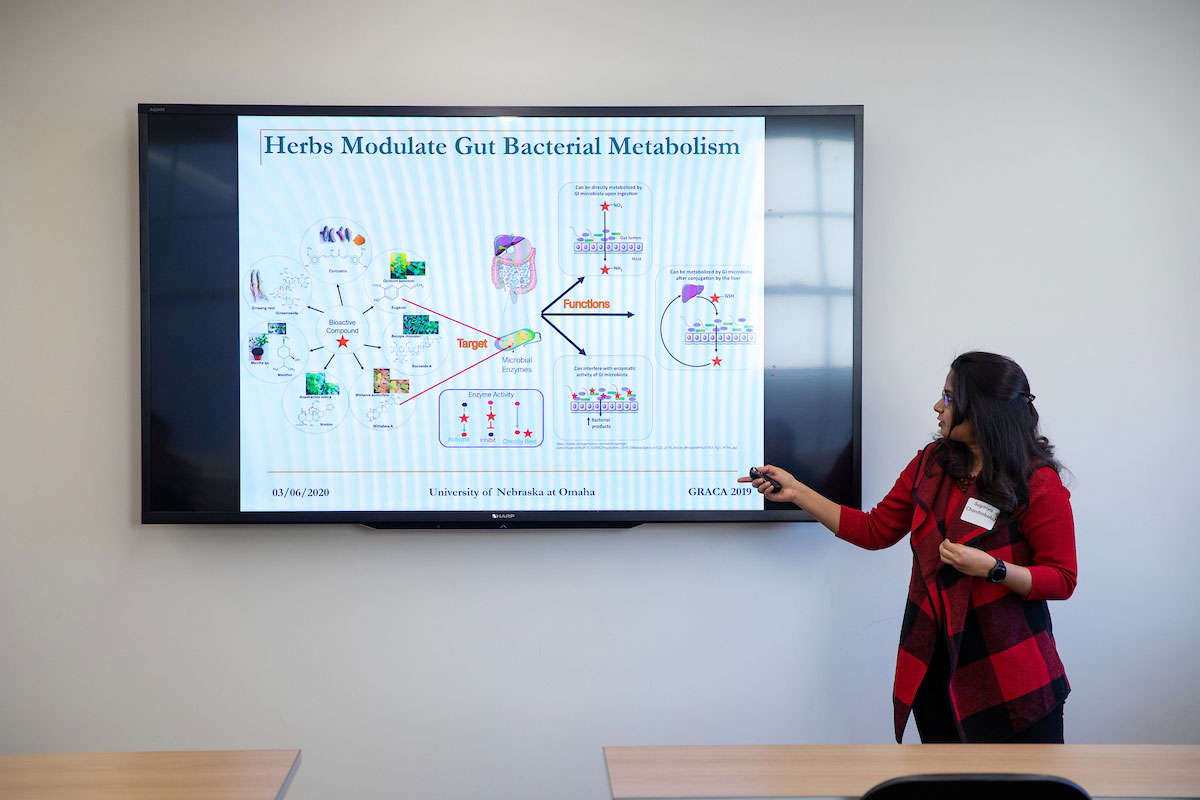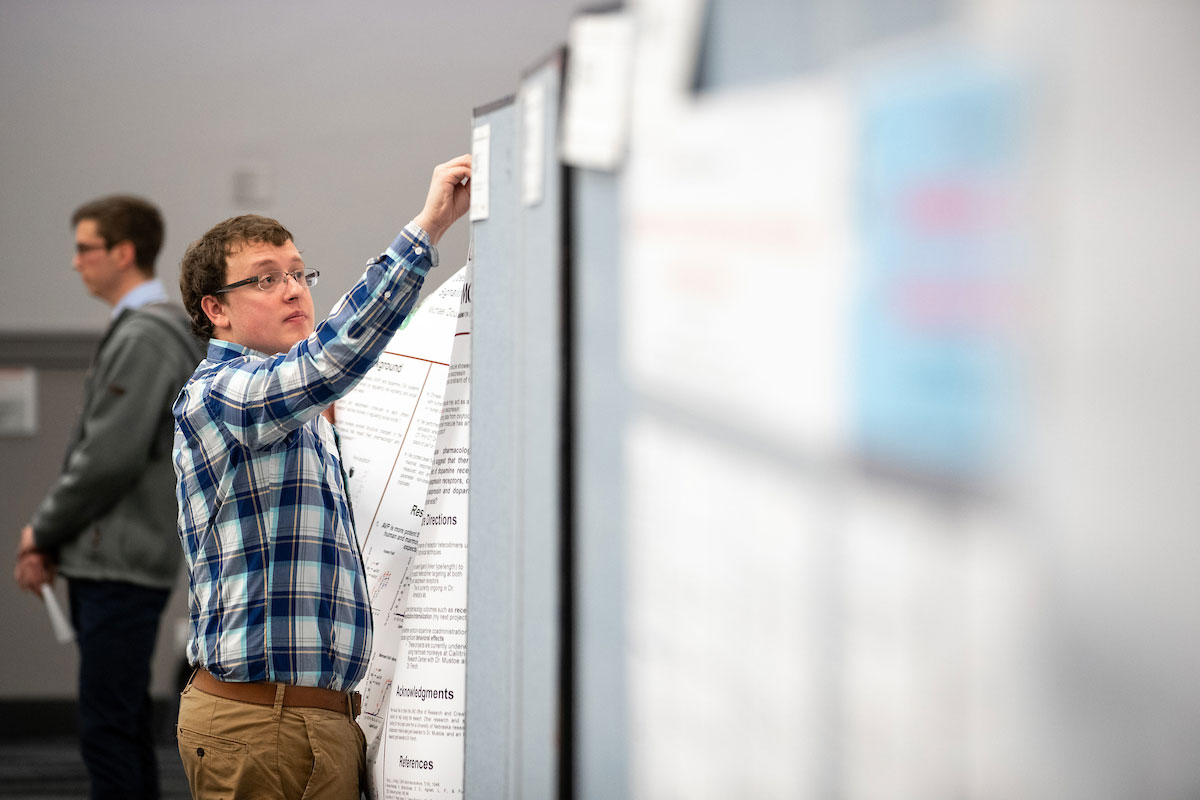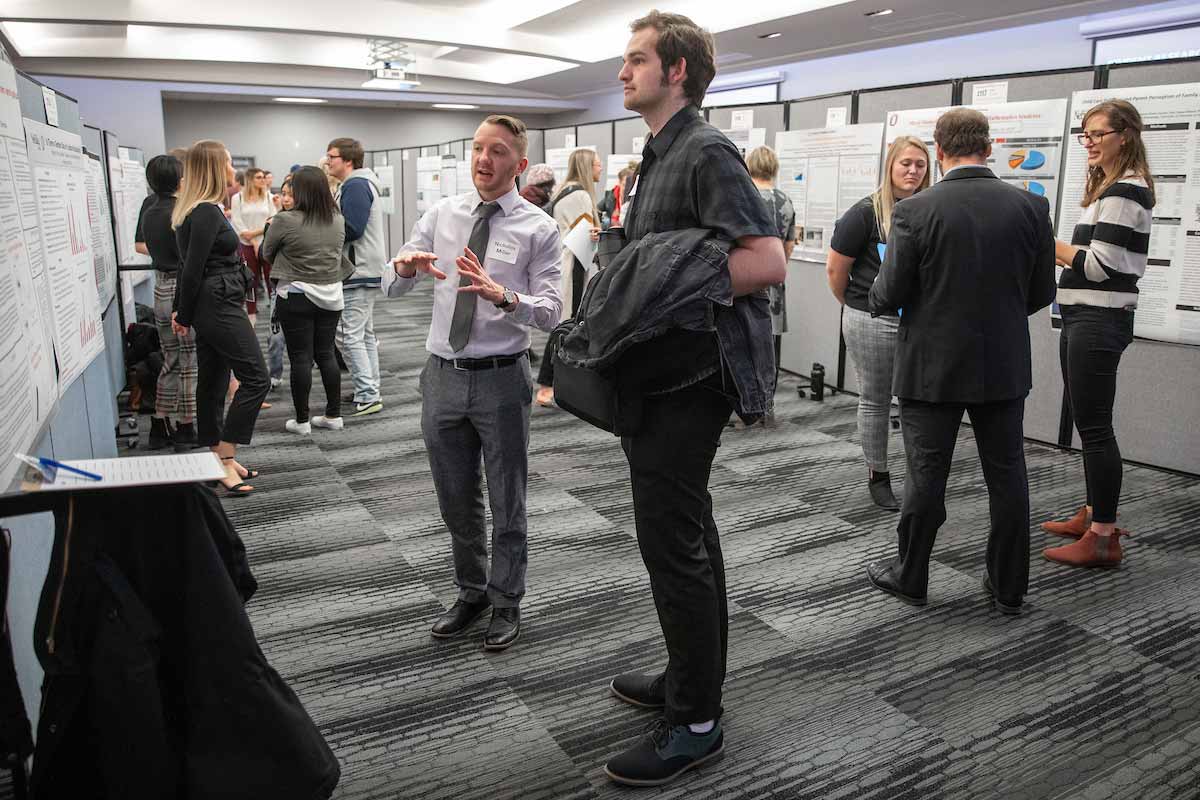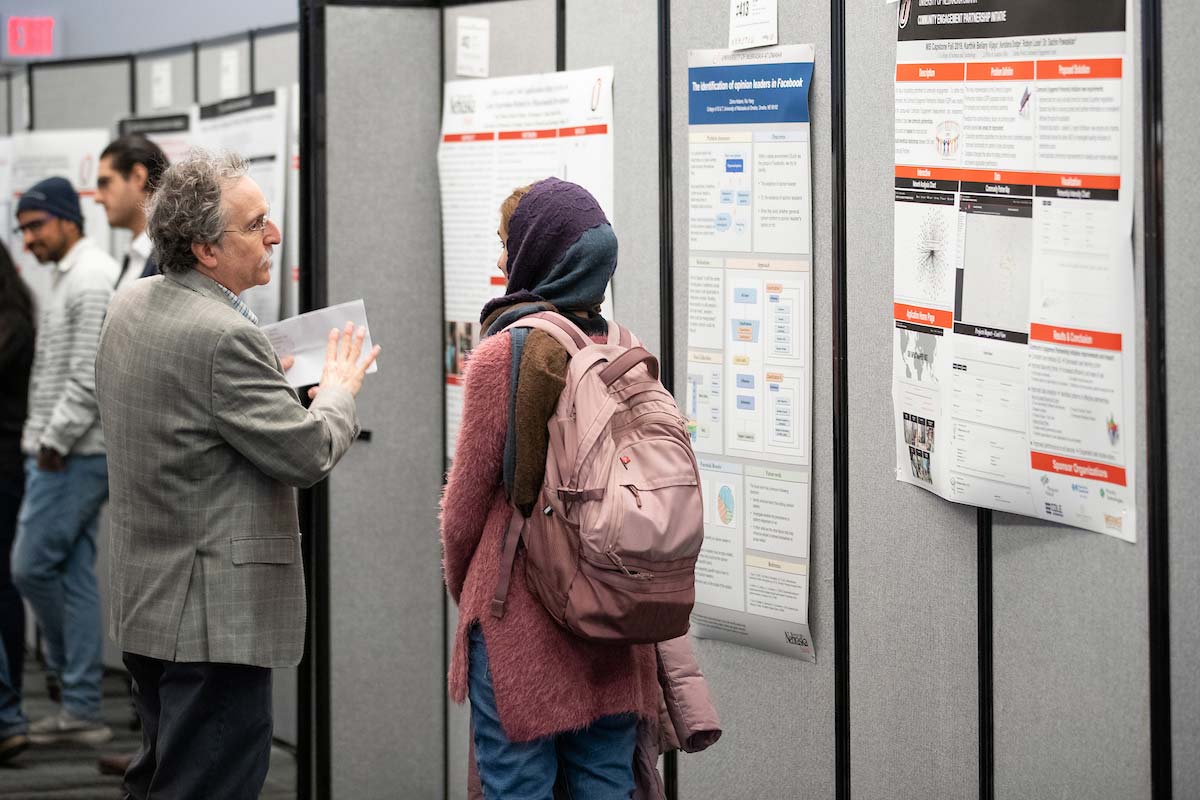 From microscopic parasites to artificial intelligence to an acting showcase, the Milo Bail Student Center was the place to find a wide range of academic research and creative performance - all led by undergraduate and graduate students - on Friday, March 6, during the UNO Student Research and Creative Activity Fair (RCAF).
Now in its 12th year, the RCAF has regularly served as a launching point for scholarly efforts and up-and-coming artists who are poised to make an impact in their respective fields.
This year nearly 200 students were on hand to present their work.
SEE A LIST OF THIS YEAR'S RCAF WINNERS
One of those students is Michael Mazgaj, a master's student in IT Innovation who also has an MBA from UNO. His focus at this year's fair was how 3-D holographic imagery can help make long-distance communication, like discussions on how to combat violent extremist groups, more impactful.
Mazgaj, who is also a member of UNO's Center for Collaboration Science and researcher in the Koraleski Commercial Applied Behavior Labratory, says it's all about the best way to bring the best minds in a particular field together.
"What we want to do is build virtual collaboration rooms," he says. "If we could build a 3D holographic space to collaborate, that would be very novel and I think it would be very useful, especially after doing this research."
Mazgaj, who graduates in May, says that from his time presenting as an MBA student to now, he's seen the importance of bringing students from diverse fields of study together to present and, hopefully, find innovative ways to work together.
"I think it's breaking down some of those walls between disciplines where this fair is really valuable because you can look at others doing research and say here is a great idea how do we collaborate? Having different disciplines interact is only going to provide you fresh perspectives."
The fair was also an opportunity for students like junior Kevin Branigan, a geology major, to conduct research that has an impact on the state of Nebraska.
In his poster presentation, Branigan looked at a recent cluster of earthquakes near Arnold, Neb., that took place in 2018. Between the 1960s and 2018, only six earthquakes occurred in the area but in 2018 alone there were 22 earthquakes.
The reason? Branigan hypothesizes that the area is part of "fault zone" rather than a singular fault plane. It's something he was able to explore in person by traveling to central Nebraska and observe the results of the earthquake activity.
"The experience that you get is amazing with this," Branigan says. "It really connects different things together and it's really nice to go into the field and see everything we talked about in class."
Branigan says he hopes to continue his already year-long research project after he graduates, already being accepted into a graduate program. Even though he thought the fair was a high-pressure setting, he really enjoyed being able to share his research.
"I didn't have to do all this. I could've gone a different way and graduated without doing any research," Branigan said. "I think it would've been a terrible mistake if I hadn't gone that route."
A full list of this year's presentations, including abstracts, can be found on the UNO Digital Commons.
-----
2020 Research and Creative Activity Fair Winners

Graduate Oral Presentations
Best - Nikolaos Papachatzis, "Shoe-stiffness modification to improve gait in older adults: a feasibility study"; Advisor: Kota Takahashi, Biomechanics
Outstanding - Corbin Rasmussen, "Investigating the Role of Context on Experienced Slip Mechanics During Turning," Advisor: Nathaniel Hunt, Biomechanics
Meritorious - Zachary Motz, "Inter-limb Coordination in Chronic Stroke Survivors," Advisor: Mukul Mukherjee, Biomechanics
Honorable Mention - Salvatore Leone, "Mapping Core Processes of Creativity to Teams: The Development of a Behavioral Coding Scheme"; Advisor: Roni-Reiter Palmon, Psychology

Graduate Poster Presentations
Best - Liz Pekas, "Mitochondrial targeted antioxidant intake improves vascular function and exercise tolerance in peripheral artery disease patients"; Advisor: Song-Young Park, Health and Kinesiology
Outstanding - Tyler Hamer, "Development of a Comprehensive Pitching Evaluation to Assess Injury Risk in Collegiate Baseball Pitchers"; Advisor: Brian Knarr, Biomechanics
Meritorious - Namwoong Kim, "Effect of isolated hip abductor fatigue on single-leg landing mechanics and simulated ACL loading"; Advisor: Brian Knarr, Biomechanics
Honorable Mention - Yunseung Kim, "Child Welfare Service Reform in Nebraska and New Public Service (NPS)"; Advisor: Carol Ebdon, Public Administration

Undergraduate Oral Presentations
Best - Tim Reznicek, " Structural Analysis of Kaposi's Sarcoma Associated Herpesvirus PAN RNA"; Advisor: William Tapprich, Biology
Outstanding - LeeAnna Lui, "Gene AP2III-3 Affects Life Cycle Progression in Toxoplasma Gondii"; Advisor: Paul Davis, Biology
Meritorious - Lydia Phillips, "Structural Analysis of Genomic RNA from Avirulent and Virulent Strains of Coxsackievirus B3"; William Tapprich, Biology
Honorable Mention - Alyssa Spartz, "Mineral Densities of Hydroponically Grown and Soil Grown Kale"; Advisor: Karen Murch-Shafer, Biology

Undergraduate Poster Presentations
Best - Hayley Fouche, " Do social networks impact perceived loneliness in caregivers to older adults with chronic conditions?"; Advisor: Janelle Beadle, Gerontology
Outstanding - Michael Douchey, "The Effects of Dopamine Receptor Coactivation on Neuropeptide Signaling at Human and Marmoset Vasopressin Receptors"; Advisor: Jeffrey French, Psychology
Meritorious - Cody Anderson, "Determining the optimal tension for an ankle-foot assistive device"; Advisor: Sara Myers, Biomechanics
Honorable Mention - Sydney Andreasen, "The Effect of Weather on Linear and Nonlinear Measures of Activity in Stroke Survivors"; Advisor: Brian Knarr, Biomechanics
About the University of Nebraska at Omaha
Located in one of America's best cities to live, work and learn, the University of Nebraska at Omaha (UNO) is Nebraska's premier metropolitan university. With more than 15,000 students enrolled in 200-plus programs of study, UNO is recognized nationally for its online education, graduate education, military friendliness and community engagement efforts. Founded in 1908, UNO has served learners of all backgrounds for more than 100 years and is dedicated to another century of excellence both in the classroom and in the community.
Follow UNO on Facebook, Twitter (X), Instagram, TikTok, LinkedIn, and YouTube.