UNO Researchers to Study How Use of Prosthetic Limbs Affects Neural Activity
UNO researchers track how a child's brain adapts to the regular use of a prosthetic limb.
published: 2020/02/05
contact: Brandon Bartling - University Communications
email: unonews@unomaha.edu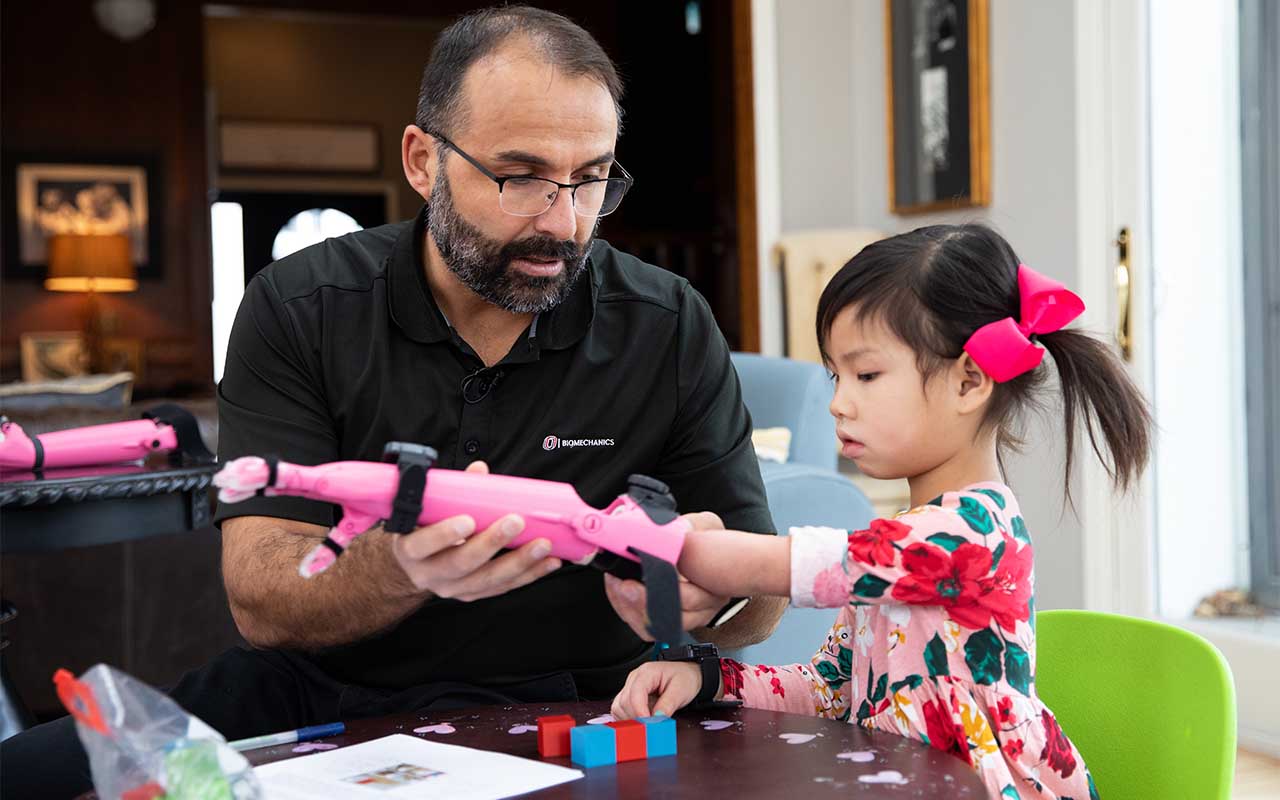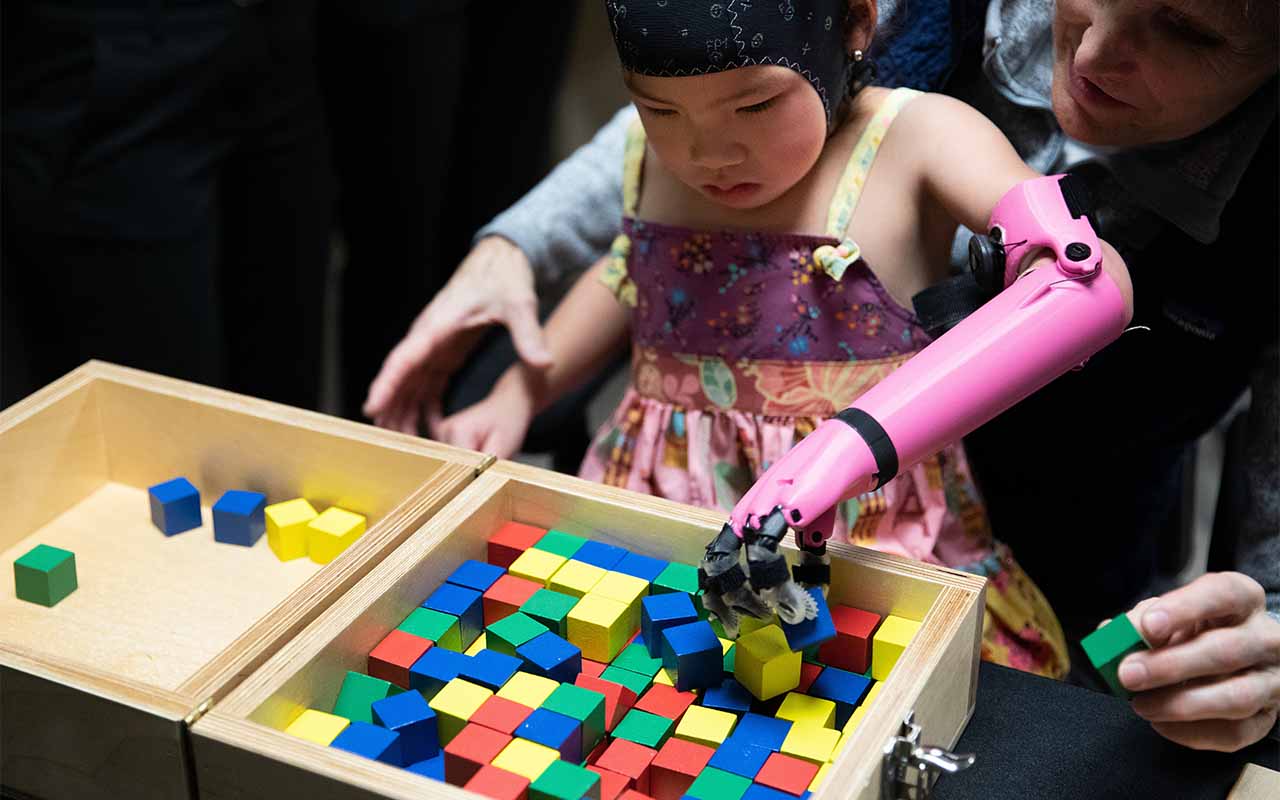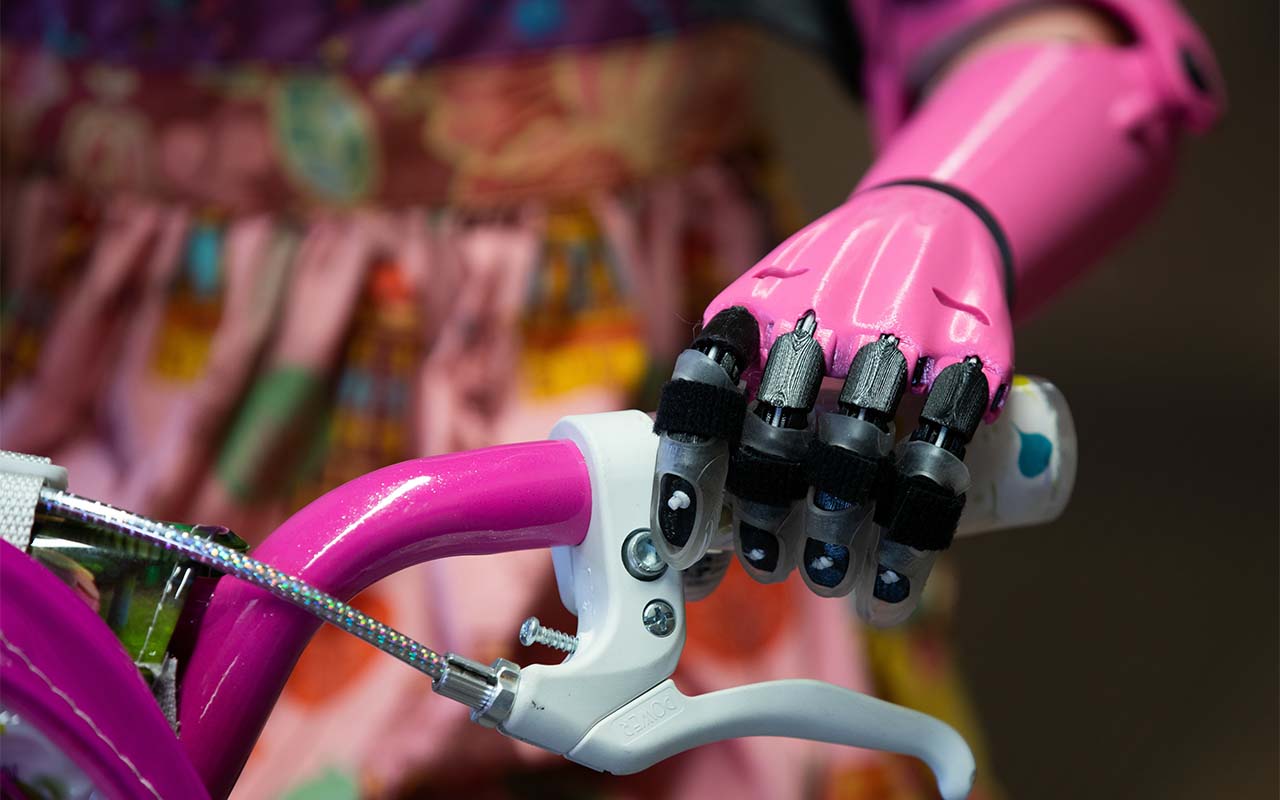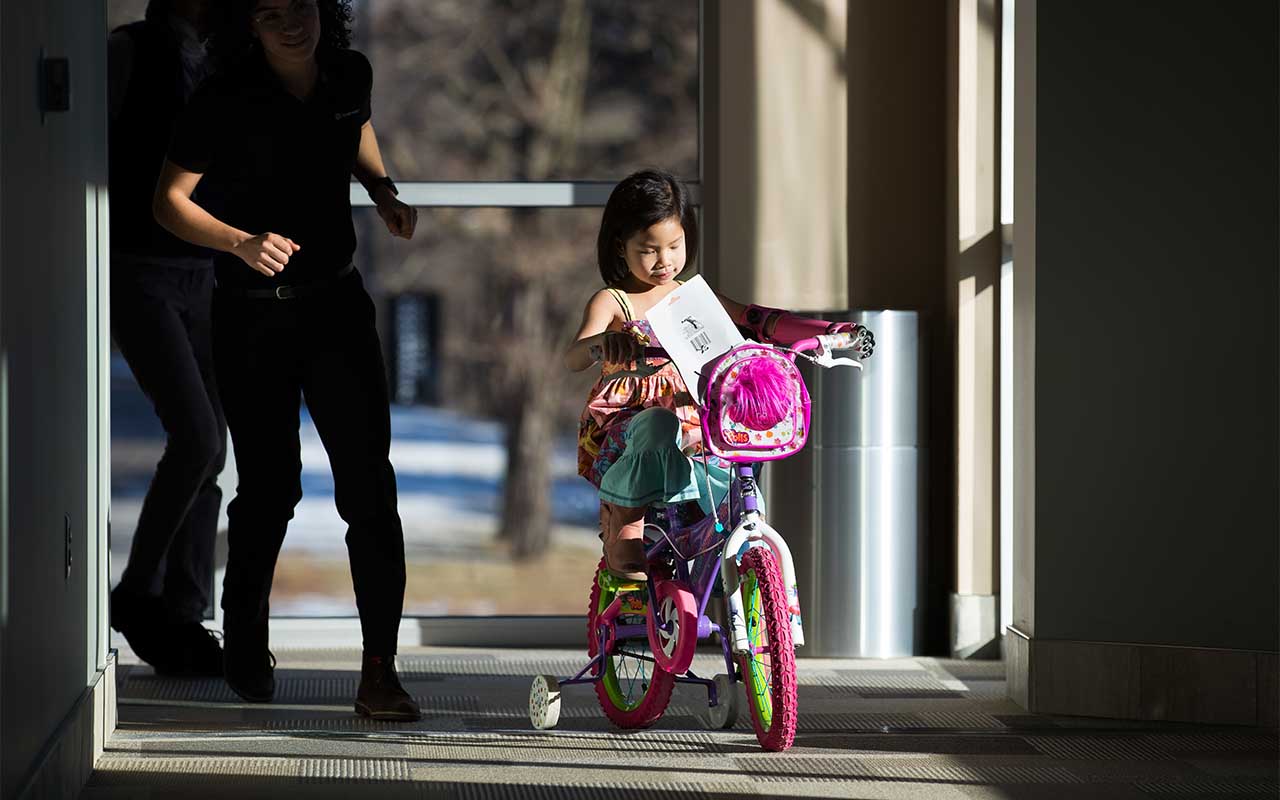 OMAHA – Researchers at the University of Nebraska at Omaha (UNO) have received funding from the National Institutes of Health (NIH) to study how the brain adapts to the use of 3D-printed prosthetic limbs.
Jorge Zuniga, Ph.D., associate professor of biomechanics, and Brian Knarr, Ph.D., assistant professor of biomechanics at UNO, are co-principal investigators on the study. This NIH Research Project Grant (R01) will fund research into changes in neural activity in children following regular usage of a 3D-printed prosthetic arm.
"Essentially what we'll do with this research study is to try and look at their brain and see how the brain of young children adapt to the use of our prosthesis," Zuniga said.
Generally speaking, those who have full use of both arms use different sections of the full brain to control them. Portions of the left brain typically control the right limbs while portions of the right brain typically control the left limbs. The brain adapts to control movement differently when faced with a missing limb. It must adapt again when someone is fitted for a prosthetic limb. This research study seeks to determine how the brain makes this adjustment to the use of a prosthetic limb.
Knarr is hopeful that consistent use will yield positive results. "We hope to find, through wearable sensors coupled with the prosthetic arm, that children who use the prosthesis more often will show a greater change in their brain activity," he said.
In this study, researchers first establish baseline readings of brain activity through the use of a non-invasive net of sensors placed on a participant's head. Participants complete simple activities that require precise use of the prosthetic arm, such as picking up and moving or stacking blocks, while the sensors measure brain activity.
Participants are then encouraged to continue using the prosthetic arm in their everyday life. Eight weeks later, participants return to UNO's Biomechanics Research Building to complete the same activities and gather the same readings. Researchers will then analyze the readings, take note of any changes in neural activity as the brain adapts to the usage of the prosthesis.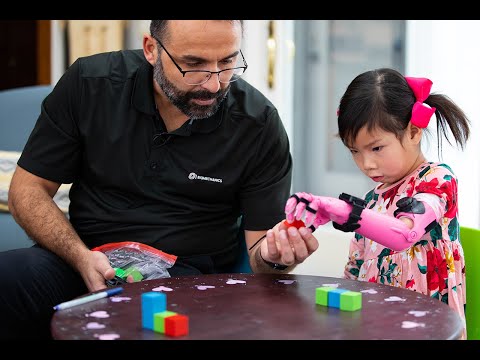 Watch: Jorge Zuniga, Ph.D., and Holly Gillespie, mother of study participant Rue Gillespie, talk about 3D-printed prosthetic limbs, how they've changed Rue's life, and what this new research hopes to uncover.
Four-year-old Rue Gillespie is a participant in the study. She worked with Drs. Zuniga and Knarr, as well as certified clinicians Rakesh Srivastava, M.S., CPO, and Jean Peck, OTL, CHT, to get fitted for a perfectly sized and brightly colored 3D-printed prosthetic arm. Using the custom-made prosthetic, she is able to go about her everyday life and take part in activities that would otherwise be impossible with only one arm – like riding a bike.
Rue's mother, Hollie, said she's been blown away by the support from faculty within UNO's Department of Biomechanics. "It's been such a blessing to us to be with UNO and to realize, hey, there are a lot of kids like her – whether it's arm or leg or some type of thing – knowing that there are people out there who really want to help," she said.
The study builds on past research in which Zuniga partnered with fellow academics from across the University of Nebraska system to design and produce 3D-printable prosthetic arms. While a typical prosthetic limb could cost anywhere from $4,000 to $20,000, a 3D-printed prosthesis for children can be printed and constructed for as little as $50, or the cost of materials.
"What we do here is basically provide child-friendly prosthetic devices to children that are born without a limb or lose a limb due to an accident," Zuniga said. As children outgrow or damage a prosthesis, new arms and replacement parts can be printed – compounding savings as a child grows and ensuring that cost is never a barrier to helping a child feel a sense of normalcy.
This latest award represents nearly $1.4 million in funding from the NIH. Researchers within UNO's Department of Biomechanics have a history of securing funding through the NIH for life-changing research. They were previously awarded a COBRE Phase II grant from the NIH – the largest single research grant in university history – as well as another R01 grant to develop a flexible next-generation stent graft device.
"This is the third major federal grant for UNO's Department of Biomechanics since the beginning of the academic year, demonstrating to our donors that we deliver on our promises made in our building expansion dedication for continuing success and research growth," said Nick Stergiou, Ph.D., assistant dean of the Division of Biomechanics and Research Development. "This R01 also shows that our faculty, Jorge and Brian this time, are fantastic researchers and their ideas are selected for funding at the highest level."
Research reported in this publication was supported by the National Institute of Neurological Disorders and Stroke of the National Institutes of Health under Award Number R01NS114282. The content is solely the responsibility of the authors and does not necessarily represent the official views of the National Institutes of Health.
About the University of Nebraska at Omaha
Located in one of America's best cities to live, work and learn, the University of Nebraska at Omaha (UNO) is Nebraska's premier metropolitan university. With more than 15,000 students enrolled in 200-plus programs of study, UNO is recognized nationally for its online education, graduate education, military friendliness and community engagement efforts. Founded in 1908, UNO has served learners of all backgrounds for more than 100 years and is dedicated to another century of excellence both in the classroom and in the community.
Follow UNO on Facebook, Twitter (X), Instagram, TikTok, LinkedIn, and YouTube.