UNO Professor Helped Discover New Dinosaur Species
Paleontologist George Engelmann discovered the 4,000-year-old predator Allosaurus jimmadseni's remains in 1990.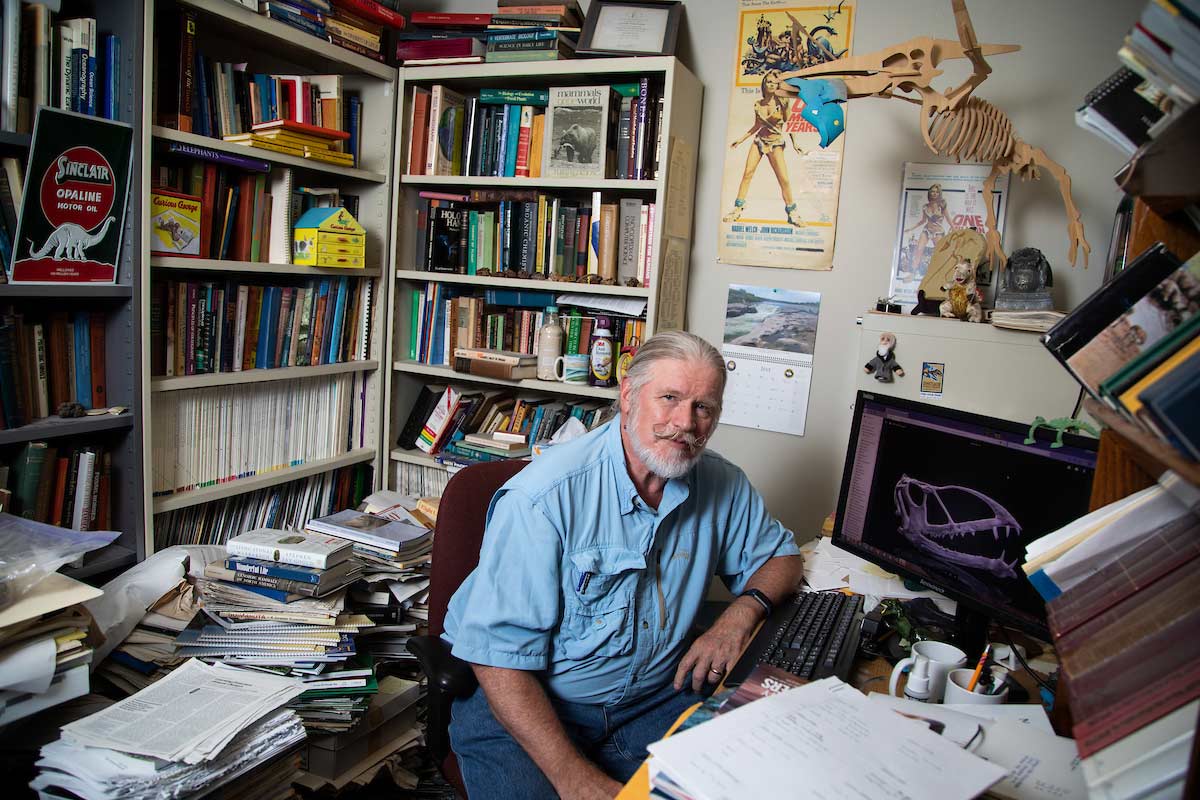 More than 152 million years ago a 4,000 pound, 26-feet-long carnivorous dinosaur roamed what is now modern-day Utah.
University of Nebraska at Omaha (UNO) paleontologist George Engelmann discovered the predator's fossil remains in July 1990, and after three decades of research, it has finally been named: Allosaurus jimmadseni. Engelmann recalled the day he and field assistant Tom Fowler, a UNO student, spotted dark bones jutting out from sandstone at Dinosaur National Monument in Utah.
"That was very exciting, and it took every bit of our self-control to leave it alone and not explore further to see what we had, because that would risk damaging it or exposing it to further damage unnecessarily," he said.
Engelmann first discovered the nearly complete skeleton as part of a paleontological inventory project in Dinosaur National Monument's Late Jurassic Morrison Formation nearly 30 years ago, where he and a field assistant spent three summers walking every square meter looking for fossils of any kind. One of those summers, Engelmann and his assistant found a string of small bones exposed in a nearly vertical wall.
"It was clear that there was more than one bone and that the bones were articulated, in contact at the joints as in life," he said. "That meant that we had at least a small part of a skeleton, and possibly much more."


A Painstaking Extraction
Further investigation revealed that what they had found was an articulated foot that appeared to be connected to an ankle.
"We were all pretty happy, and hopeful about how much could be there, still buried in the rock. It wasn't until excavation proceeded that gradually, over some time, it became apparent exactly how much of the skeleton was there," Engelmann said.
The discovery of a skeleton that was nearly complete up to its neck was exciting, but the fossil's positioning in a nearly vertical cliff within a narrow alcove at the head of a steep, narrow gully meant excavation would require a unique approach. Engelmann said that as a nearly complete articulated dinosaur, it couldn't be taken apart into several pieces without damaging the specimen, and had to be removed as a single, giant block. It had to be broken free from the cliff, flipped for plastering and airlifted via helicopter so the rock could be carefully removed from the bones in a lab.
It wasn't until six years later, in 1996, when a radioactive skull (fossils in Morrison are often radioactive) was discovered. Engelmann said it is a relief to finally have Allosaurus jimmadseni on the books as a new species.
"Complete, articulated skeletons are quite rare in the fossil record, and they reveal much about the anatomy of a species that we can't find out from a bone here and a bone there, even if we end up having all the bones in the skeleton."
Adding to Engelmann's discovery, another specimen belonging to the new species first believed to belong to Allosaurus fragilis dubbed "Big Al" was discovered in Wyoming on U.S. Bureau of Land Management land in 1991.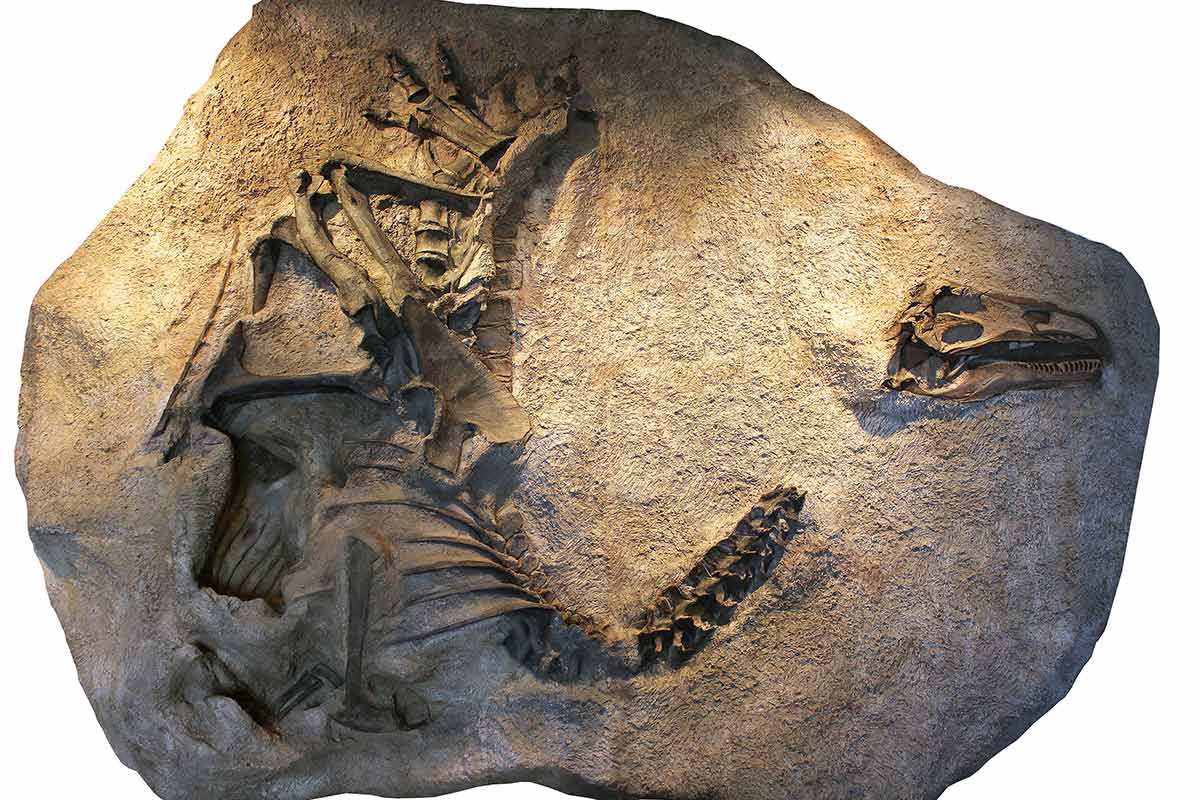 A Predator in the American West
The newly named species belongs to the allosoroids, a group of two-legged carnivorous dinosaurs that lived during the Jurassic and Cretaceous periods. With its long arms, three sharp claws and a large head full of 80 sharp, teeth Allosaurus jimmadseni was "the most common and the top predator in its ecosystem."
The study's authors wrote in the scientific journal PeerJ that the discovery "is one of the most complete single theropod skeletons known from Late Jurassic formations anywhere in the world" and that Allosaurus jimmadseni "will be an important comparative specimen for future studies of theropods anatomy and evolution."
Mark Loewen, research associate at the Natural History Museum of Utah, and associate professor in the Department of Geology & Geophysics at the University of Utah led the study and co-authored the journal article.
"Previously, paleontologists thought there was only one species of Allosaurus in Jurassic North America, but this study shows there were two species—the newly described Allosaurus jimmadseni evolved at least 5 million years earlier than its younger cousin, Allosaurus fragilis," Lowen said in a press release.
"Recognizing a new species of dinosaur in rocks that have been intensely investigated for over 150 years is an outstanding experience of discovery," Daniel Chure, retired paleontologist at Dinosaur National Monument and co-lead author of the study, said in a press release.
Read more about Engelmann and his discoveries at Dinosaur National Monument in the January 2020 edition of UNO Magazine.
About the University of Nebraska at Omaha
Located in one of America's best cities to live, work and learn, the University of Nebraska at Omaha (UNO) is Nebraska's premier metropolitan university. With more than 15,000 students enrolled in 200-plus programs of study, UNO is recognized nationally for its online education, graduate education, military friendliness and community engagement efforts. Founded in 1908, UNO has served learners of all backgrounds for more than 100 years and is dedicated to another century of excellence both in the classroom and in the community.
Follow UNO on Facebook, Twitter (X), Instagram, TikTok, LinkedIn, and YouTube.