UNO Magazine: Heavenly Wind Among Saints and Sinners
UNO Geology Professor George Engelmann discovered a fossilized treasure trove — and a first-of-its-kind relative to the dinosaurs.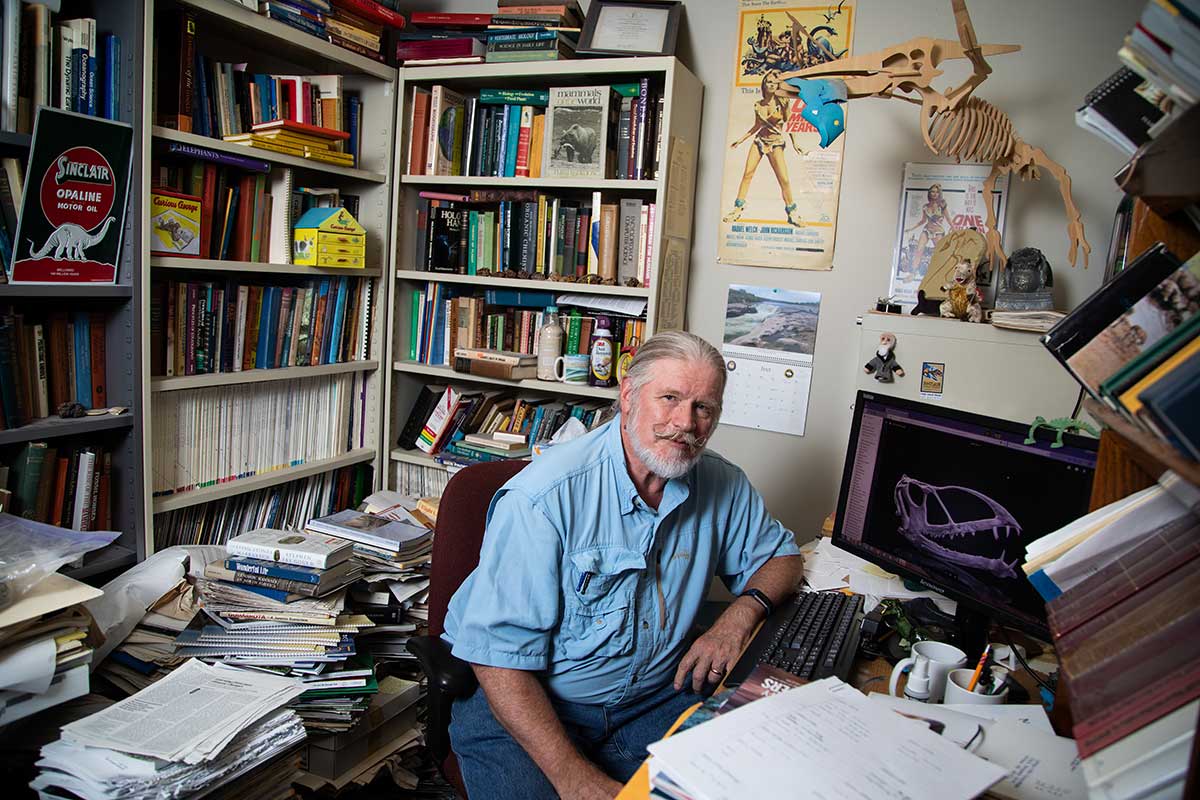 The following story appeared in the
most recent issue
of the UNO Magazine, which highlighted h
ow professors are serious about play, studying how it aids learning and development, using it to teach math or to aid recovery from a stroke, or just to have fun.
Read the magazine online as a
Flipbook
or
download a PDF
.
---
About 210 million years ago, a flying lizard that was a close cousin to the dinosaurs soared above the vast desert that once covered the Western United States.
At some point, this creature — a pterosaur — flapped its massive wings one last time and died on the banks of a long-gone oasis in what is now Western Utah. There, shifting sands covered the pterosaur's bones, fossilizing it and preserving it for eons.
Fast-forward — lots — to 2008 and that same bank, were now stands UNO geology and paleontology Professor George Engelmann. He's with a team conducting research at Dinosaur National Monument in Southwest Utah, scouting for possible dig sites outside the park. There, right beneath his feet, he makes an historic discovery.
"We started looking around, and sure enough we found little bits where bones were exposed on the surface," Engelmann says. "We had something like 72 exposed bones scattered over maybe a 100-square-foot area."
With the help of another paleontologist from nearby Brigham Young University, Engelmann and a crew began the slow, laborious process of excavating the site. Over the next several years, the team would unearth a treasure-trove of bones, many of which were perfectly preserved skeletons.
Known today as the Saints and Sinners Quarry, the site has relinquished thousands of fossilized bones dating to the late Triassic period, about 210 million years ago.
"We've removed from the quarry since 2008 in the order of 25,000 bones," Engelmann says. "Most are dinosaur.
"As we got down to a certain layer of the quarry, we started finding smaller vertebrates preserved as complete skeletons."

Wind of Discovery
Along with discovering an entirely new genus of drepanosaur, a peculiar rat-sized relative to the dinosaurs, the team excavated the fully articulated skeletons of a long-legged predecessor to modern crocodiles – all important discoveries.
But it wasn't until 2014 that the massive, 300-pound limestone blocks cut from the quarry and hauled to a lab at Brigham Young University revealed something even more noteworthy — the well-preserved bones of a pterosaur, the first of its kind found in North America from the late Triassic era.
Only about 30 fossils of pterosaurs from that era are known to exist. Most are just fragments of bone.
"The only specimen from late Triassic known before this is from Greenland," Engelmann says. "Our specimen is the farthest west Pterosaur of that age."
Because the specimen is significantly larger than those unearthed in Europe, some experts originally doubted it was a pterosaur. But additional study revealed it to be a previously undiscovered genus that, in 2018, was officially named Caelestiventus hanseni, Latin for "Heavenly Wind."
"It's relatively large for an early pterosaur," Engelmann says. "Early pterosaurs are usually pretty small, like robin-sized or something like that. Ours has just under a 2-meter wingspan. We do have most of the skull and jaws and do have a piece of a wing element."
The well-preserved skull has 110 teeth, including four one-inch fangs and air spaces around the braincase, much like those found in birds. It's believed its skin was covered in course fibers that looked much like stiff hair.

More from Saints and Sinners
While Saints and Sinners still has much more to reveal, the team has removed enough massive sandstone blocks from the quarry to keep them busy in the lab for many years to come.
Discovering a previously undiscovered genus is always an achievement worth celebrating. But finding a site with as many specimens from that era as the Saints and Sinners quarry is significantly more exciting, Engelmann says.
"You almost expect to find new species in a locality like we have," he says. "The amazing thing was finding the locality at all because this an interval geologic time, the late Triassic. It's not terribly well known anywhere."
Since the discovery, Engelman has incorporated some of the findings from the Utah digs and the subsequent lab work at BYU into coursework for his undergraduate vertebrate paleontology courses. Over the past 10 years, many UNO geology students have also taken their education outside the classroom and journeyed with Engelmann to participate in field studies in Utah, primarily focusing on preserved dinosaur tracks.
Engelmann, who has taught at UNO since 1980, traces his passion for dinosaurs back to his childhood in Chicago, where he remembers marveling at depictions of prehistoric beasts in National Geographic magazine and at local museums. He later earned his bachelor's degree at Principia College and his master's and doctorate degrees from Columbia University. Today, he specializes in vertebrate paleontology, evolutionary biology, mammalian evolution, paleoecology, mesozoic stratigraphy of western North America, and geology of Dinosaur National Monument.
Engelmann knows he and his fellow researchers have only scratched the surface of what the Saints and Sinners quarry has to offer, and he looks forward to discovering more history hidden in the stone and sharing his findings.
"At this point, we have 25,000 bones," he says. "A lot of this is new material and so our research agenda is to get this stuff written up and published because that's the understanding in science when you find stuff out, you've got to share it."
About the University of Nebraska at Omaha
Located in one of America's best cities to live, work and learn, the University of Nebraska at Omaha (UNO) is Nebraska's premier metropolitan university. With more than 15,000 students enrolled in 200-plus programs of study, UNO is recognized nationally for its online education, graduate education, military friendliness and community engagement efforts. Founded in 1908, UNO has served learners of all backgrounds for more than 100 years and is dedicated to another century of excellence both in the classroom and in the community.
Follow UNO on Facebook, Twitter, Instagram, TikTok, LinkedIn, and YouTube.