Qureshi Earns System Award for Community Impact
The NU IDEA Award recognizes faculty members who have extended their academic expertise beyond the boundaries of the university in ways that have enriched the broader community.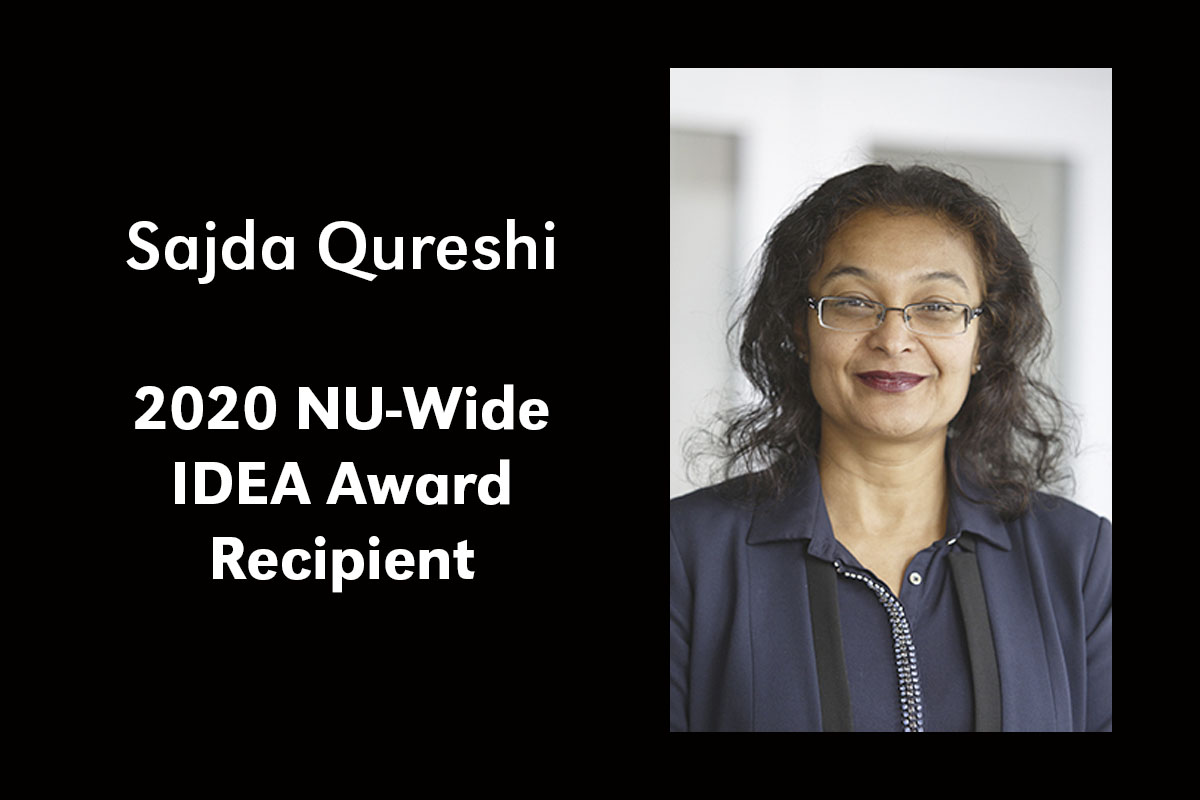 Sajda Qureshi, Ph.D., Kayser Chair and professor, Department of Information Systems & Quantitative Analysis, has been with UNO since 2002.
University of Nebraska President Ted Carter today announced the 2020 recipients of the university system's most prestigious faculty awards for teaching, research and engagement.
Sajda Qureshi, Ph.D., Kayser chair and professor in information systems and quantitative analysis, was selected as the 2020 recipient of the NU Innovation, Development and Engagement Award (IDEA).
IDEA recognizes faculty members who have extended their academic expertise beyond the boundaries of the university in ways that have enriched the broader community.
The university-wide President's Excellence Awards recognize faculty whose work has had a significant impact on students, the university and the state.
"The University of Nebraska exists to transform lives and communities. Our faculty, who are among the best in the world at what they do, carry out that mission every day in classrooms, labs and fields across our state," Carter said. "It's an honor to serve among such talented and dedicated colleagues and to celebrate their work and impact. I thank these faculty for all they do for our 51,000 students and people in our state and around the world."
Qureshi joined UNO in 2002 and, since then, has led the way in bringing innovative communication technologies to area small businesses, nonprofits and healthcare providers to improve their local communities, promote economic development and support entrepreneurial ventures.
"Economic, social and human development are important in helping people lead their best lives," Qureshi said. "The essence of what I do is helping determine how information and communication technologies can assist in those development efforts. UNO has been very supportive in giving me the opportunity to pursue what I do best. I am extremely grateful to the people of Nebraska for letting my students and myself implement the technology and training interventions needed to bring about improvements in Nebraska businesses and communities."
All told, Qureshi and her students have worked with more than 200 microenterprises in Omaha and rural Nebraska to employ information and communication technologies to bring about economic development. Not only have these projects improved outcomes in Nebraska communities, but they have provided real-world training for students.
Qureshi and her students make use of UNO's Cloud Computing Lab, which allows the collection of large amounts of data that can be used to measure and compare the outcomes experienced by the businesses and organizations they work with to increase administrative, productivity and training efficiencies. The effort also involves interdisciplinary partnerships with UNL and UNMC and is funded through a grant from the Small Business Administration.
Her work has helped secure more than $1.2 million in grant funding over her career.
The IDEA recognition follows on the heels of UNO's Teacher Education Department being recognized with the system-wide departmental teaching award for 2020.
Other recipients from UNO's partner campuses include:


IDEA
Armando De Alba Rosales, UNMC


Outstanding Teaching Instructional Creativity Award (OTICA)
Jody Koenig Kellas, UNL
Walter Stroup, UNL

Outstanding Research and Creative Activity Award (ORCA)
Ed Cahoon, UNL
Award recipients are selected by a system-wide committee of faculty members and, in the case of the engagement award, community members. They will be honored at a luncheon hosted by Carter this spring.
About the University of Nebraska at Omaha
Located in one of America's best cities to live, work and learn, the University of Nebraska at Omaha (UNO) is Nebraska's premier metropolitan university. With more than 15,000 students enrolled in 200-plus programs of study, UNO is recognized nationally for its online education, graduate education, military friendliness and community engagement efforts. Founded in 1908, UNO has served learners of all backgrounds for more than 100 years and is dedicated to another century of excellence both in the classroom and in the community.
Follow UNO on Facebook, Twitter (X), Instagram, TikTok, LinkedIn, and YouTube.