Maverick in the Making Scholarship a 'Dream Come True' for Creighton Prep Senior
Daniel Mejia Hernandez, the third Omaha senior to earn the award, will be able to pursue a degree and stay close to the family that inspires him.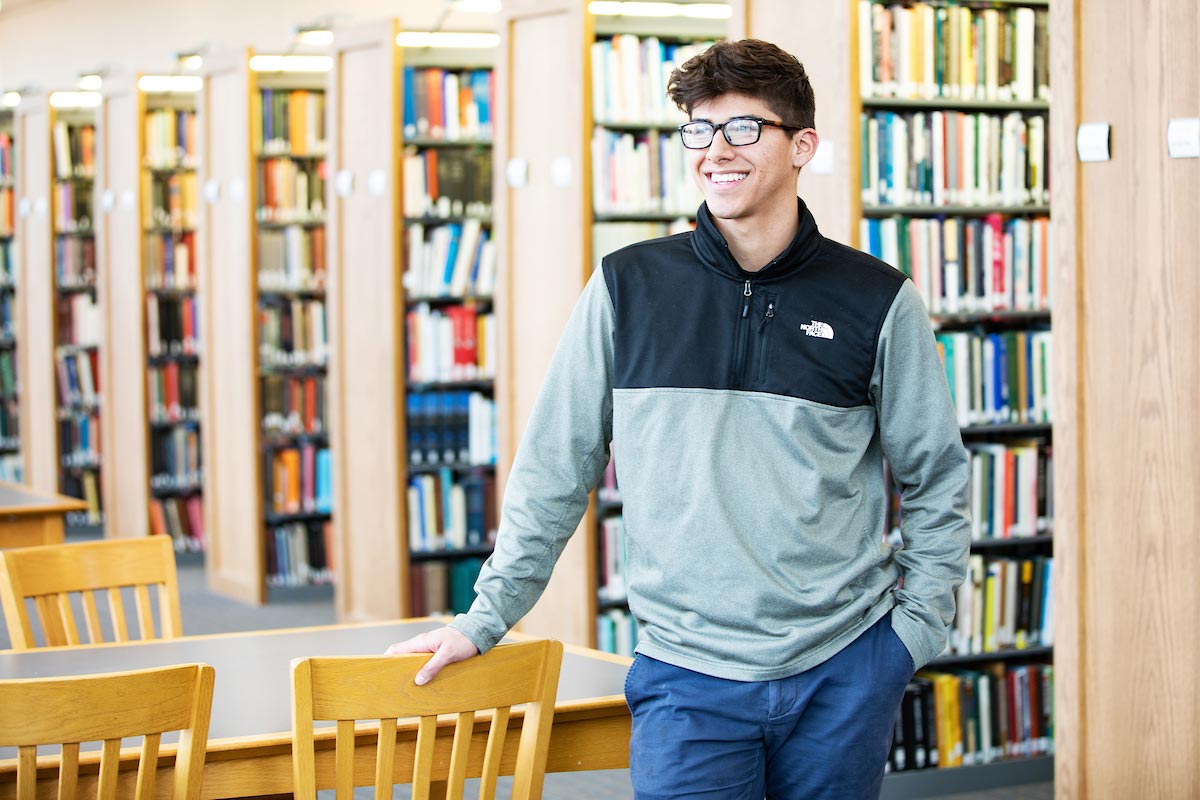 Daniel Mejia Hernandez was selected as a "Maverick in the Making" - earning a $4,000 scholarship to attend UNO.
For Daniel Mejia Hernandez, earning a $4,000 Maverick in the Making scholarship from the University of Nebraska at Omaha (UNO) was the fulfillment of more than his own dreams.
"My parents came from Mexico and they've always wanted the best for me. This is more than a scholarship," Mejia, a Creighton Prep senior said. "This is part of their dream coming true."
When Mejia's prospects for attending a university were in doubt a year ago due to finances and grades, he doubled down on his efforts to improve his GPA an entire point to a 3.8 and find scholarship money. Many of the hours he spent studying for finals were on the third floor of UNO's Criss Library. It was an achievement reflective of the Maverick Spirit that the scholarship recognizes in high school seniors.
Jeff Wellwood, Mejia's guidance counselor, and scholarship nominator at Creighton Prep, watched Mejia thrive academically and take on new challenges with a job and volunteer opportunities after his initial struggles.
"Once he found a good rhythm to succeed academically, he just took off and it's been no looking back," he said. "He has impressed quite a few people."
With the scholarship now in hand, Mejia will be able to attend UNO and stay close to his family that inspires him to do his best.
Mejia's mother, Blanca, said UNO was his "first, second and third option" for college.
"I always tell him he is my champion."
Do you know of a future Maverick to nominate for the Maverick in the Making scholarship? UNO is accepting submissions year-round.


Nominate Your Maverick in the Making
A Maverick is an independent thinker—someone who isn't afraid to go against the grain and explore without the fear of failing. At UNO, our Mavericks are asking questions and making change all across the world. Nominate your Maverick in the Making today and give them the chance to start big! You can also learn about past recipients of the scholarship.
About the University of Nebraska at Omaha
Located in one of America's best cities to live, work and learn, the University of Nebraska at Omaha (UNO) is Nebraska's premier metropolitan university. With more than 15,000 students enrolled in 200-plus programs of study, UNO is recognized nationally for its online education, graduate education, military friendliness and community engagement efforts. Founded in 1908, UNO has served learners of all backgrounds for more than 100 years and is dedicated to another century of excellence both in the classroom and in the community.
Follow UNO on Facebook, Twitter (X), Instagram, TikTok, LinkedIn, and YouTube.