UNO Magazine: Nuts About Black Squirrels
How are melanistic squirrels, or black squirrels as most call them, expanding westward across the U.S.? Students in James Wilson's class are studying to find out.
published: 2020/01/13
contact: University Communications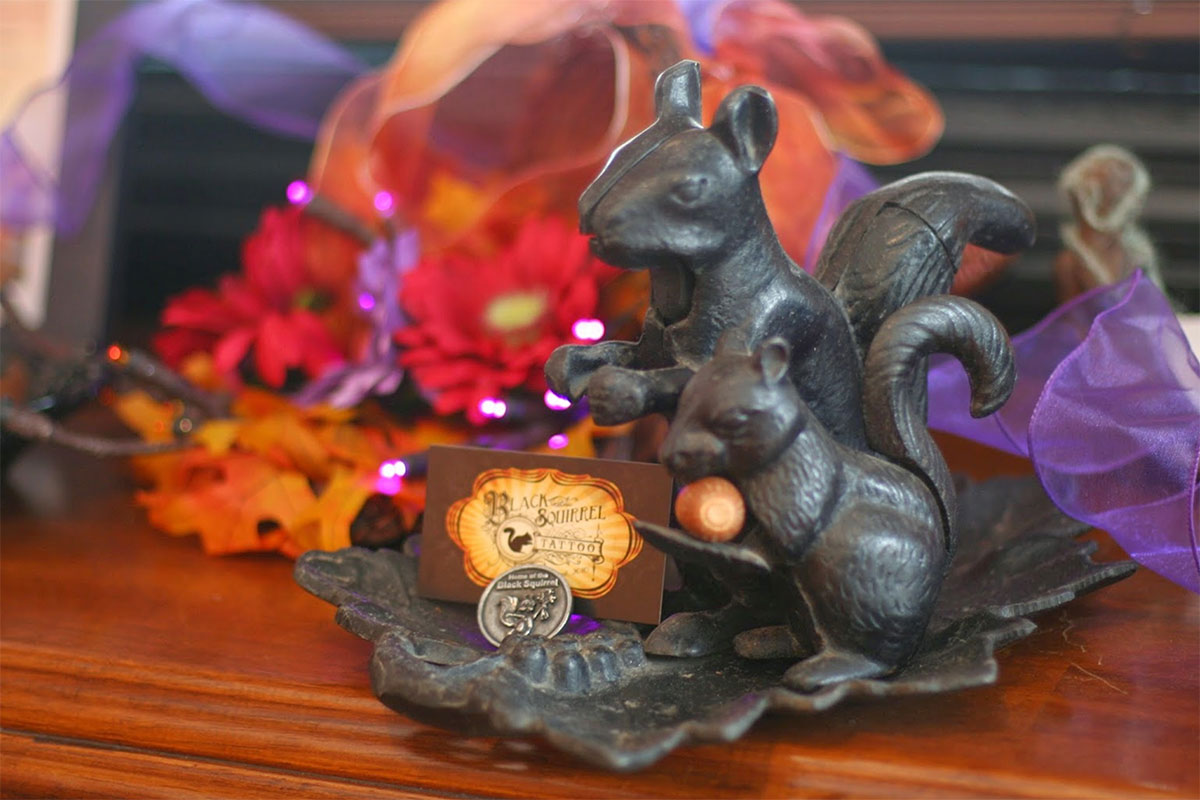 The following story appeared in the
most recent issue
of the UNO Magazine, which highlighted h
ow professors are serious about play, studying how it aids learning and development, using it to teach math or to aid recovery from a stroke, or just to have fun.
Read the magazine online as a
Flipbook
or
download a PDF
.
---
Each semester, James Wilson, UNO associate professor of biology, assigns field work.
The "field," though, isn't a prairie or bog, but rather a jungle.
An urban jungle.
As part of their coursework, Wilson's students travel throughout the metro area to count squirrels. Each melanistic squirrel — or black squirrel, as most folks call them — is tallied separately.
The data shows a trend.
"They're definitely expanding and they're moving west," Wilson says.
Well beyond Omaha, in fact.
"Somehow, they're in Lincoln. They're in Grand Island. Either the mutation is popping up or someone is bringing them because they're cute."
Wilson says he gets why some people go nuts over the black squirrels. He likes them, too, and they're a focus of his research.
It's a good time to be curious about black squirrels. In mid-2019, a new academic paper shared the specific genetic code behind the mutation. The discovery made headlines with the Washington Post, BBC News and others.
Wilson wants to know what advantages the mutation might offer. Recently, he and students used remote infrared thermometers to compare the skin temperatures of typical fox squirrels — the reddish-brown kind — and black squirrels. The takeaway: while temperatures are similar when it's sunny, black squirrels stay warmer in cloudy conditions. Wilson says it's a slight advantage — especially during cold Midwestern winters.
"If they don't have to heat themselves as much, that might save energy."
Collaborative research might offer more answers. Wilson will be working with geneticist Jessica Petersen at the University of Nebraska-Lincoln to see what other genes might be associated with the specific color-change gene mutation. It's possible genes might make them more ... squirrely.
"The urban legend is that the melanistic squirrels, the black squirrels, are more aggressive toward the other squirrels. They'll defend their food more."
Another partnership, this one with Nate Hunt, assistant professor in UNO's biomechanics department, will explore whether black squirrels make different decisions about jumping from branch to branch because of their energy usage.
Finally, Wilson plans to investigate how a metropolitan environment might foster the creatures. After all, you don't have to look far to find signs of appreciation around the area — in the logos of the Omaha/Council Bluffs Black Squirrel Tattoo shops and the latter's community Wi-Fi program. Marysville, Kansas, has even adopted the black squirrel as its mascot.
"I wonder if people like them more because they're cute, if they feed them more."
Perhaps drivers are more likely to pump the brakes if a black squirrel darts across the road. Wilson says there's a future study there, too.
As he and other scholars continue to investigate the mysteries of the bushy-tailed critters, Wilson says one thing is certain.
"There is definitely pride in these squirrels."
About the University of Nebraska at Omaha
Located in one of America's best cities to live, work and learn, the University of Nebraska at Omaha (UNO) is Nebraska's premier metropolitan university. With more than 15,000 students enrolled in 200-plus programs of study, UNO is recognized nationally for its online education, graduate education, military friendliness and community engagement efforts. Founded in 1908, UNO has served learners of all backgrounds for more than 100 years and is dedicated to another century of excellence both in the classroom and in the community.
Follow UNO on Facebook, Twitter, Instagram, TikTok, LinkedIn, and YouTube.