UNO Magazine: Betting On UNO
If you really want to Know the O, you need to know horses. For what today is a home for Mavericks — Scott Campus — once was a home for ponies — the Ak-Sar-Ben Race Track and Coliseum. 
published: 2020/01/13
contact: Jessica Hilt - University Communications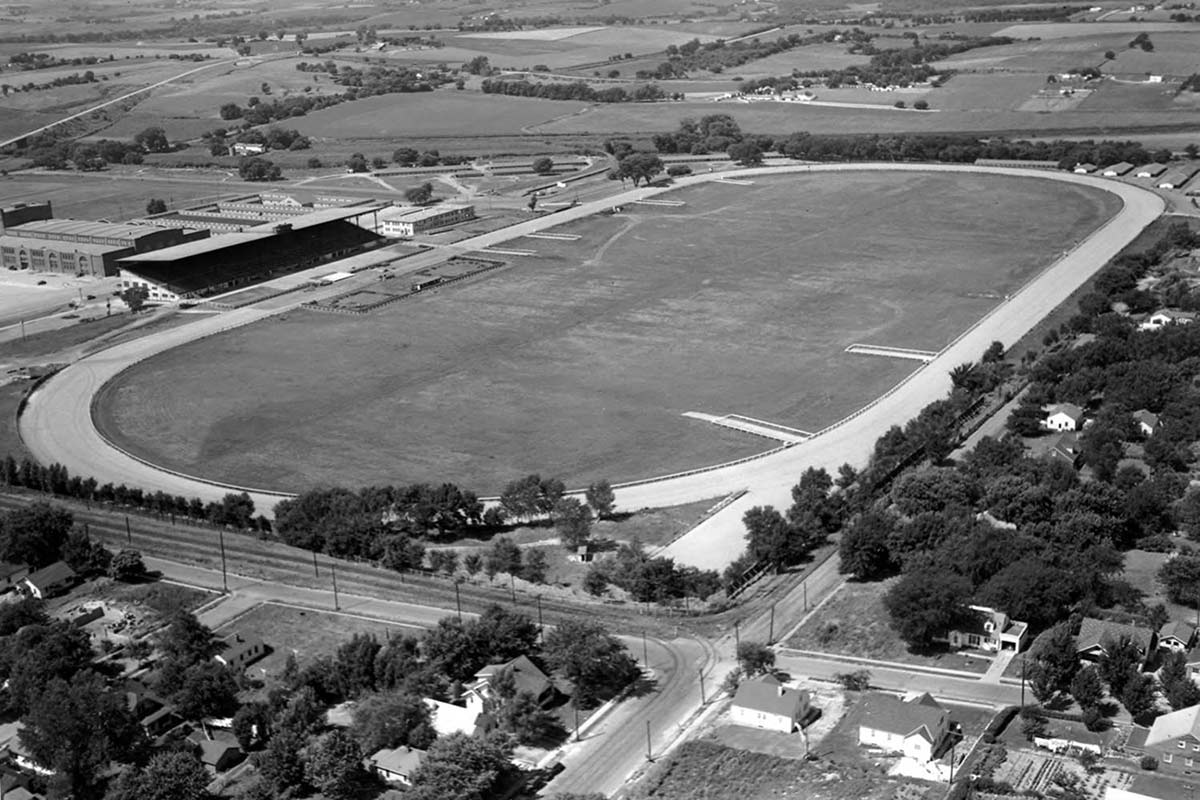 Ak-Sar-Ben Race Track looking northeast, 1947.
The following story appeared in the
most recent issue
of the UNO Magazine, which highlighted h
ow professors are serious about play, studying how it aids learning and development, using it to teach math or to aid recovery from a stroke, or just to have fun.
Read the magazine online as a
Flipbook
or
download a PDF
.
---
If you really want to Know the O, you need to know horses.
Or, more specifically, horse racing.
For what today is a home for Mavericks — Scott Campus — once was a home for ponies — the Ak-Sar-Ben Race Track and Coliseum.
Built a century ago in 1919, the track brought fans by the busload from Kansas, Missouri, Iowa, the Dakotas and beyond. Many of them were high-stakes bettors driven by the rush of the wager and of hooves pounding across the finish line.It was one of the top horse racing tracks in the country. In 1978, average attendance topped 16,000 fans. In 1985, the daily mutuel handle — bets made — was nearly $1.8 million.
An adjoining coliseum, built in 1929, was an entertainment mecca for decades, hosting the likes of Frank Sinatra, Elvis Presley, Nirvana and other big-time acts. It also featured an ice rink where the beloved Omaha Knights semipro team and later the Omaha Lancers played. The Omaha Racers pro basketball team also called the coliseum home, and it was the site of livestock shows and even a few UNO commencements.
But then it all went to the dogs.
A year after Ak-Sar-Ben's highwater mark in 1985, greyhound racing and casino gambling began in nearby Council Bluffs, Iowa, and Keno parlors opened in Nebraska. Ak-Sar-Ben attendance plummeted as seasonal live horse racing in Omaha and nationally struggled to compete with year-round wagering.
In 1992, the Knights of Ak-Sar-Ben sold the track and property to Douglas County for $25 million. The county formed two public corporations to run the facilities: Douglas Racing Corp. to manage the track and racing and Douglas Recreation Corp. to oversee the coliseum and bookings.
Still, the turnstiles stopped turning as they once did. Racing in Omaha continued to limp along until Aug. 7, 1995 — the day of the last race ever held at Ak-Sar-Ben.
In December 1996, the Douglas County Board voted to sell the 140 acres to First Data Resources for $10 million. The remaining land, including the coliseum, remained with the new Ak-Sar-Ben Future Trust. It was a contentious time and featured a petition drive to get expanded gambling and horse racing to return to Aksarben.
As part of its deal, First Data donated more than half the acres it purchased to UNO. On that land, now comprising Scott Campus, UNO built the Peter Kiewit Institute, which houses the College of Information Science & Technology. It opened in 1999.
In the years since, UNO has added Scott Hall, Scott Village, Scott Court, Scott Crossing, Maverick Landing and Mammel Hall. Many of the UNO buildings sit completely inside what once was the Ak-Sar-Ben track's infield.
Not long after the track made way for FDR and UNO, the coliseum and other facilities of the former Ak-Sar-Ben property were demolished and the land developed into what now is Aksarben Village south of UNO's Scott Campus. In 2016, using private funds, the University of Nebraska Foundation purchased one of the First Data office buildings, transferring its ownership to UNO.
What once was might be hard for UNO students to imagine, but there are reminders of the glory days — a memorial for Omaha, the Triple Crown winner buried near the grandstands in 1959; a state historical marker that references the area's even earlier use as a landing field for U.S. Postal Air Mail Service; the area's name.
Aksarben Village is a thriving and ever-growing area, teeming with Omahans who come for business, dining, entertainment, play and more. 
Once upon a time, though, Omahans came in even greater numbers to see the horses run. 

Longtime Neighbors
Beginning with UNO's move from its original campus at 24th and Pratt Streets to its present site, one of the university's biggest neighbors was the Ak-Sar-Ben Racetrack and Coliseum. 
Following are a few highlights of their shared history.

1929
Omaha University students take part in the Nebraska Diamond Jubilee celebrating 75th anniversary of the entrance of Nebraska territory into the United States. Students took took to the Ak-Sar-Ben Field stage for Scene 2 of "The Making of Nebraska."

1938
University regents consider Ak-Sar-Ben field as the potential site for a municipal football stadium. The plans were scrapped, though, and the university built a stadium at its present site more than 10 years later.

1940
OU student Dorothy Hodges wins the 220 ice skating race at Ak-Sar-Ben Coliseum in the Birthday Ball fundraiser for the infantile paralysis (polio) relief drive. Fellow OU students Alice Egner and Margery Stewart finished second and third, respectively.

1955
President Milo Bail becomes first educator to rule mythical realm of Quivera when crowned King Ak-Sar-Ben LXI, 1955. Chancellor Del Weber was named king in 1989

1960
Four-year Aksarben Scholarships established for OU students, 16 provided each year.

1968
Intramural curling held at Coliseum.

1971
University begins offering remote parking at Aksarben, shuttling students from there to campus.

1973
While artificial turf was being installed at the university, the UNO football team practiced for several months on Aksarben grounds.
UNO hockey Club begins playing on Aksarben ice.
About the University of Nebraska at Omaha
Located in one of America's best cities to live, work and learn, the University of Nebraska at Omaha (UNO) is Nebraska's premier metropolitan university. With more than 15,000 students enrolled in 200-plus programs of study, UNO is recognized nationally for its online education, graduate education, military friendliness and community engagement efforts. Founded in 1908, UNO has served learners of all backgrounds for more than 100 years and is dedicated to another century of excellence both in the classroom and in the community.
Follow UNO on Facebook, Twitter, Instagram, TikTok, LinkedIn, and YouTube.