Barbara, Wally Weitz Celebrated as United Way's "Citizens of the Year"
The Weitz's were celebrated at United Way's Annual Meeting and Luncheon Friday, Oct. 18.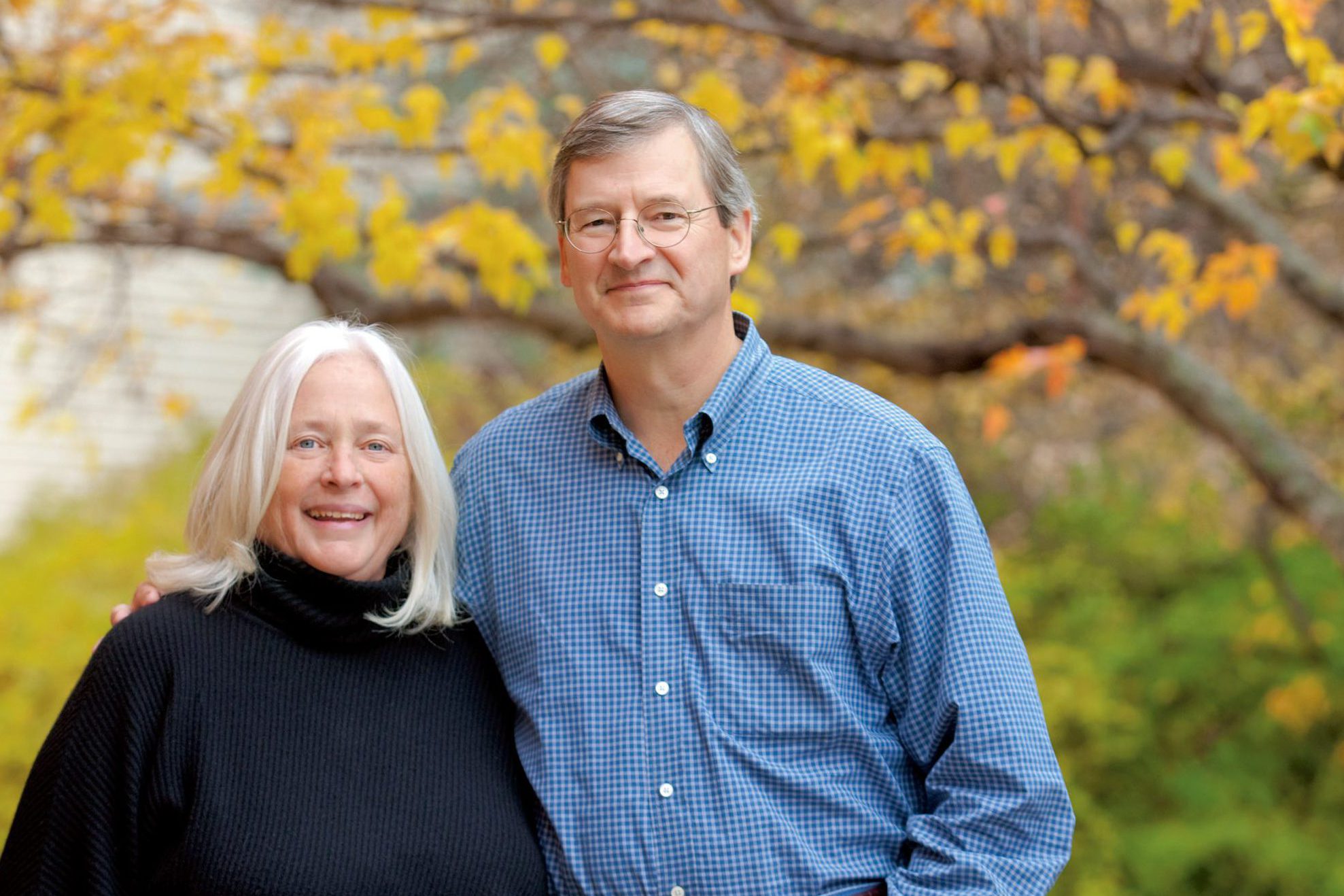 United Way of the Midlands held their Annual Meeting and Luncheon Friday, Oct. 18, 2019 where the celebrated Wally and Barbara Weitz as their 2019 "Citizens of the Year."
The Weitz family has strong ties to UNO and the University of Nebraska system, with Barbara Weitz earning a master's degree from from UNO as well as being a faculty member in the Grace Abbott School of Social Work for 15 years. In addition to currently serving as a member of the NU Board of Regents, she is also the namesake for UNO's Barbara Weitz Community Engagement Center - a first-of-its-kind collaboration space bringing together the institutional resources of the UNO campus with the wider metropolitan community.
"Regent Weitz and her husband Wally have set the standard for what a lifetime of service can accomplish," UNO Chancellor Jeffrey P. Gold, M.D., said. "Their generosity with their time, talent and resources has bettered every community that they have lived in and, without question, Nebraska is blessed to have them call our state home. From graciously providing lead funding on UNO's Barbara Weitz Community Engagement Center to their ongoing support of vibrant programs that create more opportunities for our students, Barb and Wally are focused on transforming lives – and you don't have to look far at UNO to see their impact."
The Weitz CEC was opened in 2014. The award-winning facility is home to dozens of local, nonprofit organizations, and enhances UNO's capacity to be more responsive and effective in its off-campus activities, as it increases the capacity of the Service Learning Academy, The Office of Civic and Social Responsibility, applied research, and other outreach activities.
"Barb and Wally Weitz are terrific and warm-hearted people who are deeply committed to making our world a better place," said Sara Woods, director of of the Weitz CEC. "Through their support of the Barbara Weitz Community Engagement Center, Service Learning Academy, and other engagement-focused initiatives, their generosity and vision have advanced UNO's ability to meet the diverse and changing needs of our community. Every day, I am so lucky to see the positive impact of their goodwill on so many people - students of all ages, people from every corner of our community, and our faculty and staff. What a gift the Weitzes are to all of us at UNO."
Wally Weitz was born in Pittsburgh, Pennsylvania, to a social worker and a college professor. He grew up in New Orleans in the 50s and 60s, where the roots of both entrepreneurial instinct and social conscience were evident early. He earned a B.A. in economics at Carleton College, where today he serves as the Chair of Board of Trustees, and went to New York to work for a small Wall Street firm. In 1973, Wally and Barbara moved to Omaha, in pursuit of Midwestern surroundings. Wally joined Chiles, Heider, a regional investment firm where he spent 10 years managing accounts for individuals and doing equity research. In 1983, he founded Weitz Investment Management, which now manages about $4 billion in assets through its family of mutual funds and separately managed accounts.
Barbara Weitz was born in Lincoln where she lived with her family until her father completed law school and they moved to Charleston, South Carolina. Her family would relocate one more time – to Chicago – before they returned to Nebraska when Barbara was 7. She graduated from Westside High School in Omaha and earned a B.A. in political science from Carleton College, where she met Wally.
With her degree, she entered the job market and worked as a speech writer for the Minnesota Governor's office. Shortly after, Wally and Barbara married and moved to New York City, where Barbara earned her Master's in Public Administration from New York University. When they returned to Omaha, she began a career as a mother, volunteer and director of Christian Education for a local Presbyterian congregation. After she received her MSW from University of Nebraska Omaha, she taught in the Grace Abbott School of Social Work for 15 years. Currently, she serves on the University of Nebraska's Board of Regents.
Together, the Weitz's began the Weitz Family Foundation in 2000. The Foundation seeks to break the cycle of poverty in Omaha by empowering individuals, agencies and organizations to create a more equitable and peaceful society. Beyond the work of their foundation, the couple is active in the local non-profit community, focusing their efforts on education, social justice and the arts.

"The Weitz's are deeply appreciated by CPACS," said John Bartle, dean of UNO's College of Public Affairs and Community Service, which houses the Grace Abbott School of Social work. "Barb had done it all as a professor of Social Work, trusted advisor, and now Regent. Their donation to create the Community Engagement Center had transformed the campus and the community. They will leave an enduring legacy on UNO and Omaha."

"Barb and Wally Weitz are excellent examples of what it looks like when people live their leadership," added Julie Dierberger, Paul Sather Distinguished Director of the UNO Service Learning Academy. "We know that through their support Barb and Wally have empowered outstanding teaching and learning through community engagement and service learning, and I know that because of this, we have catalyzed our next generation of leaders who will do the same."
The Weitz's are most proud of their three children, Katie, Roger and Drew, and their six grandchildren.



About United Way of the Midlands
United Way of the Midlands (UWM) has served the Omaha-Council Bluffs metro for more than 95 years. Guided by best practices and community input, it approaches poverty in a specific way – a "united" way. With the support of volunteers, community partners and donors, UWM invests 92 cents of every donated dollar in our local community. These dollars fund basic needs, education and financial stability programs at local nonprofits, creating a circle of support for people in need. Please visit unitedwaymidlands.org for more information.
About the University of Nebraska at Omaha
Located in one of America's best cities to live, work and learn, the University of Nebraska at Omaha (UNO) is Nebraska's premier metropolitan university. With more than 15,000 students enrolled in 200-plus programs of study, UNO is recognized nationally for its online education, graduate education, military friendliness and community engagement efforts. Founded in 1908, UNO has served learners of all backgrounds for more than 100 years and is dedicated to another century of excellence both in the classroom and in the community.
Become a fan of UNO on Facebook and follow UNO's Twitter updates. 
Contact Us
If you have a story idea, news tip, or other question, please email the UNO News team at unonews@unomaha.edu.