UNO, Shizuoka University Celebrate 40 Years of Friendship
Representatives from UNO were in attendance in Shizuoka, Japan, to celebrate and hear from the many students, faculty and staff whose lives have been changed over that time.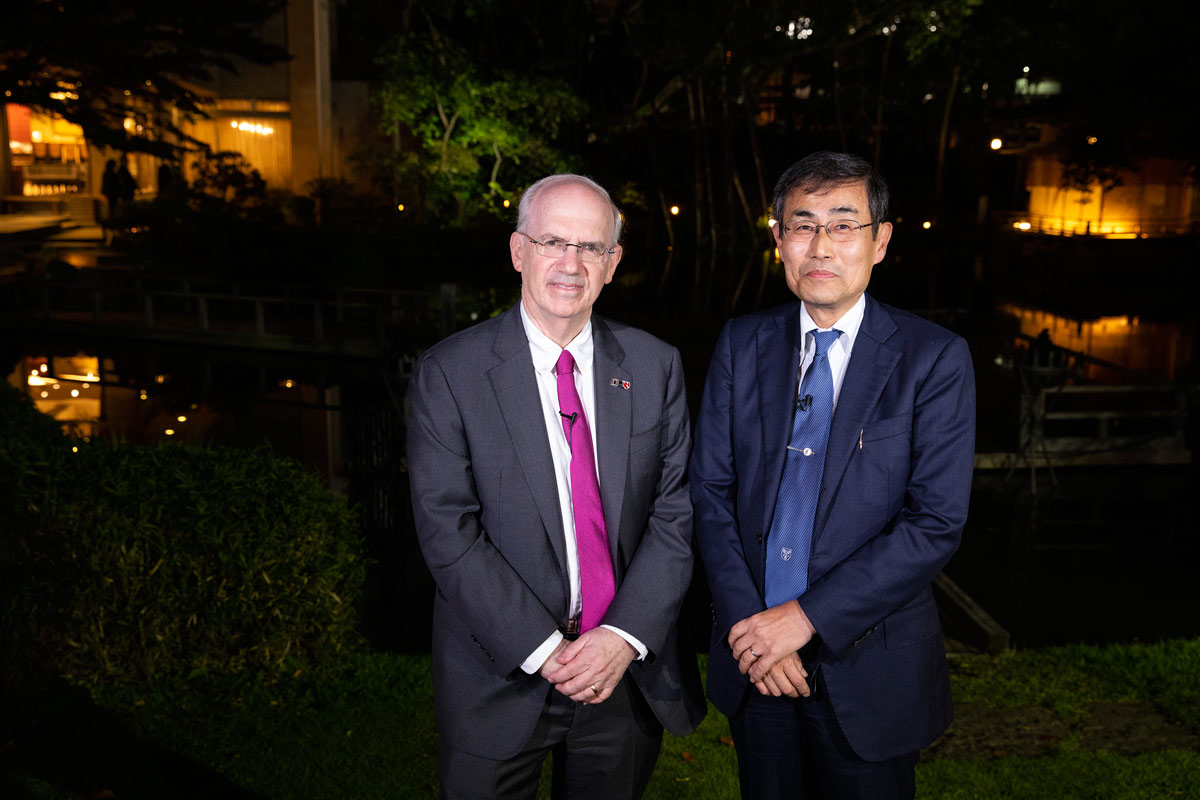 Chancellor Jeffrey P. Gold, M.D. and Shizuoka University President Kiyoshi Ishii
The power of global friendship could literally be felt in Shizuoka, Japan, on the night of Thursday, Oct. 31, 2019, as students from Shizuoka, Japan, took the stage at a reception celebrating the 40th anniversary of Shizouka University and the University of Nebraska at Omaha.
Dressed in long robes, the seven Shizuoka University students shook the walls as they performed Shumei Taiko - a traditional Japanese drum performance used to commemorate special occasions. And the occasion was a special one indeed.
Thursday's ceremony was the culmination of a multi-day visit to Japan by UNO administrators, faculty and staff, which also included a UNO alumni reception in Tokyo; visits with Shizuoka University leadership; and meetings with city and prefectural officials. Much in the same way that, 40 years prior, officials gathered to forge a partnership that was truly one of a kind.
"This relationships truly took what we in Nebraska would call 'Maverick Spirit' - roughly translated to tenacity, daring, hard work - or just plain grit," UNO Chancellor Jeffrey P. Gold, M.D., told the crowd of approximately 70 representatives from UNO and Shizuoka University, including generations of alumni from both campuses.


Forming Bonds
In October 1979, university leadership from both campuses began what would become a decades-long sister university exchange program - the first official exchange of that kind for both campuses. In the years since, spanning 13 different chancellors and presidents between the two universities, more than 2,000 students and faculty have traversed the more than 6,000 miles to learn more about each other's culture.
This was certainly the case for Lori Arias, who was UNO's first exchange student to Shizuoka and currently serves as associate director of UNO International Programs.
"I so much enjoyed my Shizuoka experience and the experience of being with international students and scholars here," she said. "What they did for me with all the support and caring made me want to offer the same things for international students on our campus."
In turn, Arias' impact on countless students was reciprocated as a dozen Shizuoka University students stole the evening by presenting her with a large bouquet of flowers - a gift of thanks and a symbol of how the partnership has blossomed into arguably the strongest university exchange program in the state of Nebraska.

Changing Lives
The impact of UNO and Shizuoka's friendship was clear at the special 40th Anniversary celebration as students from both campuses shared their stories with the crowd - and each other.
These included stories like that of Ami Sugiyama, who came to UNO in 2007 from Shizuoka to spend a year studying exercise science as an exchange student through the UNO/Shizuoka exchange program. The experience led to opportunities in corporate wellness, which took her to Malaysia and now Sugiyumi owns her own multinational company that links farmers with producers and buyers from all over the world - featuring locations across Japan and Malaysia.

"Though my experience in Omaha, I became a person with a wide view of culture, humanity, politics, and much more," she said. "The experience strengthened my mind and made my life more varied an colorful. Omaha is the place where my career started."
Also in attendance was Jesse Kline, a 2011 graduate who came to Shizuoka University on a scholarship in 2009 just after the Great Earthquake struck. It was his first experience living abroad and living alone - but he says the experience helped shape him into the adult he is today, including living and working in Shizuoka as one of the many UNO alumni who built a career and is now raising a family far from their home country.
"Looking back, I was immature in many ways, but learning to balance studies with personal life while budgeting my monthly stipend proved to be a tremendous experience that would shape me into who I am today," he said.


A Local and Global Impact
Among the representatives Chancellor Gold and others from UNO met during the visit to Shizuoka included members of the Shizuoka city and prefectural governments.

Discussions between UNO and members of the local governments highlighted the shared need for emerging technologies, innovative research and workforce development - something that UNO and Shizuoka University have fostered over their 40 years.
In discussions with the Shizuoka City Deputy Mayor, Shigeyuki Konagaya, and Shizuoka Prefecture Vice Governor Akihito Yoshibayashi. opportunities emerged not just for ways that UNO and Shizuoka University could make lasting connections - but the entire University of Nebraska system with communities across Japan.
The conversations highlighted the promise seen even further back when the City of Omaha and City of Shizuoka entered Nebraska's first sister city partnership in 1965, with 2020 marking that relationship's 55th anniversary.
"The reason this partnership has lasted so long is because it has been a meaningful one and will continue on into the future," Konagaya said. "It is my hope that our students will continue to work together to develop a better world for the next generation."

Opportunities for the Future
Despite campuses and communities that are thousands of miles apart, UNO Chancellor Gold and Shizuoka University President Kiyoshi Ishii agreed that there were more similarities than differences between the two universities.

Whether it was Ishii's own research interests in philosophy, which also brought a delegation from UNO to Shizuoka University in May for a first-of-its-kind academic conference, or the two leaders' desire to pursue new curriculum opportunities in digital learning opportunities for students, it was clear the partnership is in no danger of lasting another 40 years.
"I hope that the exchange between our two universities will continue to develop and that new ties beyond national borders will be created," Ishii said. "We need to provide human resources to Japanese society with those more accustomed to diversified circumstances; so, partnerships with foreign universities will play a vital part in our development."
Ultimately, as the eve of the 40th Anniversary celebration came to a close, with many old friends, new acquaintances and current students from both campuses coming together to share a meal, there was no better analogy for the continued strength of UNO and Shizuoka's friendship than the sight of Japanese and American citizens leaving the reception hall together, speaking fluently in each other's second - or even third - languages, exchanging business cards, emails and phone numbers - eager to plan the next opportunity when everybody could come back together and continue the conversation.
About the University of Nebraska at Omaha
Located in one of America's best cities to live, work and learn, the University of Nebraska at Omaha (UNO) is Nebraska's premier metropolitan university. With more than 15,000 students enrolled in 200-plus programs of study, UNO is recognized nationally for its online education, graduate education, military friendliness and community engagement efforts. Founded in 1908, UNO has served learners of all backgrounds for more than 100 years and is dedicated to another century of excellence both in the classroom and in the community.
Follow UNO on Facebook, Twitter, Instagram, TikTok, LinkedIn, and YouTube.