Continuing the Conversation
A message from Chancellor Gold following investiture and inviting Mavericks to the first campus forum of the semester.
published: 2019/09/13
contact: Chancellor Jeffrey P. Gold, M.D.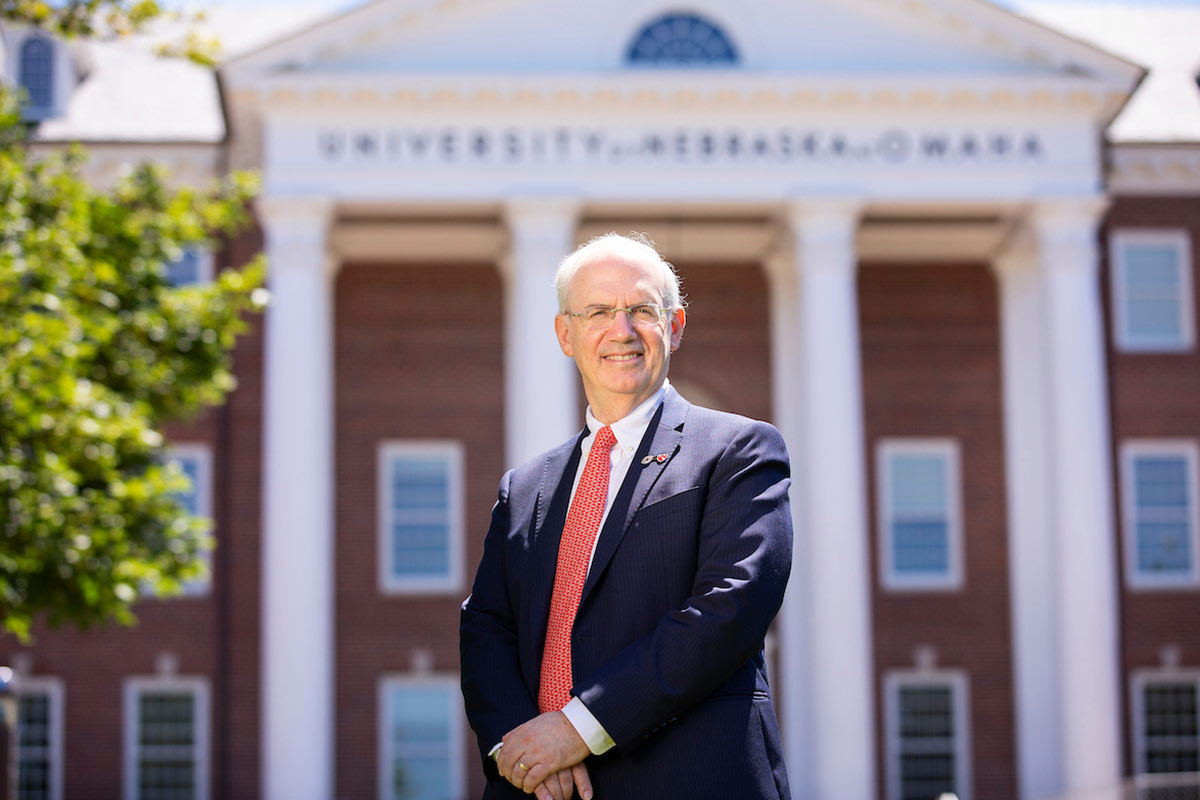 Dear Colleagues and Friends of the University of Nebraska at Omaha Community:
First, I want to say "thank you."  Thank you, so much, for all of the hard work and dedication that made last week's investiture ceremony such a success; and thank you even more for the great honor to serve as the Chancellor of the University of Nebraska at Omaha.
I closed my remarks at the investiture with the statement, "It is with great pride, high energy and an amazing team of colleagues and friends that I fully accept this responsibility, that I focus upon the challenges and that I will work long and hard to embrace the opportunities that lay before us."  It is a statement I want to reiterate today; recognizing the tremendous support, friendship and professionalism of the team with which I am privileged to work. 
Second, as we chart our next steps together, I invite you to join us Friday, Sept. 20, during our first campus forum of the semester with our very special guest, Interim NU President Susan Fritz. I hope in our discussion we are able to further address key themes impacting all of us – specifically, our commitment to our community, overcoming the challenges we face, and identifying opportunities to set the course for our future.
Finally, as we look the months and years ahead, I hope we can dream a bit together. I opened my remarks at the investiture by recognizing the history of the investiture process and its connections to  Jean-Jacques Rousseau's "The Social Contract." It was my premise that the need to be relevant and responsive to our society is the responsibility of the public higher education and it is a contract we should all be dedicated to.
The theme of the investiture was "Access to Exceptional" and, indeed, to be both exceptional and accessible, while not commonly connected in the world of higher education, does truly define the culture at the University of Nebraska at Omaha. However, this commitment is not without challenges. These include maintaining relevance; growing our reputation of controlling costs, increasing value, of flexibility, and resilience; as well as maintaining a diverse and inclusive environment. Hand-in-hand with our partners we must face these challenges and reflect on the opportunities provided by our commitment to the social contract.  
I also had the opportunity to lay out five audacious goals that I believe can and will define the future of higher education - particularly, public higher education - in our community. They are:
Become increasingly laser-focused on learning and scholarly outcomes rather than process drivers, focusing on those areas that we know will be high impact and to remove unnecessary and burdensome processes.

To build stronger and increasingly sustainable university-community partnerships, to tear down walls between the public and private sector, and to build bonds that will sustain the quality and access of our students, faculty and staff to the world of the university.

To create life-long learning models, from early childhood education through continued life-long learning, through a completely transferrable network of learning opportunities and portfolios of experiences create the seamless flow of acquisition and application of knowledge for the betterment of our community.

To effectively blend high-tech technology and high-touch learning environments. To embrace experiential learning; meet the needs of our students, faculty, and staff as technology evolves; and grow support systems that truly meet the needs of our community.

To dramatically rethink the cost model of all education and particularly higher education in a public setting, one day making financial accessibility a non-issue and exchange this for service and economic development, in partnership with the private sector through career-long service.
While these five audacious goals may not by any means be inclusive or completely planned, each is a part of UNO's culture and embedded as unique aspects of our campus strategic plan.
Again, my most sincere thanks to all who planned, participated and, indeed, celebrated the investiture. It is my commitment to continue the coversation and chart a course to the future, which is ours to make together.  I am sure it will be a journey of Access to Exceptional.

Most Sincerely,
Jeffrey P. Gold, M.D.
Chancellor

Get more updates on UNO and the NU System during the next Chancellor's Forum featuring Interim-President Susan Fritz, Friday, Sept. 20 at 11:30 A.M. in the Strauss Performing Arts Center Concert Hall. Learn more.
About the University of Nebraska at Omaha
Located in one of America's best cities to live, work and learn, the University of Nebraska at Omaha (UNO) is Nebraska's premier metropolitan university. With more than 15,000 students enrolled in 200-plus programs of study, UNO is recognized nationally for its online education, graduate education, military friendliness and community engagement efforts. Founded in 1908, UNO has served learners of all backgrounds for more than 100 years and is dedicated to another century of excellence both in the classroom and in the community.
Become a fan of UNO on Facebook and follow UNO's Twitter updates. 
Contact Us
If you have a story idea, news tip, or other question, please email the UNO News team at unonews@unomaha.edu.